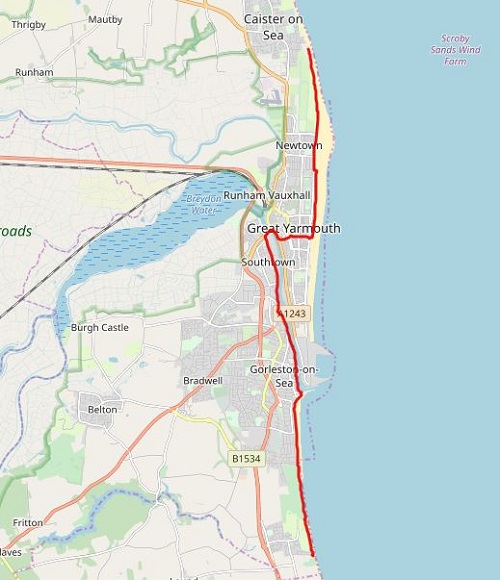 The last section of my NCP walk would be pretty easy, which was nice. it would start off with a grassy walk towards Great Yarmouth but then it would be a long road and pavement section before eventually getting a last taste of sand walking before a rather rubbish end to a National Trail walk.
I left Caister Lifeboat Station where I had cut off previously and walked along a slightly grassy path but this was much better than the beach walking that had sapped my legs the day before. The path would get firmer underfoot and be quite pleasant as I passed beside yet another caravan site, the path would then turn into a wide gravel track.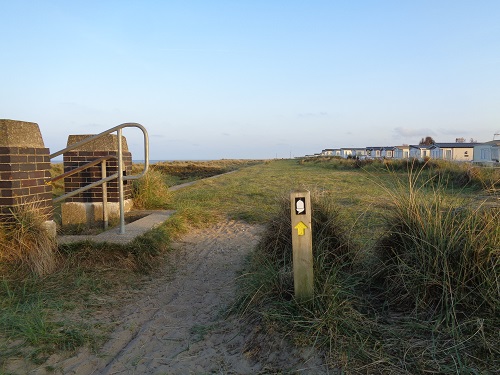 At the end of the caravan site, I was then onto the very long straight road into Great Yarmouth and the start of a very long stretch of pavement walking. I could see the Pier a long distance ahead of me and it would feel like a very long time before I reached it. Before then, the pavement went past a Haven Holidays caravan site, the sea on the left was quite far away and a grassy area lay between me and it, the area had many dog walkers and joggers on it. After what seemed ages, the signs directed me to the left away from the road and I found myself walking beside the beach on one side and on the other side looked like a boating lake which was now a building site, I wonder what's being built and then the Waterways which looks like a nice place to sit in the summer and then a big car park although it was empty today but I'll assume it will be full in the summer.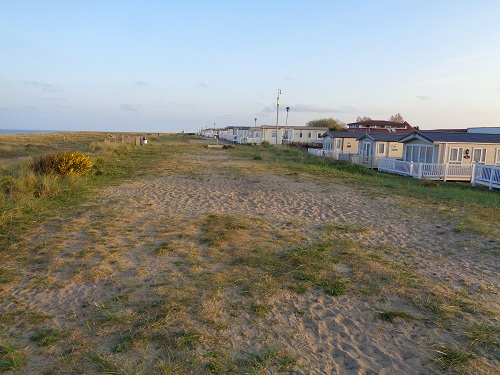 It had been about 20 years since I was last in Great Yarmouth and I have to say that even then it had seen better days. I guess in years gone by, this would have been one of the places to visit. Today it would be just a case of passing through, starting off with a walk along the Promenade then under the Pier before heading away from the sea and through the town, I wouldn't see the Sea again until Gorleston. The route is well signposted through the town, with stickers on lamposts as well as signs pointing the way.After heading inland, I reached part of the docks then crossed a bridge, after that it was a long walk along the pavement with no sign of water even though the dock area was at the side of me. Eventually after crossing the busy road I turned left along another road and left the traffic behind.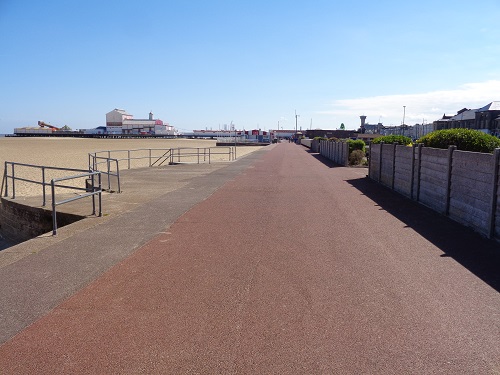 After having no sign of water for ages, it was nice to turn down this road and walk alongside the docks, some large ships and the still water. I was still walking on a quite road but I soon crossed over onto a track beside the road and away from the traffic, this would take me all the way to Gorleston Pier and the Sea once again. The beach looked lovely and wasn't very busy, probably because it was now later in the afternoon, there were more dog walkers than sunbathers.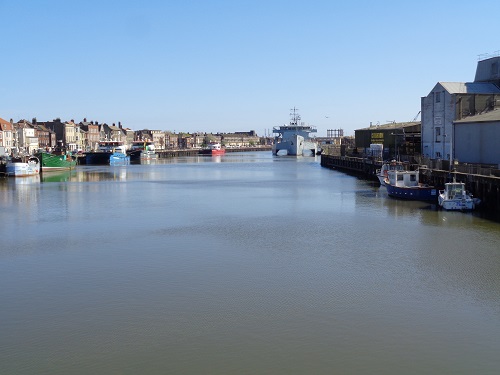 After the Pier, the NCP signs direct you along the promenade but you can walk along the beach if your legs are feeling fine, you have time and the tide is out. Today though, I didn't feel I had the energy to walk along the soft sand and just wanted to get finished as Hopton wasn't far away, I might have if it had been hard sand and easy to walk along. The promenade was nice to walk on though, again it was popular with dog walkers and joggers but it was a wide path.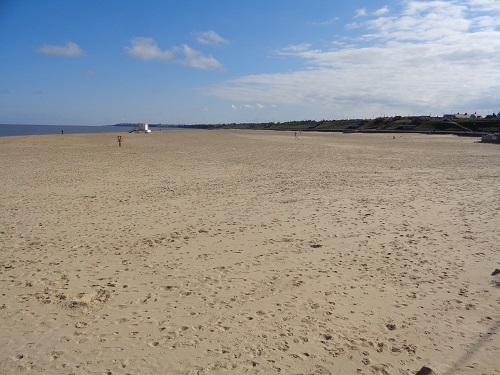 After a lovely walk along the prom, the path got narrower and then took me down onto the beach, the soft sand was quite sapping on my legs. It wasn't too long on the sand before I saw a boulder field on the beach before me and thought I'd have to climb over them but then I noticed a path through them. When I got through them there was a ramp going up from the sand. From here you can either walk along the beach to Hopton or take an alternative route which is advisable when the tide is in. Today the tide was in so I walked up the ramp and along a path through a caravan site, a grassy path ran along the top of the cliff tops and gave a better view than you would have got walking along the sand.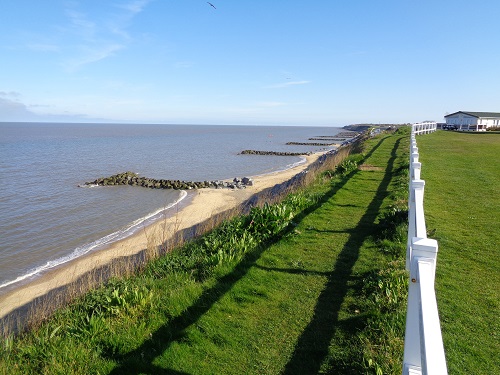 It was nice walking along this grassy path after walking in the sand but soon the path started going downhill and the end was in sight. A short walk along a tarmac path led me to a ramp and at the top of that ramp was a NCP signpost telling you how far Gorleston and Sea Palling was from there. THIS is the end of the Norfolk Coast Path and to be honest it's rather an anti-climax to finish a long distance walk and the end is just a signpost, just as it was at the start of the Peddars Way. Most of the long distance walks that I've done have had something at the start or finish like an information board or sculpture so a single signpost is rather uninspiring after a long walk.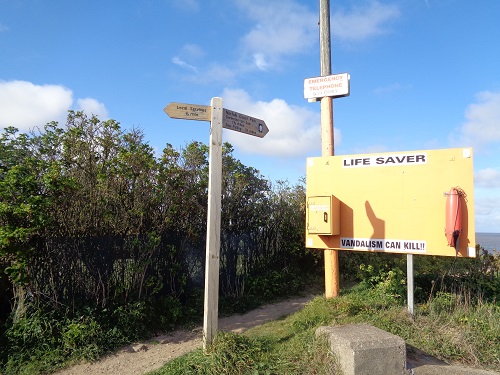 That was it then, my Peddars Way and Norfolk Coast Path had been completed, it was time to go home and think about my next walk in June and plan more walks. This trail had been an easy walk, nothing difficult about it and possibly one that a beginner would choose to do as it's easy to follow and very flat but unfortunately it lacks the excitement and scenery that you get on most other long distance paths.
It might not have been my most exciting walk but having said that, I enjoyed completing it and had fantastic weather throughout so I can't complain about that, even if I did get sunburnt legs. I don't imagine that I'll do this walk again, mainly because there are so many other ones I still want to do but if you want an easy multi day walk, this would be ok for you as long as you don't mind the lack of scenery.