I had been looking forward to walking the NCP after the rather dull Peddars Way as I knew it would have plenty to keep me interested and at least I would have changes in direction after three days heading in a straight line. The weather was the same as my first three days meaning another day walking in tshirt and shorts and getting my legs sunburnt.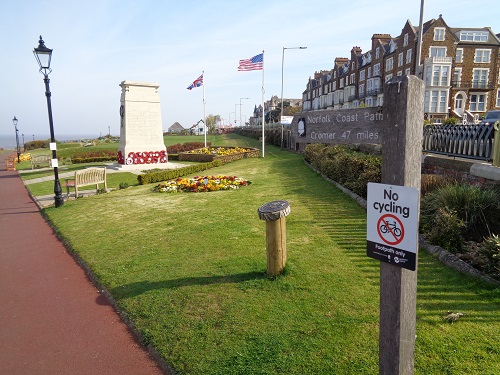 When I planned and booked my holiday, I didn't realise that it would be when the schools were on holiday and even worse, today was Good Friday so I knew the Coast Path would be very busy and I was correct, apart from a small section after Thornham where the Trail leaves the coastline for a few miles. So, as I walked to the War Memorial in Hunstanton to start the walk, I knew what to expect.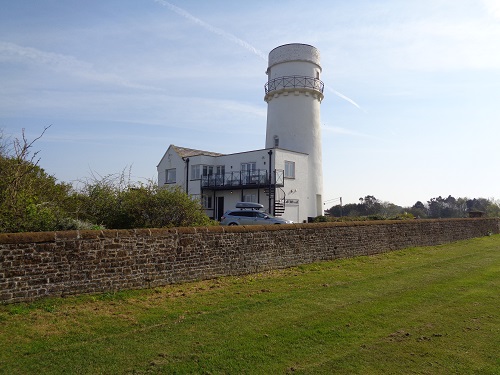 At the end of the Peddars Way yesterday I walked the couple of miles along the beach to Hunstanton so today would be in the opposite direction, the tide was in which meant I couldn't walk under the colourful cliffs. Already the beach was getting busy with tourists but it wasn't long before I was at the Peddars Way end sign. I then headed straight on along nice gentle paths, I didn't know it at the time but it would be many hours before I would be near the sea again. It might be a Coast Path but there are many areas of mudflats etc between the path and the Sea.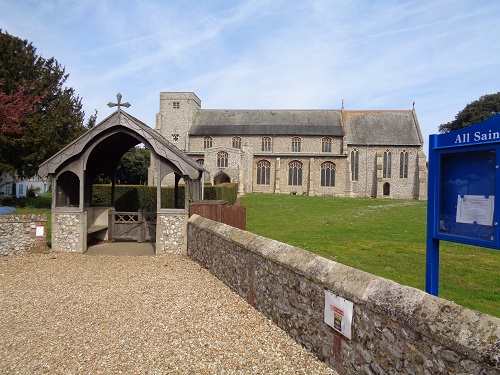 After the soft sand at the start of the walk, it was nice to walk on firmer paths and wooden boardwalks. I noticed around this time many people with binoculars, camera tripods and large cameras, this area is very popular with birdspotters. Sadly, I have no clue what many birds are but I saw a few I hadn't seen before.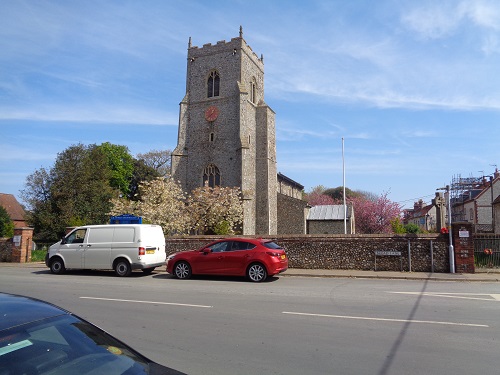 It wasn't long before the path was heading away from the Sea and I was entering Thornham, I had walked six miles very quickly. I had a short break then walked through the village, it's road busy with holiday traffic. I eventually crossed the road and started walking out of the village and uphill on a road, it wasn't that steep but it was still long enough to cause a sweat. It went on for ages before I turned left and along a farm track, the sea now many miles away. I stayed on this track for a while before it turned back towards the sea and down to Brancaster where a bench greeted my arrival, it would have been rude to turn it down.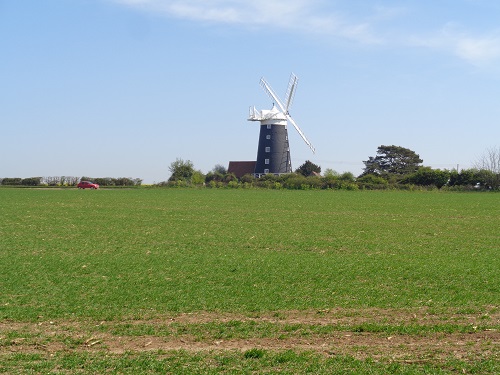 I soon set off again though, I had a long way to go today. A narrow road heading to the beach was next then a raised wooden boardwalk that wasn't wide enough for two people which meant I was constantly stepping off it to let others pass. I soon reached a sign telling me about a shop in Burnham Deepdale but I gave the small detour a miss.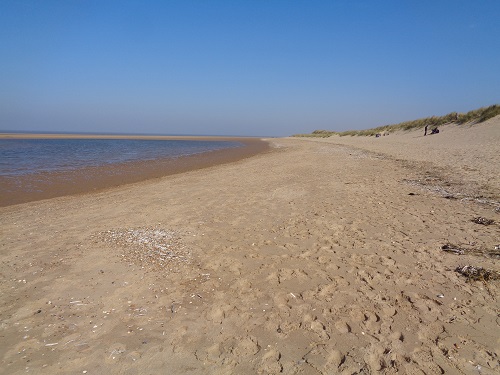 From here, the trail would be a lovely grassy seabank which meant fast walking and avoiding the many tourists and dogs. Today I had been walking into the wind but it hadn't felt strong until this section. There were many species of birds to be seen, and heard on both sides of the path but my legs were starting to get tired on this long section. I could see the houses of Burnham Overy Staithe in the distance but I just didn't seem to be getting any closer. After what seemed an eternity, I changed direction and was heading towards the village, which also meant not having the wind in my face. However, just as I felt I was getting nearer it, the path swung away from the village.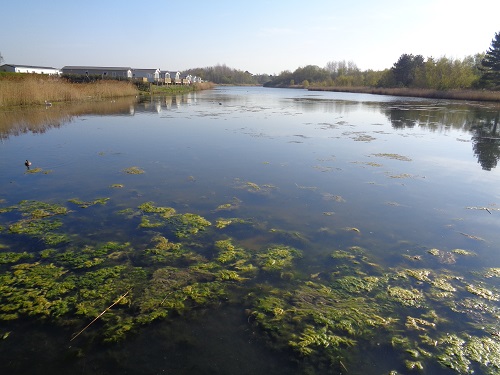 Eventually it swung again and I was walking through the small village and to a small harbour which was quite busy. A bench overlooking the harbour gave me a chance to stop and have lunch. It would have been nice to sit longer but I still had a long way to go. Another grassy bank was next as it headed towards the beach, a short climb up a sand dune was hard on the legs. I was now beside the sea again, something I hadn't seen since near Hunstanton many hours earlier. By now, the tide was out so I had a long beach walk, trying to find the harder sand until I reached Holkham Gap.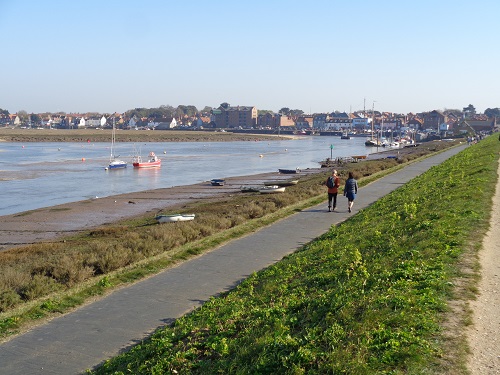 I left the beach and went through a bit of woodland heading towards a huge car park, it's obviously a popular spot and there's a cafe here too. Now it was a pleasant path with fields on one side and woodland on the other, there are also benches along it. I soon could see Wells-Next-The-Sea (I'll just call it Wells) to the right of me but it seemed to be ages before I reached a busy car park and cafe. A short climb would take me up to the Bank and a very long straight path towards Wells, a miniature railway passed by, I was tempted to get on and save my legs.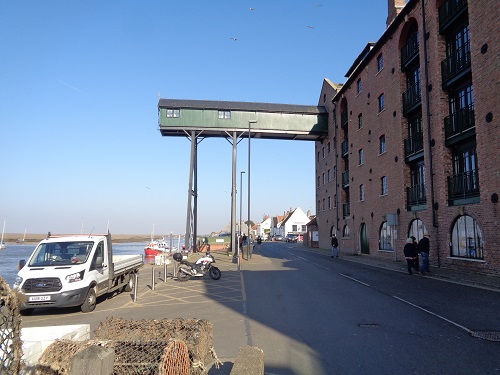 It felt quite a trudge along this path, the last mile each day always seems to be like this. After what seemed like hours, I was finally in busy Wells, the queues for the chip shop meant my initial plan to get the chippy for tea were now going to change, I have had a long day and didn't want to stand and wait, I just wanted to get to my accommodation. I knew there was a Co-Op shop on the way to it so I left the NCP and headed towards it, picked up some goodies and found my accommodation.
It had been a very long day, the wind in my face for most of it didn't help but I finally sat down on my bed, noticed the badly sunburnt legs and started to feel the pain. Today had been far better than anything on the Peddars Way, plenty to look at and variations of paths and direction. Tomorrow will be slightly less mileage to Sheringham, I'm hoping for good paths and good weather, although I might not wear shorts to try and help my sunburnt legs.