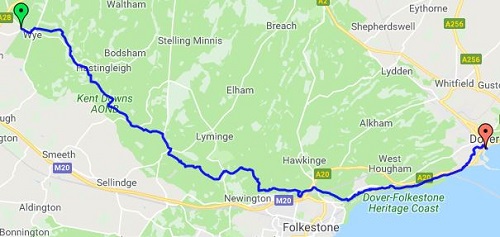 If yesterday's walk had left me bored and less than impressed, today's walk more than made up for it. Today would be my last day on the trail, a long one to the end at Dover. It was cold and windy, a fleece and trousers day rather than a shorts and tshirt day as in most of the previous days.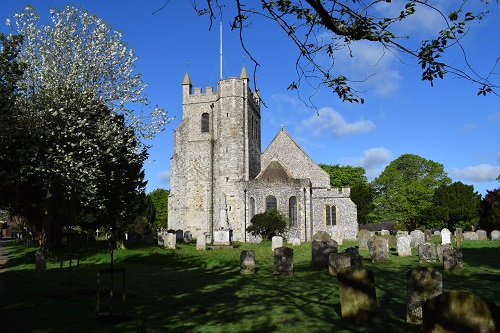 I set off through the lovely little village Wye, past it's church and headed gently up towards Wye Crown through a short woodland path. From the top of Wye Crown, the views for miles around were fantastic and I'd have stayed longer if I didn't have such a long walk ahead of me plus it was pretty cold up there in the strong wind.
A lovely grassy ridge walk taking in the views was my reward for a while. Infact, unlike nearly every day, today I wouldn't spend much time in boring lanes with no views, just the opposite. When I left the nature reserve and headed down a road and track, there was still plenty to see as the hedges surrounding the tracks were all quite low.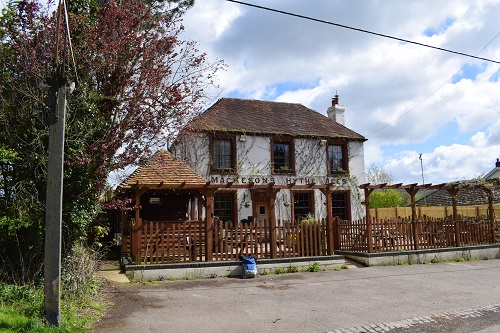 It was relatively fast walking so when I reached the Tiger Inn at Stowting. I found it wasn't open yet so I sat down on their wall and had a little break before moving on. Just down the road I could see that I was about to climb a hill but it was a grassy hill, none of those annoying steps which meant I could walk normally. The views from the top were again very good.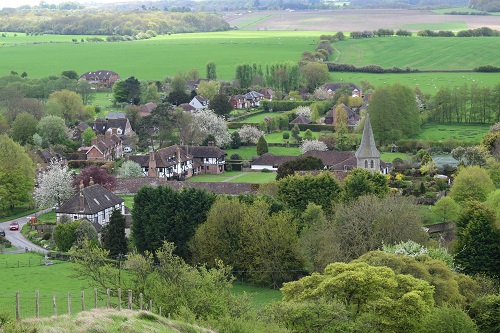 Plenty of mainly level walking followed either on paths or field edges and I could see the English Channel in the far distance now and again. The path then descended down to the edge of Etchinghill before climbing up a nice short steep grassy section which again gave good views from the top. I eventually came to a little muddy lane and stopped for my lunch, just a quick one though as I still had a long way to go to Dover.
I was now approaching Folkestone and a lovely path took me above the Channel Tunnel Terminal where all the trains and lorries were arriving or departing. Watching a train going into the tunnel, made me think that a window seat would be pointless and how boring a journey with nothing to look at. The whole place is quite hypnotic as you walk high up above it before you finally pass it and the town of Folkestone takes your interest.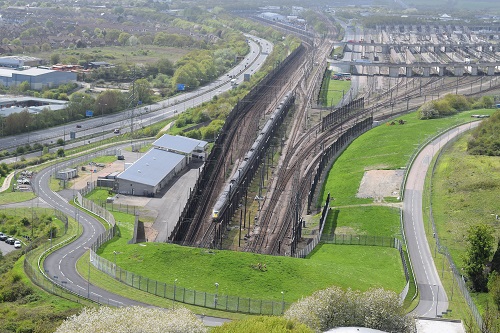 A short climb up Castle Hill gave good views but it was still a cold and strong wind. At least it was now behind me for the last section along the coastline to Dover. The last section of a Long Distance Walk always seems to take forever, you start counting down the remaining miles and seeing the signs telling you how far you have left is a nice feeling. If you've been away from home a couple of weeks, it's a nice feeling to know you might be finished soon and in your own bed that night.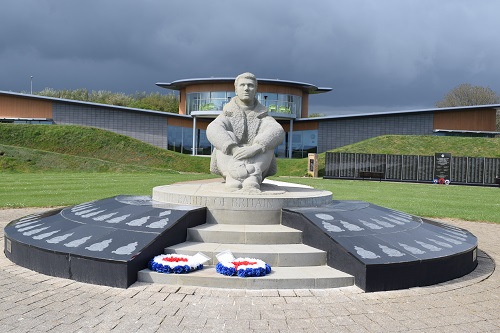 It was a lovely walk above Folkestone once I crossed a busy road and up a steep and narrow road before going onto a grass path beside it at Dover Hill. By now I was seeing signs for the English Coastal Path and the acorn signs which slightly confused matters because it doesn't always follow the North Downs Way so you have to make sure to follow the correct signs.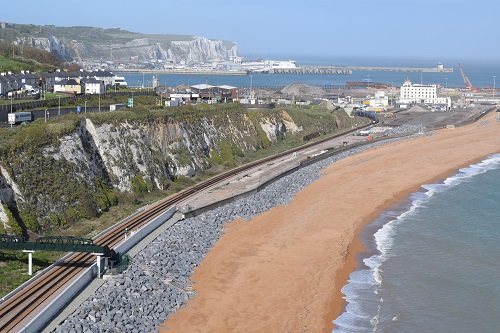 I stopped for a break at the Battle of Britain Memorial near Capel-le-Ferne before the last bit of my North Downs Way walk. As I neared a small cafe I thought I felt a spot of rain, then another. I thought about getting the waterproofs on and decided it was just a small shower. About 10 seconds later I was quickly getting them on as the rain suddenly poured down.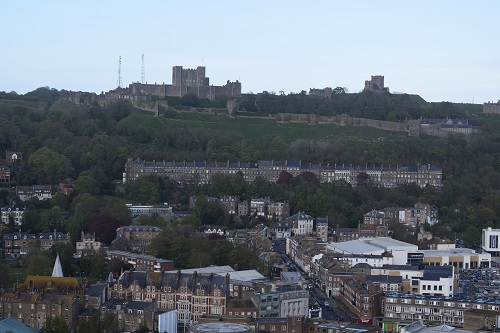 The heavy rain lasted about half an hour as I trudged along the wet grassy paths above the cliffs, my shoes getting seriously wet for the first and only time on the North Downs Way because of the grass but at least I had now removed the waterproofs . Now I could see the Ferry's going to and from Dover and knew I didn't have far left. Most of the remaining path was level which meant fast walking and not the ups and downs that I had finishing the South Downs Way the previous year just along the Coastline.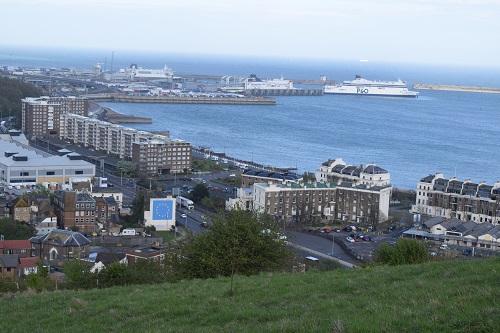 I almost reached the ferry terminal and the path descended quite steeply towards the busy road, I hoped I wouldn't slip on the wet grass. I walked through a tunnel under the road and assumed that it would just be a simple walk along the road until the end of the trail, I was wrong though.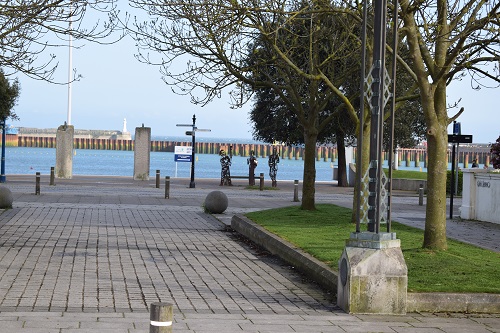 As I got through the tunnel and past a few houses, the marker signs pointed uphill through a field, some cows having a sit down and disinterested watching me curse under my breath at having to go uphill so soon to the finish line. Eventually it reached a road then a steep descent, followed by another steep climb up some steps with more cursing under my breath. By now I could see the shoreline and the end was in sight, literally. I still had to slowly descend down some wet steps and find my way through bits of the town then followed a sign marked Seafront and over the finish line overlooking the sea.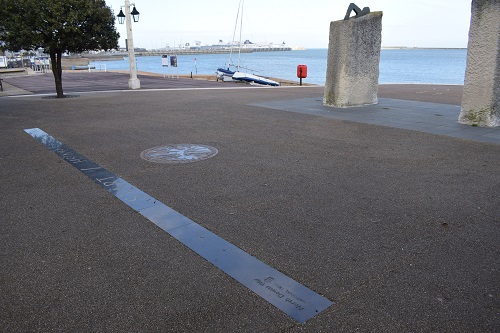 The usual videos, photos and of course the obligatory selfie had to be done as it sunk in that I had finished the North Downs Way. It's a fantastic feeling but also leaves you feeling a bit flat as you realise your adventure is now over. I had a sit down on the bench and gave my legs a rest before moving on, they had done a very long day today but I'm sure they were happy knowing they would now get a rest. After walking 7 days to reach this point in Dover, it feels a shame to just head off as soon as you arrive but the mission was accomplished, time to go home.
As I relaxed in my Hotel room later on that evening and let my legs relax after a long day and stuff my face with goodies knowing I wouldn't have to do any more walking the next day, I would be heading home. I had really enjoyed the North Downs Way, the good weather had helped but also it wasn't the hardest long distance walk that I'd ever done. I would certainly do it again and would recommend it.