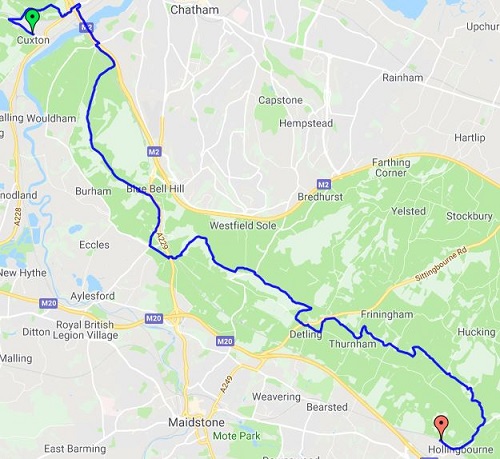 After another good nights sleep, I left my accommodation after breakfast and later than usual but there was no rush. A quick stop at the shop for something for lunch and I was on my way. It would be yet another dry day and much cooler which was more comfortable for me.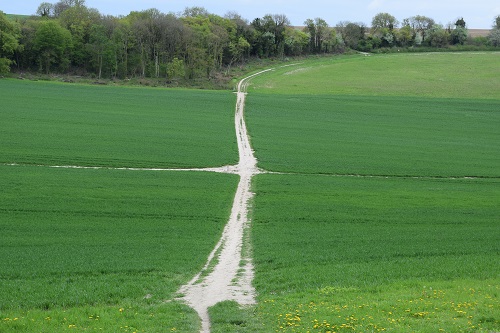 A quick walk took me to a path at the end of the village heading up a narrow path in woods before heading down through a path in the middle of a ploughed field. It soon curved round to join a road and the sound of traffic got louder with every step. The reason for the noise would be facing me very soon, 3 bridges that takes traffic and also the high speed train line over the River Medway that links London with the Channel Tunnel.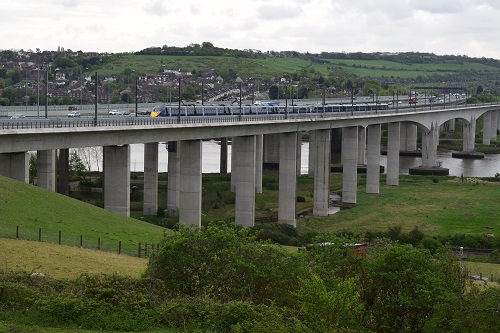 I crossed a bridge over the Motorway and railway line, a couple of trains sped by. Once over this, a path on the left hand bridge would take me across the river, the noise as you might expect was deafening but at least the pavement was a good distance away from the traffic with a barrier between. On the left of me as I crossed was a marina which at least gave me something different to look at as it took ages to cross the bridge. This reminded me of almost exactly two years earlier I crossed a similar bridge with marina when I walked through Pembroke on the Pembrokeshire Coast Path ( Read about it HERE ).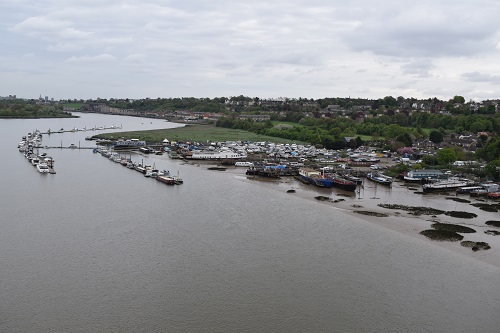 Eventually I was at the end of the bridge and I passed under it before heading down an empty road. I soon turned off it and over the railway line and headed up a track, then at the side of a field that gave great views back towards the bridges and beyond. The path kept going up gently until it turned into a track then a road, passing the Robin Hood pub in the middle of nowhere before reaching a car park at Blue Bell Hill nature reserve, which ironically had no Bluebells.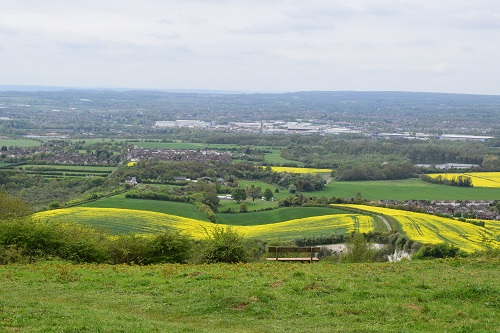 There were a few benches with good views down the hill so I stopped there for a break before moving on beside a busy road for a while. Soon I crossed under the road and up a steep path in the woods, the first time today that I'd really broken sweat. I passed a wooden carving as I puffed my way up the hill and it was a relief to finally see the path levelling out.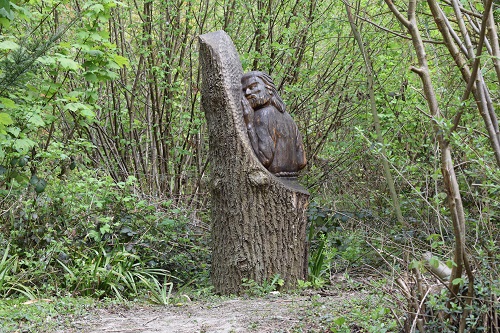 I regained my breath as the next stretch was a long and level path at the side of fields. I was starting to feel hungry now and a steep descent took me down to Detling and over a bridge over the busy road that splits the village, the bridge was only built after a campaign by locals following the deaths of people crossing the road, the bridge is dedicated to a small girl Jade who was one of the victims victim.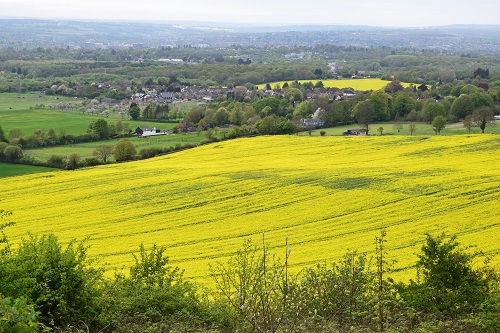 I stopped in Detling for my lunch before moving on. The rest of the day would be a roller coaster and sapping on the legs. I started heading up a hill hoping that once I reached the top I would be rewarded with a nice long ridge walk but it didn't work out that way. Very narrow paths wound up and down, occasionally through trees with nice views downwards and sometimes open fields. It was also windy today and this section seemed to take forever, or maybe I was just tired.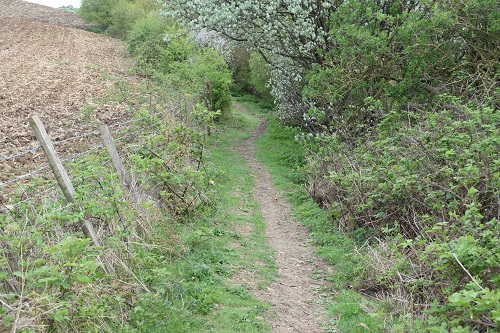 I didn't have far to go from here but it was very slow going before much to my relief, the path started descending quite steeply towards the village of Hollingbourne where I would finish my walk and get the train to my Hotel in Lenham for the night. Originally I had thought about walking the extra miles when I reached Hollingbourne and finish in Lenham giving an easier day the next day but I decided that 19 miles would be more than enough.
As I entered the village, the North Downs Way turned left beside a pub but I headed straight on into the village, the train station being a long distance from the village. I took a seat and waited for my train, it had been a long walk with more uphill than the previous days, I was glad that it was over and I could now relax and recover before tomorrow's walk into Wye.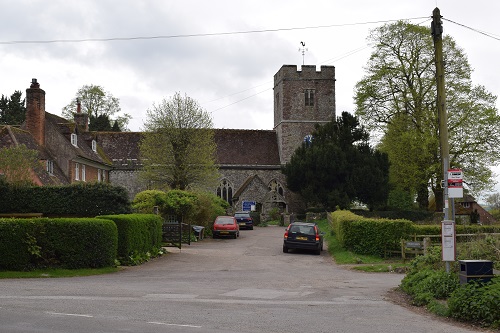 Yet another dry day, I have been so lucky with the weather. A couple of weeks ago I was walking in soggy and muddy conditions with winter clothes on and here I am walking in shorts and tshirt for five days. I then thought about the trails that I had done the previous couple of years and remembered that I'd been lucky with the weather on those occasions as well. I know I'm greedy but 2 more dry days would be even more fantastic.