I had a really good sleep after yesterday's long walk but an early sleep meant I woke early so I was out of my hotel just after 6:30am. At least this meant starting the walk when it was much cooler and hopefully get to my destination a bit earlier as well. It had rained during the night, the grass was wet but the sun was going to be shining all day, yet again.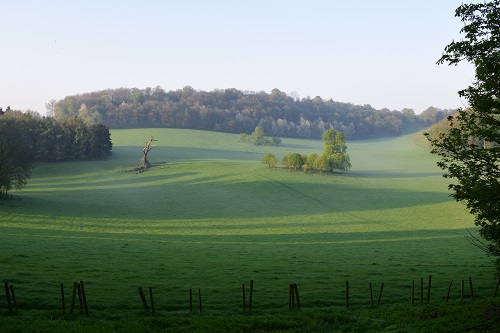 I left the Hotel and rejoined the North Downs Way just over the road and a short walk through the woods took me past a big school before heading through a golf course to reach Merstham. As the North Downs Way enters the village it is near a petrol station which has a small shop inside so I bought some food and water for the day ahead as there would be nowhere else on the trail today to get any, not even a pub.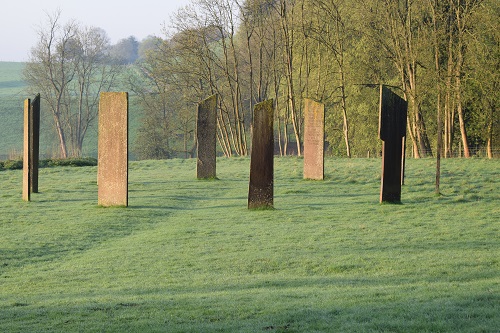 The noise from the M25 would end up in my ears most of the day and even at 7am on a Sunday it was busy as I crossed it at Merstham before walking along a road that would soon take me under the less busy M23 on a track that took me uphill to the top of the ridge. The views from the top were good in the hazy sunshine, just a shame about the traffic noise.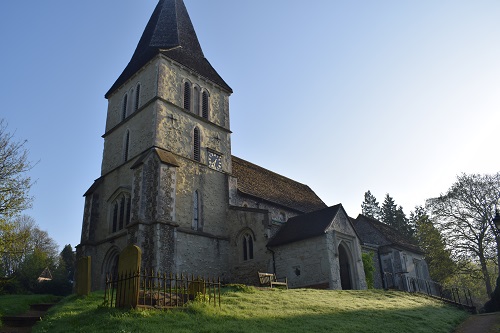 After a bit of road walking and track, I came to a grassy clearing with a few benches and a great view so it was a good place to stop for a break. It's hard to turn down a seat as you never know when you'll get the chance to sit down next. The next few miles were quite gentle paths through the woods until it reached Oxted Downs.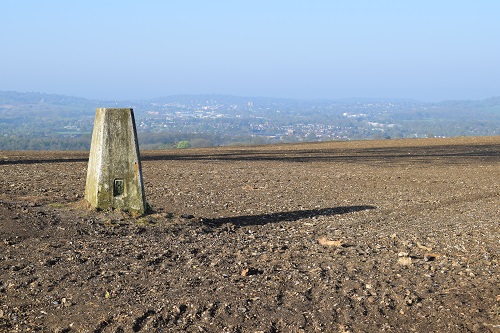 From here it was a lovely walk at the side of the woods, a gentle wind cooling me down a bit in the sunshine. The straightforward walk ended far too soon and a steep climb started on a track towards Botley Hill, the first time today I had really broken sweat and out of breath. I was glad to reach the top and have some recovery time on a gentle path beside a road.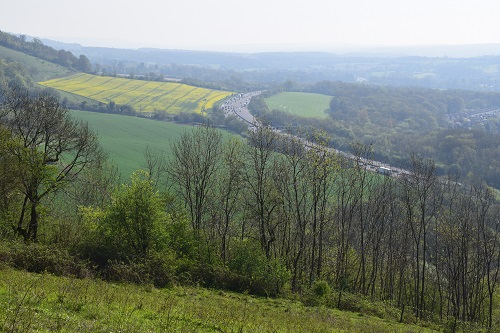 It was now that I started to feel hungry and I was hoping that a seat would appear. I got to a grassy clearing and saw a few people sunbathing, and joined a road passing a golf course. This would take me past many posh expensive houses then onto a quite uneven track past more houses. Still no sign of a seat but then I saw a nice wall, this would do me fine for my dinner and a short break.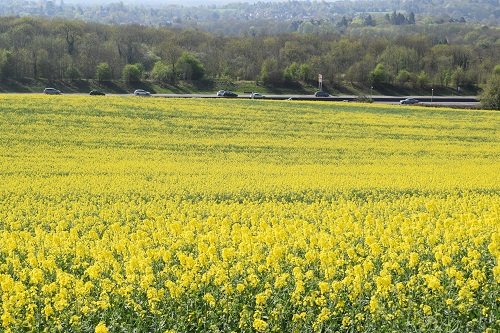 I started off again and crossed a road and noticed that the North Downs Way signs were different from before and that I was no longer in Surrey but was now in Kent. The signs were different and so would be the rest of the days walk, gone were the nice woodland paths and what followed for miles would be paths through fields, some smooth and some quite uneven which slowed me down as I approached Knockholt.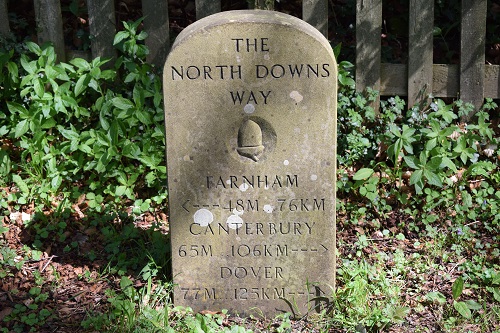 I knew the end of the day wasn't too far away but the last few miles of most walks seem to drag in and today would be no different. More fields would follow before I got to a clearing and a bench, which was too good an invitation to turn down. From here I was looking down upon the M25 which was just before my finishing point of the day in Dunton Green which is just on the outskirts of Sevenoaks.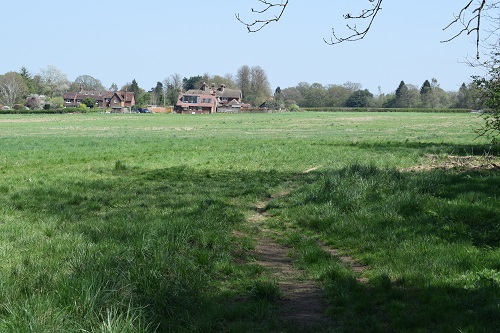 A steep grassy hill downwards would have my knees hurting. A sign was attached to a gate telling of an alternative route to the M25, missing out a bit of road walking on a busy road. I thought about it but I decided to just go the usual way, my legs just wanted to get finished as soon as possible. It didn't take long to reach the road and I had to step off it a few times as cars sped by but it wasn't long before a pavement appeared which took me to a roundabout then over the motorway and to my accommodation.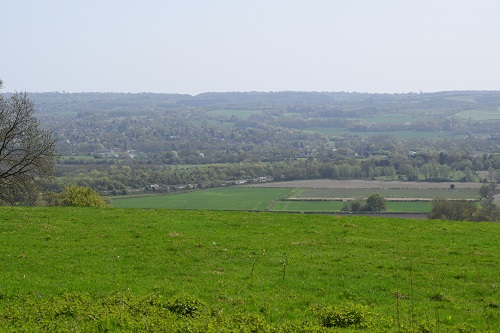 I stayed at the Donnington Manor which is right beside the North Downs Way. A bit posh for me as all I require is a bed, shower and somewhere to charge my phone. It was a Sunday and all the supermarkets in England close at 4pm but luckily for me I had reached Dunton Green earlier than expected and was able to walk a mile down the road to a large Tesco in Sevenoaks where I bought lots of goodies to stuff my face after I had a shower and change of clothes. This was fortunate for me because I didn't want to pay the prices the Hotel were charging for food.
It had been another lovely walk, the paths were mostly level and effortless so the miles quickly passed at the beginning. Not as quick through the uneven fields but at least they were mainly dry. Three dry and sunny days so far, just like the same time last year when I walked the South Downs Way ( Read about it HERE ) which was not too far from where I'm walking this week. I had 7 dry days when I walked it and it would be lovely to get that lucky this time.