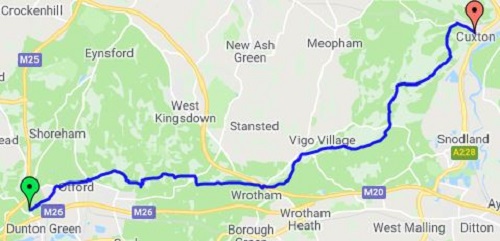 Today, I would be crossing the halfway point of my North Downs Way walk about Wrotham, it would also be a much cooler day and would feel a little more comfortable than it had been the previous three days. I had a good night sleep at the Hotel and felt reluctant to leave but I left a bit later than the previous days as I had a few miles less to walk today.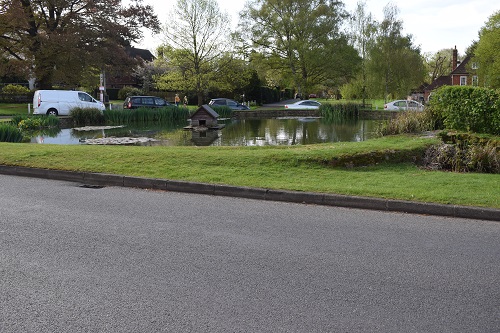 I left the Hotel which was right beside the North Downs Way and a nice gentle walk over wet grass towards Otford before pavement walking for a while. The village was really busy with cars and kids slowly going to their school, taking up all the pavement so I couldn't get by. After the school, I started walking uphill and out the village, the path looked like it was going up someones drive, but that's where the arrows were pointing.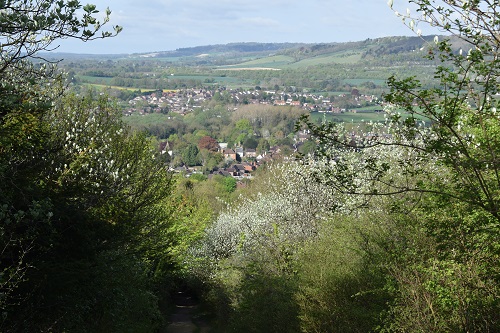 From here it was a steepish climb through trees that would wake me and my legs up this morning until I reached the top. After the top was a bench with a lovely view, I didn't need an excuse for a break though, I can never resist a bench. I hadn't gone far though so I didn't stay long. Some more grassy fields followed, one had a big wooden cross in it, no explanation why it was there but there was a good view of Kemsing below.
The next few miles were quite level and fast walking through the woods, again with glorious displays of Bluebells. The views when you got them were magnificent looking South. After a while I descended steeply down to a track and before long I was almost in Wrotham.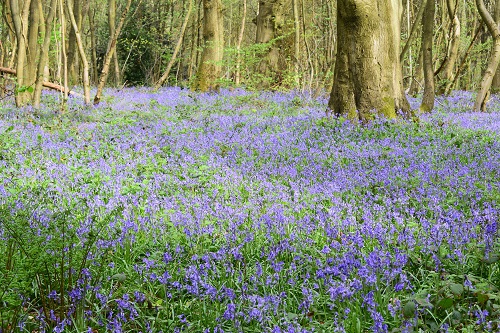 As I got near the village, the noise of traffic got louder and louder on both sides of me, the M20 on my left and the M25 on my right. I passed lots of expensive houses and wondered why anyone would pay a fortune to live somewhere that would always be noisy. As I walked through the village I passed a small park with benches so stopped for a break and a bite to eat.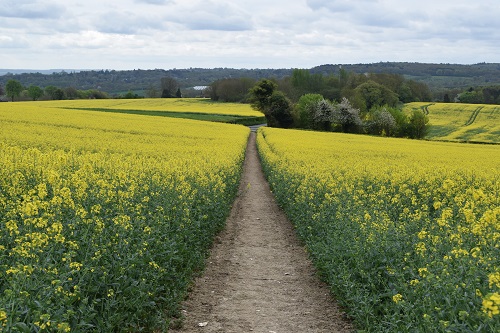 I was now about halfway on my North Downs Way walk and about halfway to Cuxton, I had made fast progress on good paths so there was no rush. My dinner stop would be just about three miles further on in Vigo Village, just off the trail. I stayed in the park a while before reluctantly moving on, over a bridge over the Motorway and along a quiet country road.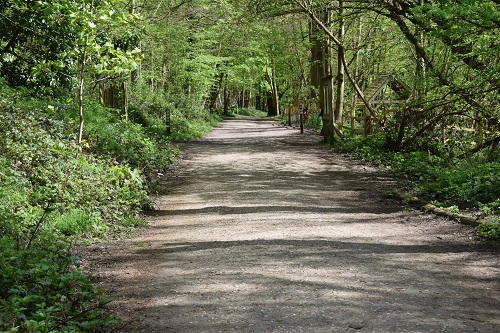 After a mile or so, the trail left the road and started climbing up quite steeply up a rutted track before reaching a pub on the main road. I didn't see a North Downs Way marker here pointing down a road, luckily I had the route on my GPS or I might have carried straight on. A short steep downhill bit of road took me into Trosley Country Park and a lovely track in the woods shared with many dog walkers. A mile later I cut of the trail and into Vigo Village to get some lunch from the shop and a break.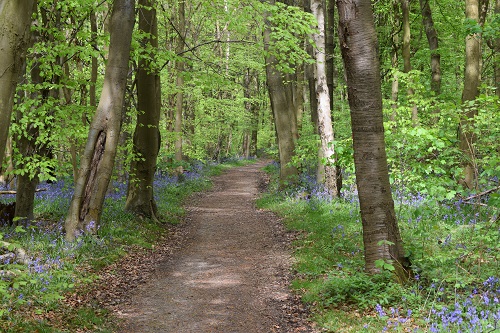 Back on the trail, more woodland walking for a while before ascending up a road at Holly Hill then along a track. The rest of the walk was mainly on track through the woods and then down and up through a field. I could now see Cuxton and a small path between crops took me into the village. I turned into the village and soon saw a path turning left, this would be the start of tomorrow's walk but for me, my accommodation was in the village so I kept on the pavement.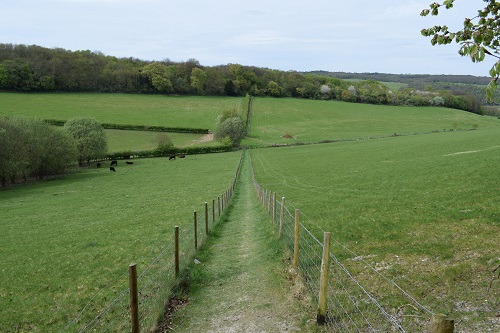 There is a small shop in Cuxton so I grabbed some food on my way past. It hadn't been a long day today compared to the previous couple of days but it had been quite gentle and the cooler weather was nice. Again a lot of the trail was through woodland but at least the Bluebells were worth it. I'm now over halfway and I'm enjoying the North Downs Way walk very much so far, the good dry weather has helped.