The first day of my North Downs Way walk would be a half day walk into Guildford after arriving in Farnham around mid day on the train, the start being very close to the Station. After so many cold and wet weeks walking along muddy paths and wet fields it made a pleasant change to walk in hot and sunny conditions and mostly dry paths, arriving in Guildford with clean and dry shoes. I had read that this part of the trail would be quite straightforward and so it proved with only a few gentle ascents today, although the hot sun and no wind made it a bit more of an effort.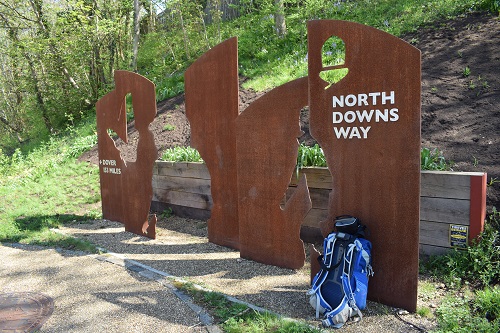 The start of the North Downs Way is in a strange place, right at a busy and noisy junction of roads so I couldn't wait to get on my way, although it would be some time before the noise died down and I could hear the birds singing in the trees around me. I'm sure they could have picked a quieter and more scenic place to start a National Trail than here. Anyway, I was ready to start my North Downs Way walk and looking forward to the next seven days on the trail, so off I started...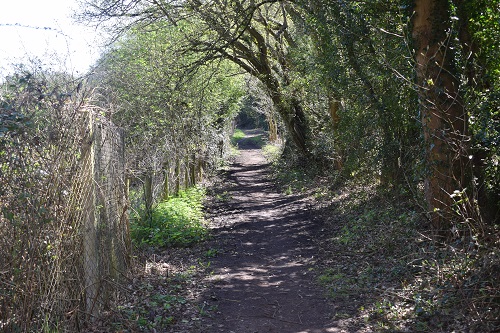 A short walk along the pavement from the start would then turn off and I would walk through paths through the woods and a couple of roads that didn't have much room at the edges to get on if a car came your way, you need to keep your eyes and ears open on these but I was happy, it was a beautiful day and I had set off on my 10th different National Trail.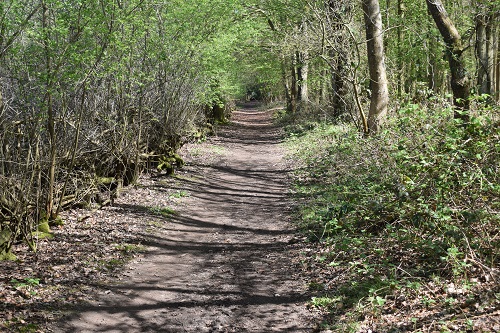 The noise of the traffic was getting further away and my path through the woods then became a path at the side of a field, gently climbing up but giving nice views to the side of me. Soon I reached Farnham Golf Club and some more narrow country roads before walking along a sandy lane, it felt here like I was walking to the beach and today it was warm enough.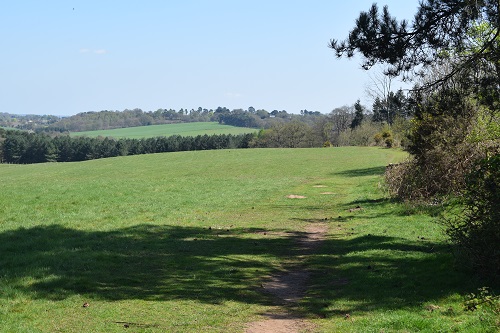 Soon I was back in the woods again, the shade from the sun very welcome today and by now I wished I had brought shorts with me. I was getting near Puttenham and there were a few muddy paths uphill to get up but it wasn't too bad, the recent dry spell had helped dry most of the mud up. I thought to myself how glad I was that I wasn't doing this section a few weeks earlier as it would have been quite slippy.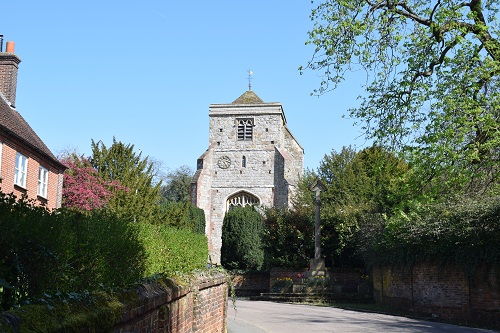 It had been a quick walk on good paths, tracks and roads and soon I was in Puttenham where I found a nice shelter and bench beside the pub to have a break out of the sun. The pub was tempting but for once I gave it a miss. Soon I was on my way again, I was now over halfway to Guildford.
I left Puttenham and walked along a nice track beside a lovely golf course before heading through some more trees. The noise of traffic started to get louder and soon I was passing under the busy A3 road and shortly after this was another tunnel, above this there were two large wooden crosses. Shortly after this I reached the Watts Gallery but I didn't have time today to visit it, but a nice bench beside a pond was too good to resist.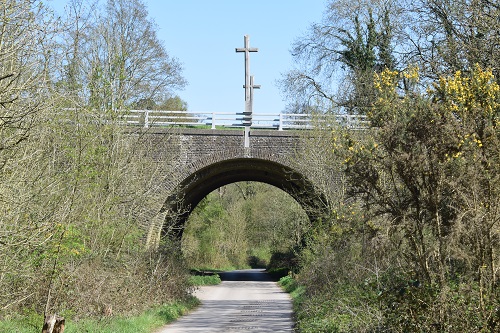 Most of the rest of the way to Guildford would be through woodland but now and again I would be in open field with nice views in the sunshine and the first sighting of houses that I guessed was the outskirts of Guildford. More track soon turned into pavement and a busy road to cross, thankfully a traffic island was there to help people get over it.
A few minutes later I arrived at the River Wey, the North Downs Way goes over it but here was where I would be cutting off today and walking along the towpath and into Guildford a short distance off the trail. As I reached the Town Centre my priority would be to find a shop to buy some walking shorts for the days ahead, how I could have done with them today. Shorts bought, I soon found a shop for some goodies for the evening and found my Hotel for the night, showered and relaxed.
It had been a very nice walk today with nothing too strenuous, I knew that would change in the days ahead. It had been a shortish 12 mile day and a gentle introduction to the North Downs Way, most of all it just felt good to be on a trail and not wearing boots and winter clothing, splashing my way through wet fields and muddy paths all day long.
Day 2 on my North Downs Way walk - Guildford to Reigate Hill