A day spent mostly in woodland and shade
I didn't have a good nights sleep, it was very hot inside the lodge during the night. When I got up and dressed I still was unsure as to what I would be doing today, the thought of finishing right there and the short walk to Cheltenham to get a train home was very tempting. I eventually decided that I would continue on to Painswick and then make a decision there whether to get the bus to Cheltenham and end the walk early or to get a room in a hotel in the village and try and book hotels for the rest of my walk and send my camping gear home, making my pack a lot lighter and therefor easier to carry, the thought of a nice comfy hotel or pub bed was also inviting. It was also only 11 miles to walk today so I was hoping the shorter walk would be more enjoyable.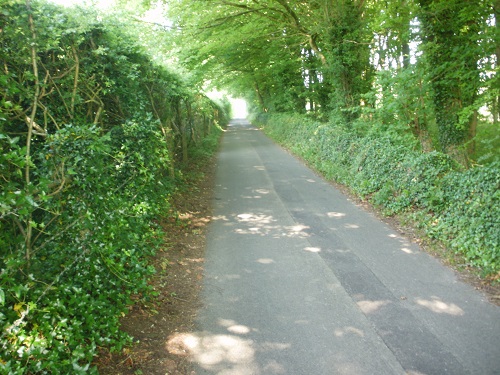 I set off from Star Glamping along the quiet country lane, taking advantage of any shade that I could get as already it was a red hot day and it was just going to get hotter. Soon, I turned off the road and into Crickley Hill Coutry Park and a nice level walk through the woods with occasional scenic views down towards the Brockworth area. As I walked through Crickley Hill the sound of traffic grew louder and I soon I saw the busy A417 down below me, the noise from this road would stay in my ears for many miles, long after I descended down to it and then left it as I walked through woodland towards Birdlip.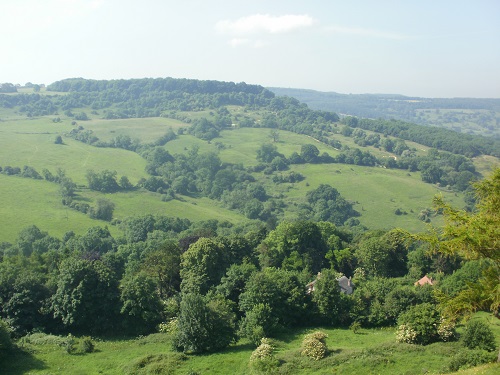 So far the woodland walking had been quite pleasant because it meant I was walking in the shade a lot of the walk but anytime I was in direct sunlight the heat was terrible and there was no wind to at least refresh me. It was a nice walk however through the woods, the traffic noise slowly going away and I passed a few weekend walkers on this stretch. By now I fancied a sit down and a rest and luckily there were a few boulders placed to block traffic going down one of the tracks so I had a well deserved rest there and enjoyed the cooler conditions.
I looked at my map and was pleased to see that nearly all of the remaining miles would be in woodland and mostly out of the sun. Usually I don't like walking through woodland as there's not much scenery but today would be an exception. I set off again, passing by Birdlip and a long woodland path that would eventually take me up towards Coopers Hill where every year mad people race down it after a huge circular cheese, many breaking bones in the process. There were a few steep climbs in the woods, the sweat dripping off me even in the cooler shade, I would take many breaks as there was no rush today.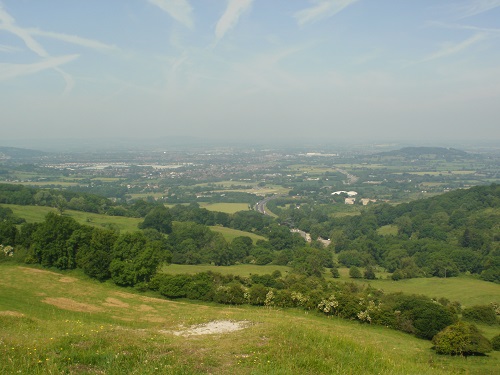 It was about this time that I had decided that I'd finish the walk today and head home as I realised that not only was I suffering in the heat but I just wasn't enjoying the experience and when a walk is no longer enjoyable, there's no point continuing. I do my walks for the scenery and I just wasn't taking the scenery in the three days I had walked, my mind was more thinking about getting the day over with or how to get home so I decided that when I reached Painswick I would head home and then come back another time to complete the Cotswold Way.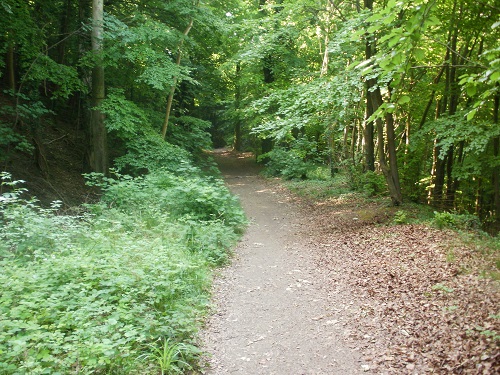 I had made my mind up but I still had the rest of today to finish so I headed onwards hoping that the thought of my own bed that night would help me along the remaining few miles, the thought of a nice ice cream and cold drink at the local shop was also a nice one.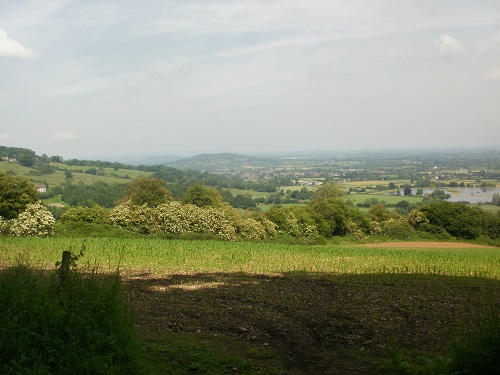 The next few miles were all in woods, the track was dry but you could see that it would be pretty muddy in places after bad weather, some rain would have been nice just now. Eventually I left the woods and headed across a golf course at which point the sun hit me again and I could hardly breath as I walked through the golf course just before Painswick. Eventually I reached the end of the golf course and through a car park which seemed to be for a quarry but I was into a small bit of woodland again and I saw a seat. I might have only had a mile or so to walk but I was taking advantage of any seat I could find, especially in the shade.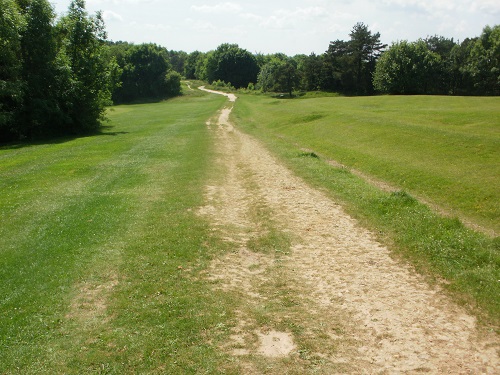 The last of my water was drunk and off I went, across more red hot golf course and through a Ramblers Only car park and into the village of Painswick where my first thought was to find the shop. I soon found it, bought a small tub of ice cream plus a 2 litre bottle of Pepsi, I knew I'd drink it all on my journey home. I stood in the shade across from a church and finished my ice cream at which point a bus pulled up going to Cheltenham. If ever I wasn't sure what I wanted to do, the bus seemed to be a sign so I got on it for a sweaty short journey to Cheltenham.
The windows on the bus were open but there was no air so I was glad to finally get off the bus at Cheltenham and cross the road where there were many seats in the shade. I could have sat there all day but I still had to walk to the station, get some food at the shop beside it and settle myself down on the platform to begin my journey home.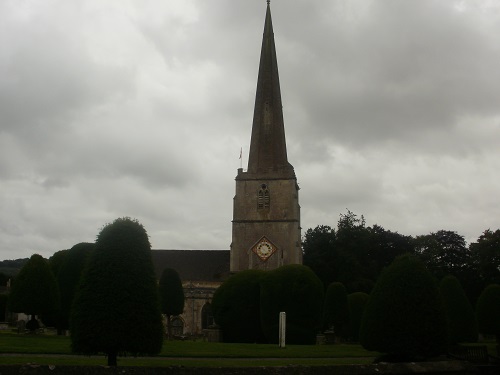 In hindsight, maybe I should have quit the walk in the morning as I hadn't enjoyed the day, it was more about just getting to the end. I'm glad though I completed in because at least it felt like I'd done half the walk and can complete the rest of the walk in three days rather than four. I was disapointed to have to finish the cotswold Way in Painswick but when the heat is making you feel ill and it starts to feel dangerous, you have to play safe and not be stupid and take risks with your health.
The rest of the walk was completed a few weeks later, carrying much less gear and in better walking weather.