Could it possibly get any hotter?
I had stayed the previous night at a Youth Hostel just outside Stratford Upon Avon as it was about £100 cheaper than the prices I was given to stay at the start in Chipping Campden plus it was on a main rail link. I decided to stay at the Youth Hostel and then have a two mile walk in the morning back to Stratford Upon Avon and get the 8am bus to Chipping Campden (I would end up being the only person on the bus). It was boiling hot at 7am as I walked along the road to get my bus, I knew today was going to be a problem, weather wise.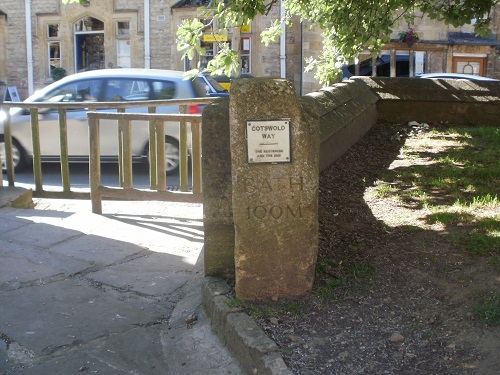 I got off the bus and picked up some food and water from the local shop and filled my rucksack, applied sun screen and took the usual photos from the start before starting off on my cotswold Way walk. A right turn took me up and out of the village, the sweat already being wiped from my brow. At the top of the hill, the path followed a road for a while at the edge of fields before becoming a very nice level path.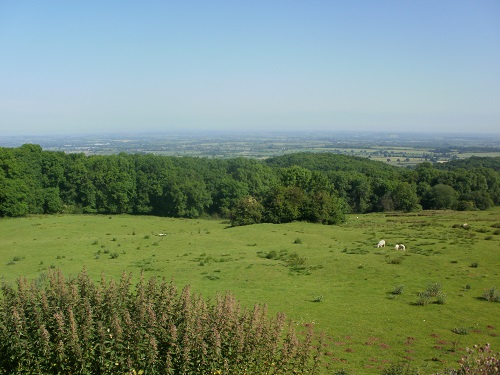 It was a fast walk and then through the middle of fields where I caught my first sighting of Broadway Tower (this confused me as I was sure the tower was after the village but I was wrong). As I approached it I saw it was quite busy with tourists so I had a quick look about, took a few photos and got back on my way again, heading down towards the village of Broadway. Many people heading up the hill towards the hill were soaking with sweat, I was glad I wasn't walking up the hill.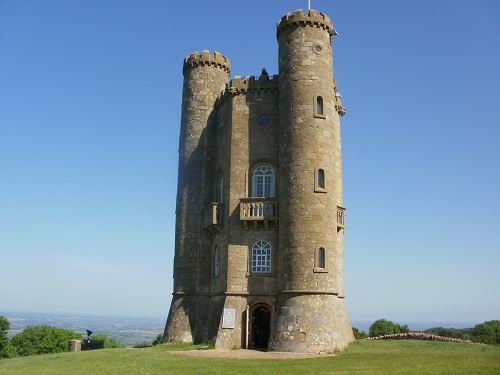 Soon I entered the pretty (but busy with tourists) Broadway where I found a nice seat in the shade and had an early lunch, hoping less weight might help plus I was quite hungry. I sat a while and watched the tourists go by before heading off again, past the souvenir and small shops and turned out of the village where I saw Morris Dancers ( I also saw Morris Dancing on my recent South Downs Way walk, I guess it's a Southern thing.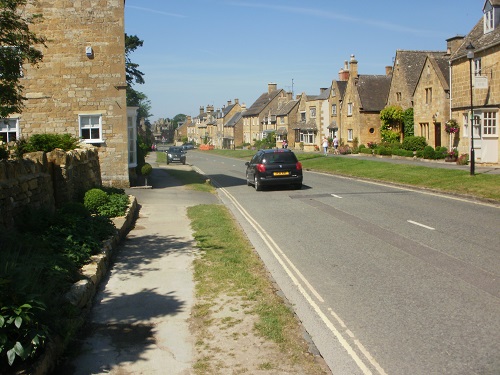 It was now my first hill of any steepness on the walk, at this point a young man hobbled past me and walked in front of me for a while. He had been heading towards Broadway Tower earlier so I'm not sure what his walk was. The hill seemed to go on for ages, Broadway Tower was still in view to the side of me and I was suffering in the heat, I hoped I'd have enough water for the day. I decided that I'd pop into a pub a bit further on for a refreshment, some shelter from the sun and a break.
It wasn't steep but it felt it and soon I caught up the man I had seen earlier, he was lying in the shade with one shoe off, I guess I know now why he was hobbling. Soon I was heading down into the village of Stanton with it's pretty houses but I had a cold beer on my mind. The Mount Inn was really busy with people wanting to order food but only one girl behind the bar so I waited ages for my pint and a sit down.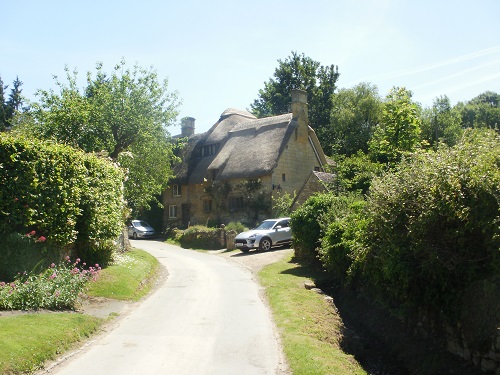 I felt more refreshed as I set off again, through the rest of the village knowing I only had about five miles in the blazing sun to endure but the last few miles of any walk always seem to feel the longest and hardest miles of the day. First I passed through the small village of Stanway and past Stanway House.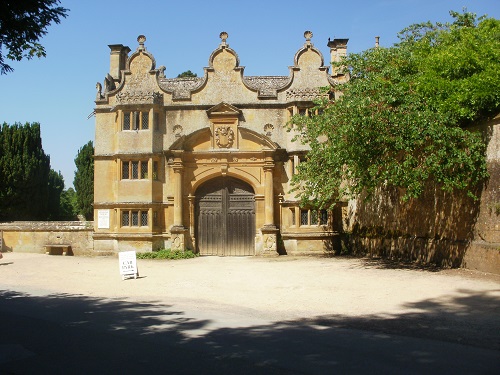 There were a few more ups and downs before I entered Hailes Wood and down to Hailes Fruit Farm which is where I would be camping that night. It was a very busy site with organised Duke Of Edinburgh youth groups and families also staying but I picked an empty spot and pitched my tent, the problem being there was no shelter anywhere so I basically sat in my tent sweating away and coming to the conclusion that I couldn't do this all week if the heat remained as bad as it was today, luckily the next night I was heading to Star Glamping at Ullenwood where I would have a lodge for the night, no camping that night.
About 9pm the sun was low enough to give me some shade and it cooled off a little. Eventually I found myself drifting off to sleep on top of my sleeping bag, just with shorts on. On the South Downs Way recently I spent most nights fully dressed in my sleeping bag, how quickly things change. Day 1 had been an easy enough walk but the conditions made it feel worse and I know I have five more similar days ahead of me, I started to think of different options regarding accommodation.