Just when I thought it couldn't get any hotter
It was a hot night inside the tent and I awoke about 4am with the sun already shining onto my tent and I struggled to get back to sleep as the temperature got higher and higher. I was up and got my gear packed away quite early as I wanted to try and get a few miles in before it started to get uncomfortably hot like the day before. I left the campsite and headed along through Hailes and then some track towards Winchcombe which was only a couple of miles from the start of the day and where I would stop at the shop to pick up some food for the day and night ahead as well as water as there wouldn't be anywhere else today to pick up supplies. I entered Winchcome and picked up plenty of food and water and had a seat, a short break and something to eat before moving on, the heat was already becoming a big problem for me.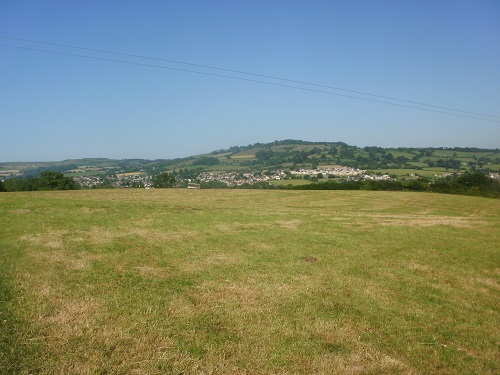 Just after leaving the village, the path passed a cricket pitch and then it would lead uphill. Again, it wasn't very steep but the heat and lack of wind made this short climb harder than it should have been, I paused often for breath and to take in the views back towards Winchcombe before the path levelled off and a nice path followed after Belas Knap Long Barrow which is an ancient monument and today would be busy with tourists.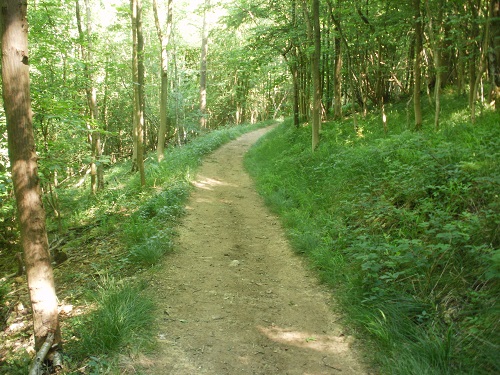 Not long after, I came across a waymarker telling me to turn right, this must be a diversion since my map was printed and a path through Breakheat Plantation took me down through woodland which gave me some shade from the sun. I reached a narrow path where two horses were also enjoying the shade and blocking the path and in no mood to move and let me past but eventually with a bit of encouragement they moved a little and I passed by slowly and carefully without incident.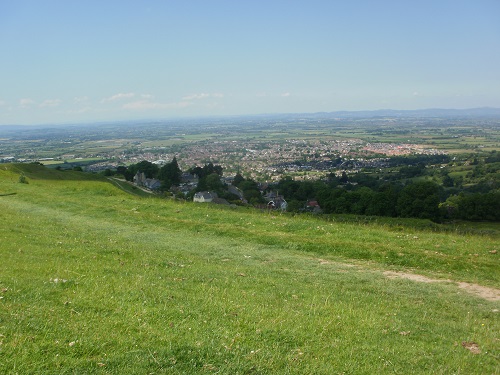 Ahead of me now was Cleeve Hill, which is the highest point of the Cotswold Way and a golf course. As I walked towards the golf course I could by the amount of people running that there was a race going on, it turns out it was the Cheltenham Challenge half marathon, most people doing it for charity. I was soon on the same path as they were and I decided to stop and have an early lunch and enjoy the views and let most of the runners pass as otherwise I would just be getting in their way. The views down to Bishop's Cleeve were very enjoyable as I sat on the grass and watched the runners struggle by, many by this time had given up running and had decided to walk for a while, I didn't blame them.
Lunch was over, I still had a long way to go and most of the runners had now passed by. It was an enjoyable level walk for a while and over Cleeve Hill, by now I could see Cheltenham and it's Racecourse below me and for the rest of the day the path slowly would circle the town.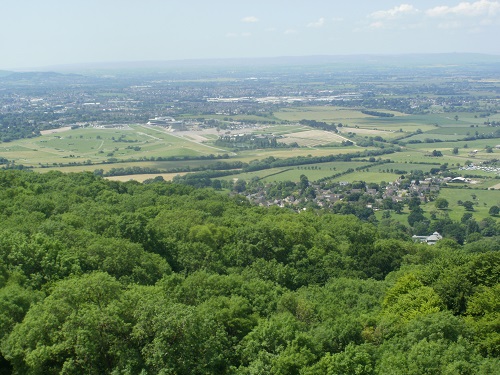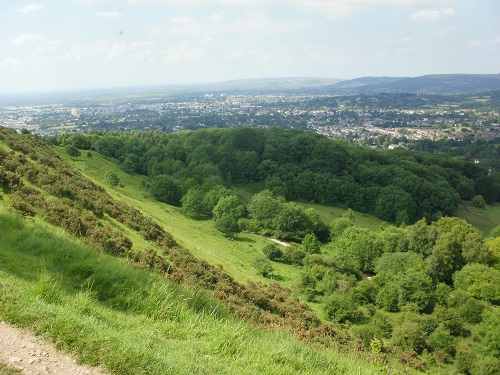 It was quite a nice level path before it dropped down into Dowdeswell Wood and beside a reservoir. There used to be a pub around here but it's now an Indian restaurant which was a shame as I could really have done with a cold pint by now. There wasn't too far to go today but it would be anything but easy, the sun had sapped my energy and the little climbs that followed hurt more than they normally would.
When I reached the road at Seven Springs, I looked at my map and could see that my finishing point for the day was not far away, but instead of going in a straight line, the path would turn and I was walking away from the end point before it eventually started to turn as I would get near Leckhampton Hill. There were quite a few seats along this stretch looking down upon Cheltenham but none of them were in the shade sadly but I needed a sit down for a little while. Sadly the heat by now was taking all the enjoyment out of my walk and instead of sitting there enjoying the views and the peace and quiet, I was now just wanting to get finished, get into my Lodge at the Glamping site and think about whether I should continue with my walk or come back another time and enjoy it the way that I should, what's the point if you're not enjoying yourself?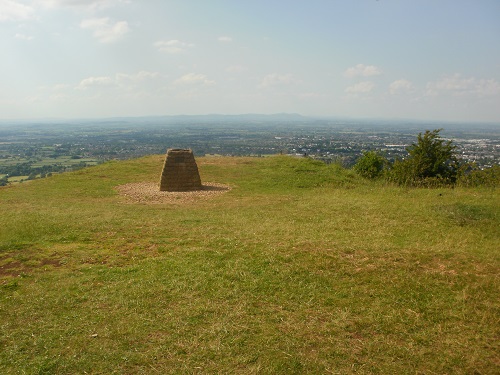 Thankfully after Leckhampton Hill it was just a short walk to Ullenwood and along the road to Star Glamping which is just a few wooden lodges and a shower block on the grounds of the National Star college which provides education for people with disabilities. I was so relieved to walk into the air conditioned reception and even happier to see that they had a small shop selling cold drinks and snacks.
The wooden lodge was quite nice and it was nice to sit inside out of the sun and cool off a little before having a shower and getting fresh clothes on. I made myself some sandwiches for my tea and spent the next few hours looking at various options for the next day as the hot weather was going to continue and even get hotter.
The options would either be to continue as planned and camp each night, or possibly to book hotels and post my camping gear back home which would mean less weight to carry and a bed at night. Another option was a four mile walk in the morning to Cheltenham and then get the train home from there. I decided to sleep on it and make a decision in the morning.