I had walked this trail four times before I set off this time, I kinda like it. I usually have walked it in April or May but I had time off in late January and decided to walk the WHW again and then keep going to walk the Great Glen Way (Click here to read about my Great Glen Way 2018 walk). Two years earlier I walked the WHW in the opposite direction in February 2016 and really enjoyed it (Click here to read about my West Highland Way 2016 walk), the trail was quite quiet as not many people walk it in the winter but the scenery was spectacular with the snow on the hills. This time the forecast was for rain and that's all it did on my first day.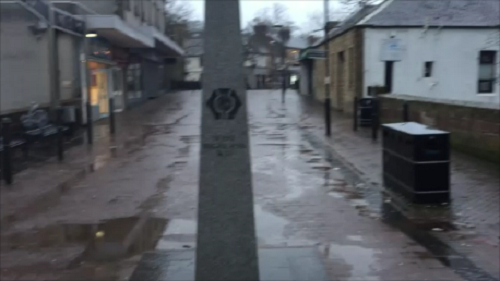 As I reached the start of the trail in Milngavie, the shopping centre was quiet. Four walkers headed off from the start but I have no idea if they are doing the trail or just having a day walk. I put my waterproof trousers on and they would remain on all day. The start is a walk in the park, literally. You walk through Mugdock Country Park for the first few miles and on a nice path, sharing it with numerous joggers and dog walkers and today would see the paths very wet and many puddles to avoid.
It was a quiet walk through the park, it was raining but not too heavy but the clouds were low down so I knew it wouldn't be much of a day for scenery which was a shame but the better scenery is still to come along the trail and hopefully the weather is better. I was glad to eventually reach the end of the park and not have to dodge the dogs out walking their owners anymore, or at least that's what it looked like.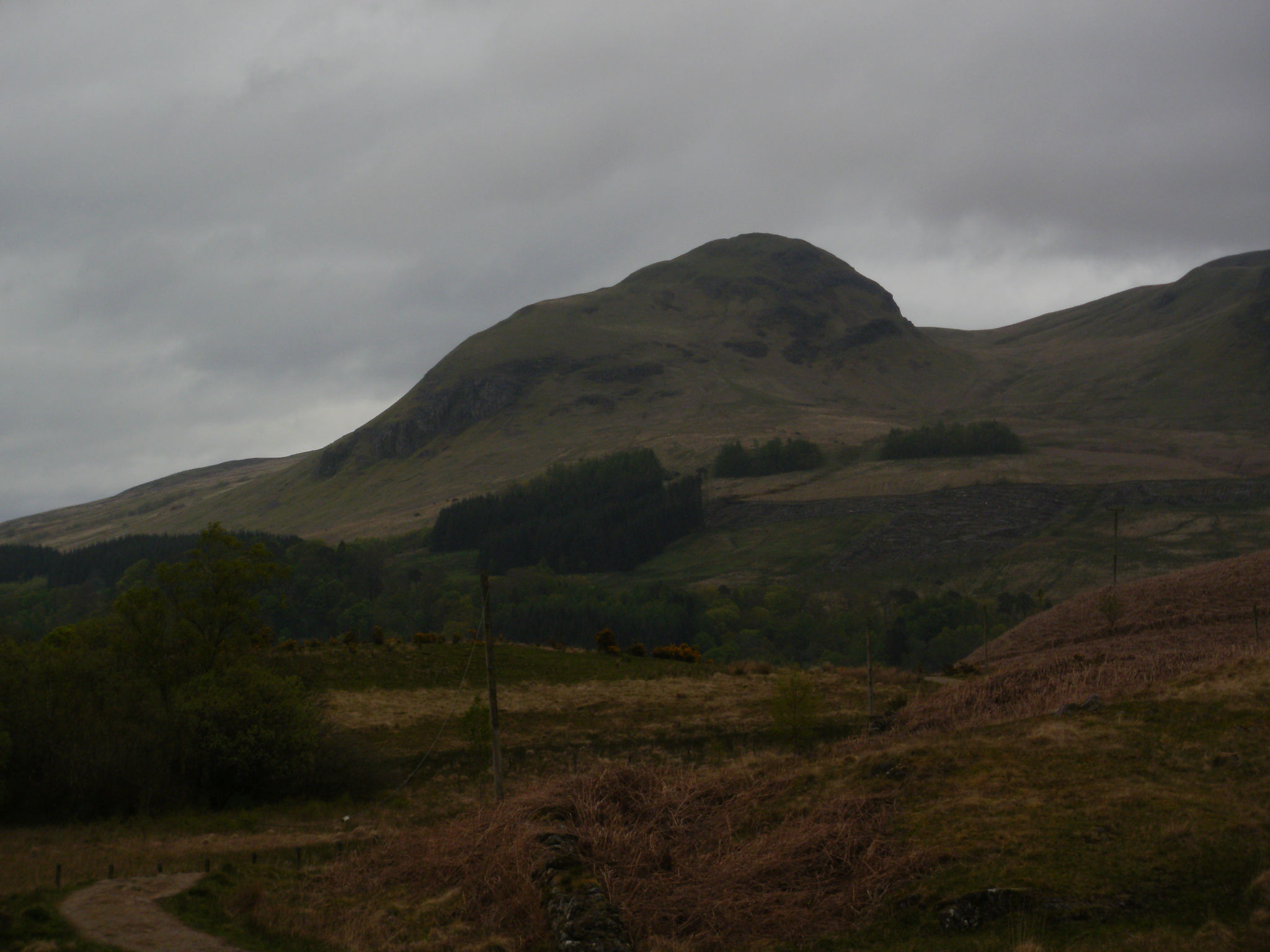 A short bit of road walking and it was back onto wet track again, with muddy patches as the path undulated along and the scenery would normally open up giving you views of the local hills but today they were under clouds sadly. Not much to look at but along this stretch I saw a couple of Deer before I reached the path along the disused railway line.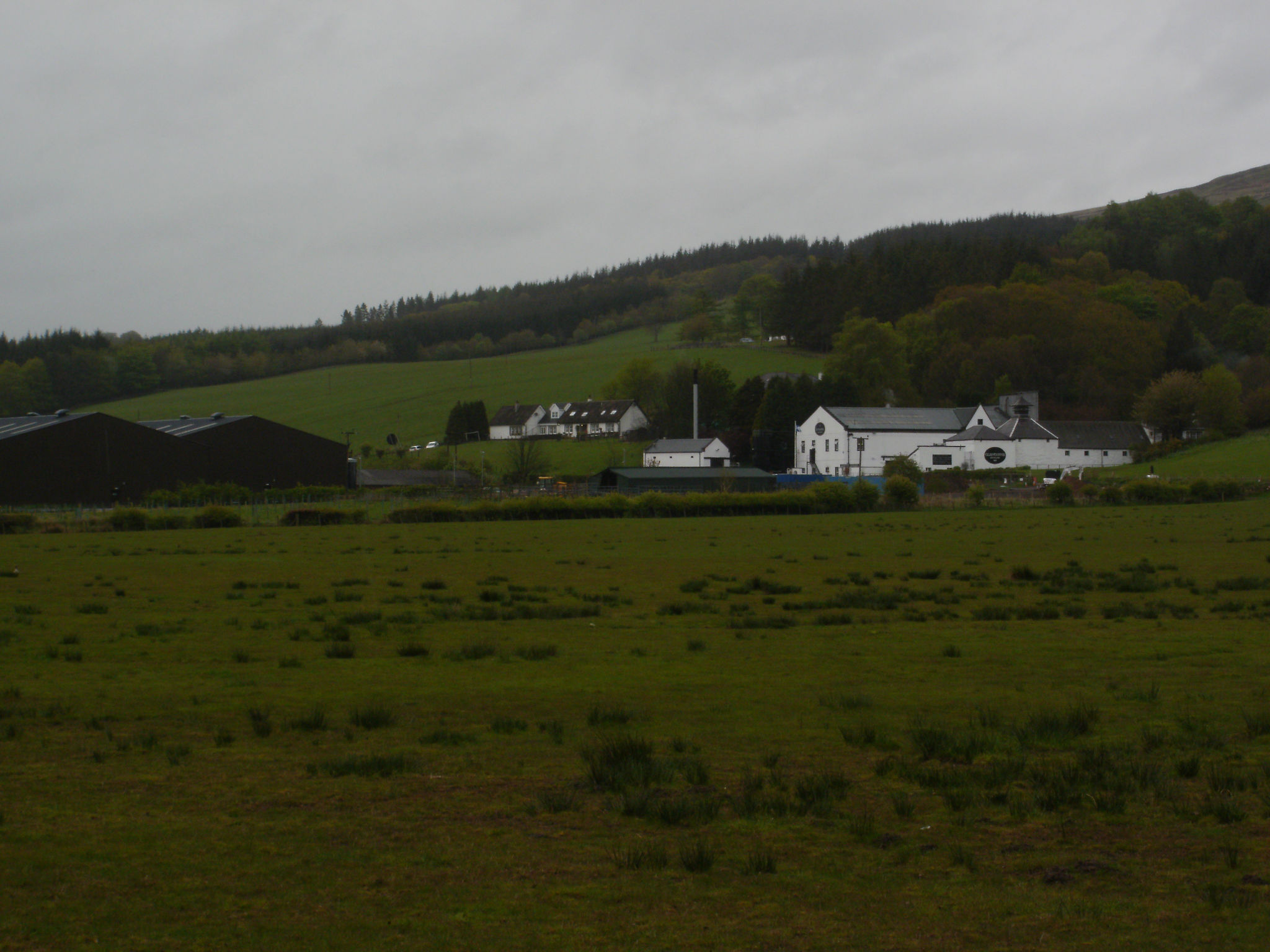 This part of the trail is pretty boring as you are basically heading in a straight line on a flat surface, wet and muddy in places and you pass close to the the Glengoyne Distillery where they have a path leading to it from the trail. I wonder how many walkers visit the visitor centre and sample the Whisky and then not return to the trail? This part of the trail is hardly inspiring but it has to be done. At least it is flat walking so it's over quite fast and you soon reach the Beech Tree pub at Dumgoyne, which now has a nice little picnic area for walkers to have a rest....so I did.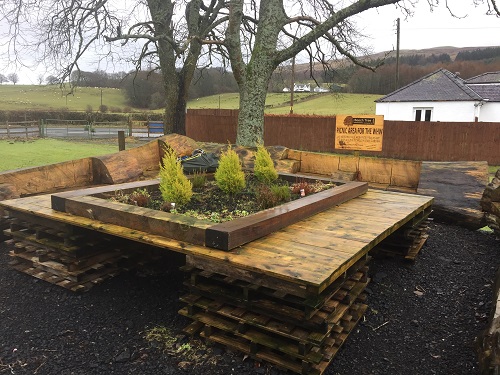 First break of the trail over, I crossed over the busy road and continued along the disused railway line but at least this section has a few gates to be opened to ease the monotony and at least this section has a few ups and downs to stop you getting bored before you finally come to a road crossing the Endrick Water at Gartness and you start a long road section, probably the longest bit of tarmac on the trail but this is quite steep in a few places, the first real time so far I have had to use much energy.
After a short time I found a bench by the side of the road and had a break and my lunch, the rain had been off and on the last hour. Just as I finished it, a walker approached and I could see his rucksack was far too big to be out for a day walk. I spoke to him, he was wild camping along the Way, I didn't envy him as I was heading for a comfy hotel room with all the luxury's and he would be in a tent in the middle of nowhere in the cold, rain and wind but he was happy and looking forward to his adventure which is what it's all about.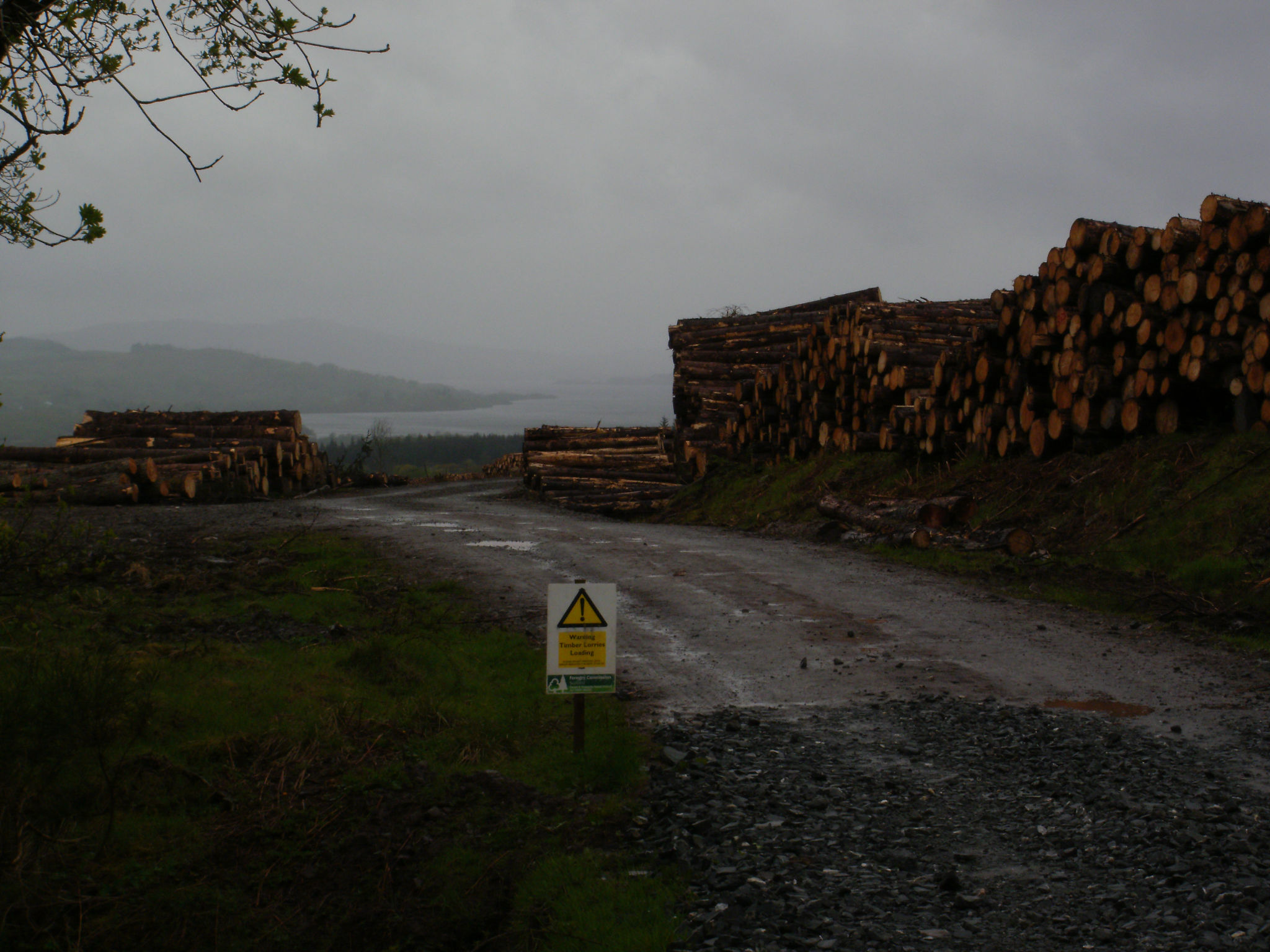 Lunch over, I headed along the undulating road until I reached the point where you head over soggy fields or continue along the road to Drymen where I sometimes stop for some shelter and my lunch but today I would miss that out and try and find a dry line up through the wet fields to the road. A bit of pavement walking would then see me turn off and up a narrow path towards the forest.
It was all uphill now and the narrow path then met a forest track that would give me my first view of Loch Lomond. On a good day it's a fantastic sight but today wasn't a good day and as I got higher on the track, the Loch started to get lost by the low clouds. In the murky distance I could see Conic Hill getting nearer, I knew today that this would not be much fun to climb and I would be correct.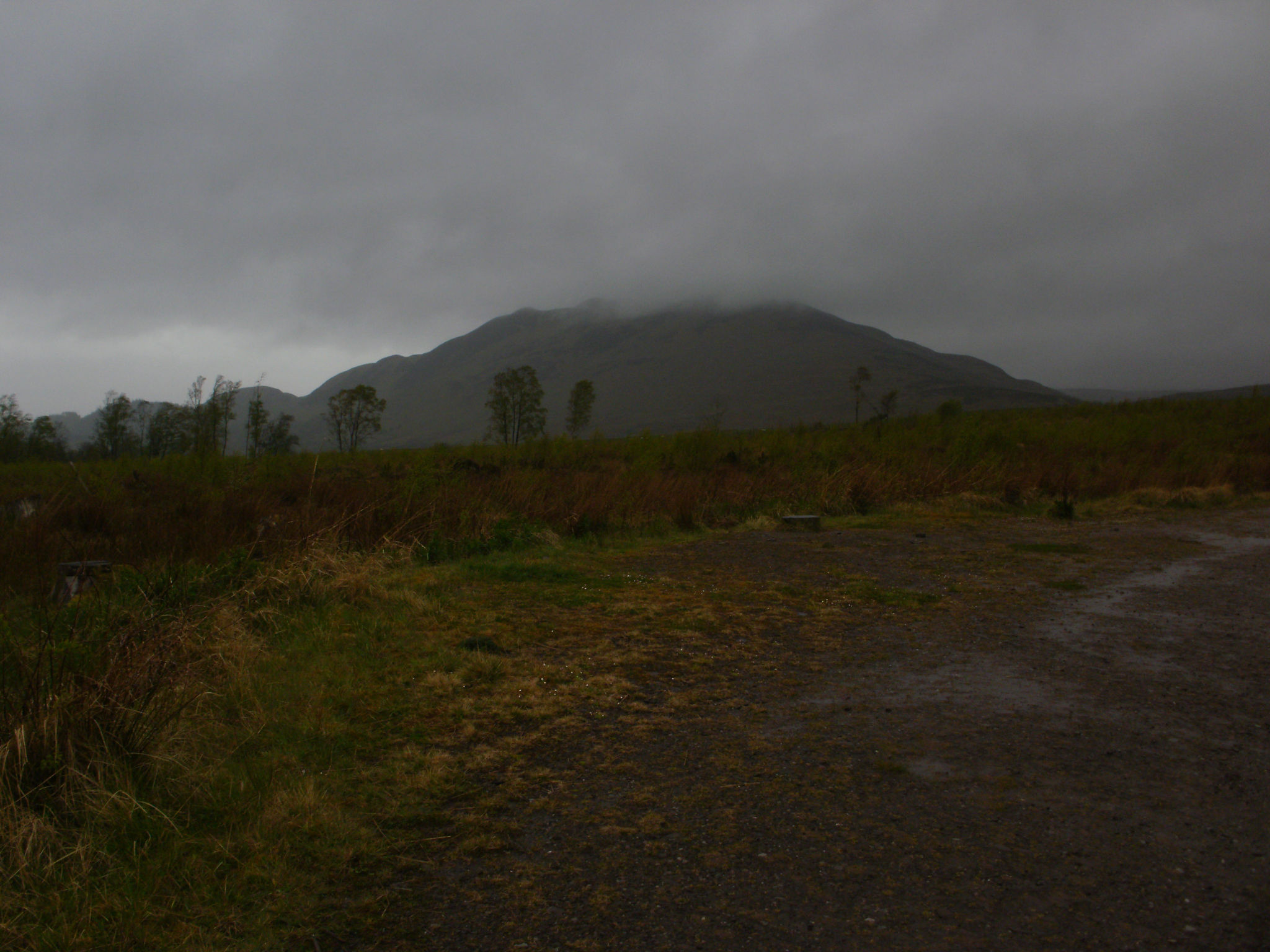 I passed through a gate and the path narrowed and was quite muddy so I had to watch my step. Mind you, there wasn't much else to watch as I was now in the rain cloud. The path heads away from Conic Hill for a while and you start to wonder if you're on the wrong path and have missed a turn but to your relief the path eventually starts bending round. I could see the start of the ascent up the hill by now but not much higher.
I crossed a small wooden bridge and started my climb, it felt harder than usual. Maybe it was because it was my first day or maybe the rain was making my boots heavy but the going was quite hard and the path was more like a river in places. With good visability at least you can look ahead and see where the path levels out but I wouldn't have this today and I kept thinking that the high point of the path was just ahead, plenty of false summits today.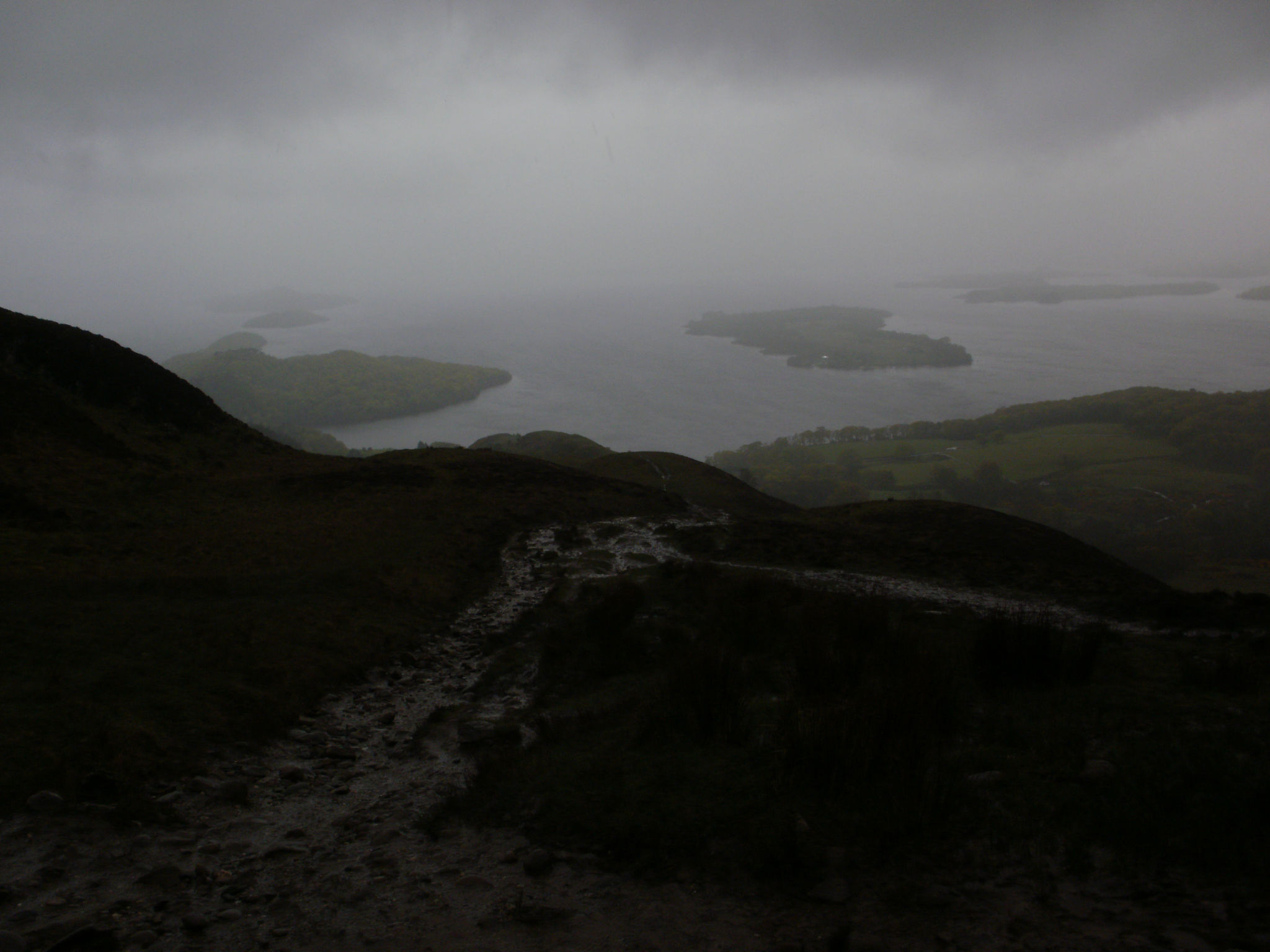 It was tough for me on this bit today, it was wet and now as I neared the top, it was very windy too and I was relieved when the path levelled out and I passed the gravel path that takes you to the summit of Conic Hill and gives fantastic views over part of Loch Lomond and down to Balmaha where I would be stopping for the night. All I saw was clouds and at about this time, my phone decided to switch itself off.
The descent to Balmaha is not one of my favourite parts of any walk, especially in the rain. It is steep and muddy so I had to be careful and lots of those steps that seem to have been designed for giants, not normal sized people with normal size legs. I took care going down the wet rocks, hoping to see the Loch soon but it would be ages before I would see its welcoming sight. There was a walk down through the trees first and more steps before I saw a car park below and knew my accommodation for the night was just over the road from it.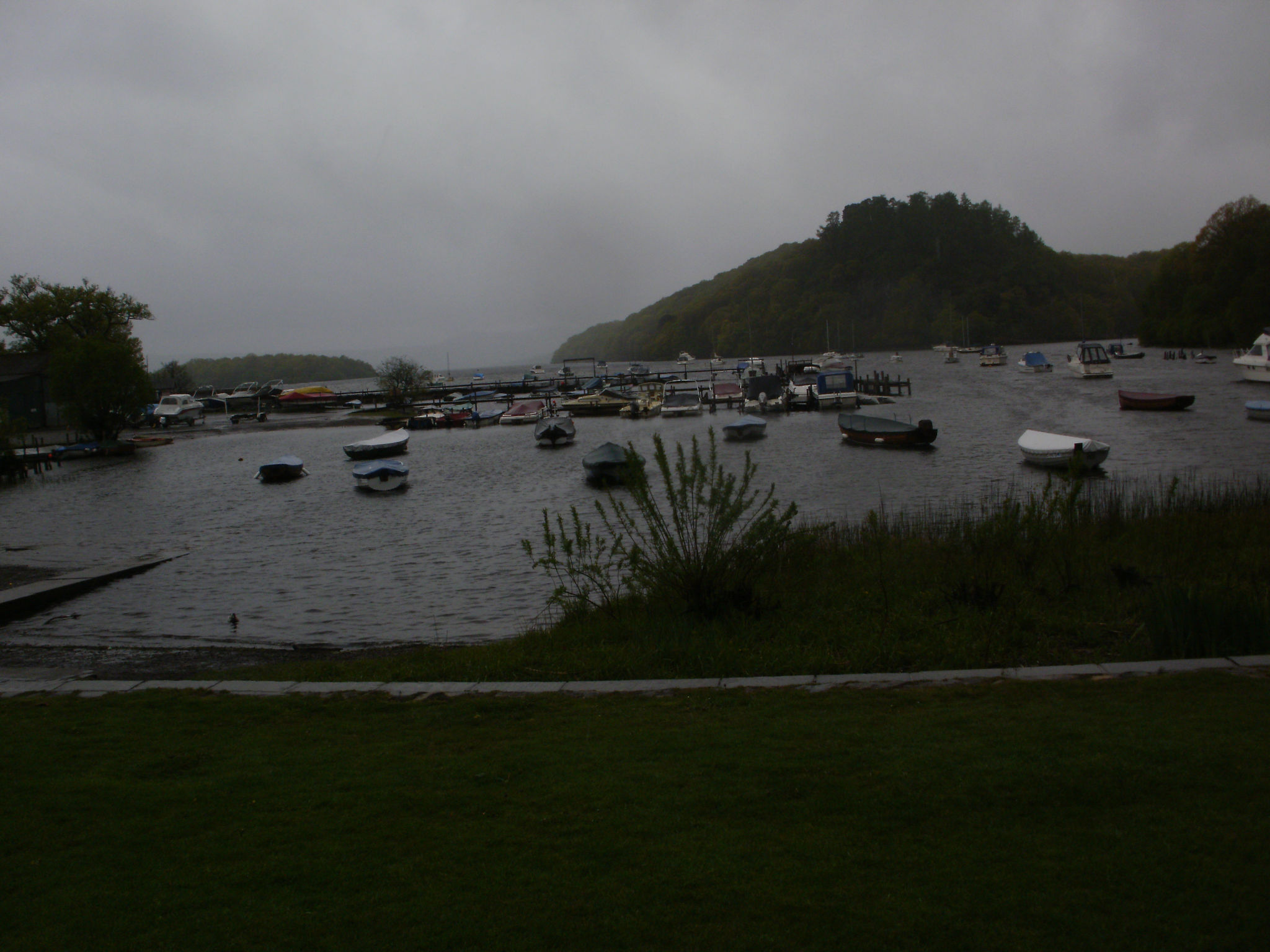 I dripped into the Oak Tree Inn, my accommodation for the night, got my key and got into my room and got everything that was wet off (which was practically everything) and hung some of them up and used the heater to try and dry the remaining items, turning them occasionally. Put on dry clothes, went next door to the shop foraging for chocolate and anything tasty but not expensive, which was only a few things before returning to my room to relax and let my tired legs recover.
It had been a hard day in miserable weather but I was happy as I was on a trail, usually this is where I'm happiest. The weather forecast for tomorrow suggests heavy rain during the night but the rest of the day dry which could mean a good dry day walking but wet and muddy paths. It's a long day tomorrow along Loch Lomond to Inverarnan and I know some bits of the trail are not very good on the legs.
Click here to go to Day 2 - Balmaha to Inverarnan (Drovers Inn)