Today was a day I was dreading, I really hate much of today's walk, especially on the rocky shores of Loch Lomond where it takes you ages as you climb carefully over wet slippery rocks and tree roots and today was even worse as much of the paths were more like rivers after the recent rain. If you ever read someone say that they like this section, they are either lying or are mad. If there was a direct bus service between Balmaha and Inverarnan I would take it and miss this day out but today I endured this section one more time.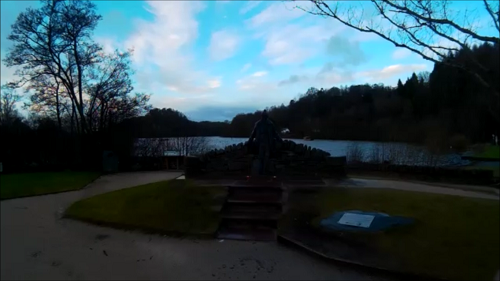 I awoke to rain but a few minutes later it had gone off, this would be the pattern of today's walk. The showers would be heavy and long enough to put the waterproof jacket on then it would be off a few minutes later. The waterproof trousers would stay on all day. I left the Hotel, visited the shop to pick up something for lunch and walked through the village and started the long day along the soggy muddy paths and paths through the woods and the odd bit of road. The paths through the woods were steep in places but at least they were nice to walk on and the only sound you heard most of the day (apart from the splashing of puddles) was the relaxing sound of the waves of Loch Lomond lapping against the coast.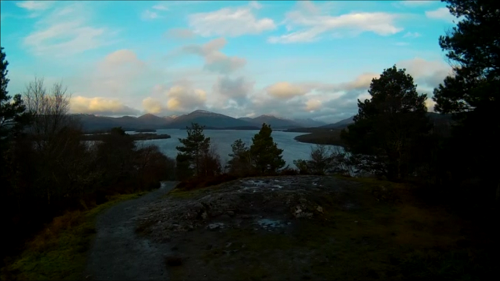 I passed a couple of guys who I had seen the previous day on the Way and they were just behind me for a couple of miles then disappeared. It didn't seem to take long to get to Rowardennan where I would have a rest before setting of along a forest track. I then got a bit confused as I seemed to be on this track for a lot less time than usual before a sign pointed off the track just after Ptarmigan Lodge and down towards the shore. A bit of sploshing about on wet paths followed and crossing slippery rocks before heading back towards the forest track again on a path that I didn't recognise. I had walked the WHW four times but this was the first time I had walked this part of it, I think this was a section that was closed as some of it was washed away a few years ago.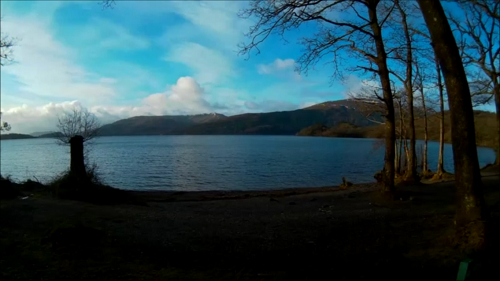 Back on the track I at least could make quicker progress and able to stride out for a change but soon I was heading back down again towards the shore line and the six or so miles of shoreline path that I hate with a vengeance. You really don't think you are ever going to reach the Inversnaid Hotel which is only a couple of miles away, it is really slow going and the heavy rain showers didn't help. I had decided to have a break there and eat my lunch although it ended up being nearer tea time than lunch time. Eventually I saw the Hotel and the path headed up and over the waterfalls, the recent rain and melting snow on the hills above meant a lot of water coming down into the Loch.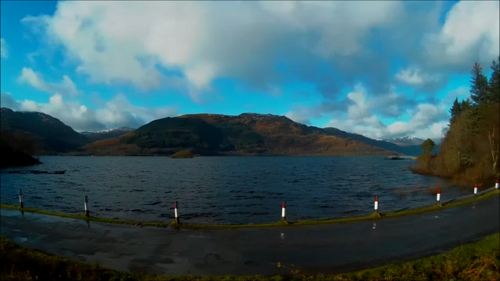 I didn't stay long outside the Hotel although the benches were more inviting than the rest of the walk to come . I took out my head torch from my backpack as I knew I would need it later on. More horrible path would follow, even worse than before and I was really fed up by now, I'd had enough and just wanted some level ground to stride out on rather than clambering over small rocks and trying to avoid the larger puddles and the streams of water coming down the hill.
The sun was starting to set behind the hills over the other side of the Loch but still I seemed to be going nowhere fast, the end of the Loch seemed very far away still. It was getting murky now as I climbed up a small hill on a muddy wet section then down to the shore again but now I could see the end of the Loch section. I took a last look at the Loch, swore a few times at it and never looked back. I just wish I could miss this day out but then you wouldn't have completed the whole of the West Highland Way.
It was now time to put my head torch on and it got dark quite quickly as I continued splashing through puddles, by now I was no longer trying to avoid them and just wanted finished. I had never walked a trail using a torch before and it was slightly spooky just to be able to see ahead of me and nothing else and checking the path in advance for any deviation.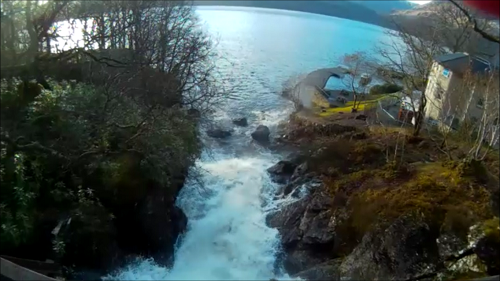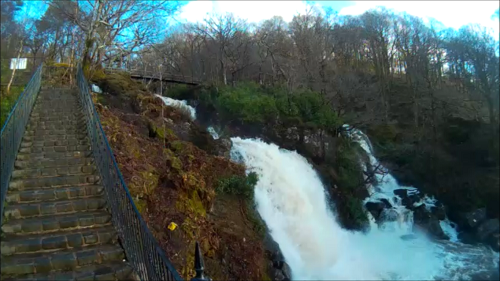 I was looking for the lights of the Drovers Inn at Inverarnan which is where I was staying the night but more because at least I would see the finishing line but it seemed like miles of even more splashing about on paths before the welcoming lights could be seen, I probably smiled for the first time that day and I could almost taste the well deserved drink and meal. I eventually reached the Beinglas campsite where I have stayed before and left the trail and walked along the campsite road towards the main road, it actually felt good to walk on nice level tarmac.
A few minutes later I was standing in the Hotel reception, got my room key but instead of going to it, I instead headed to the bar, ordered two drinks as I was very thirsty and ordered a very tasty meal before heading to my room and out of my wet boots and socks and into a shower.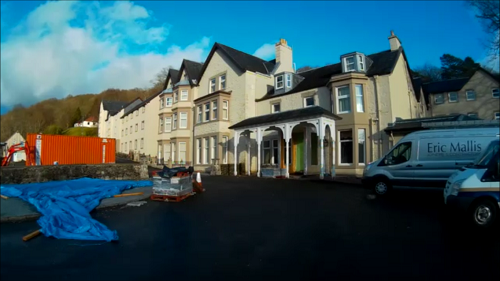 I really can't say anything nice about this days walk, I really hate this section of the West Highland Way but it has to be done. For me, the best of the trail is still to come with better paths and scenery if the weather is ok. I am looking forward to tomorrow's walk, something I will never say about today's wretched walk.