After yesterday's horrible walk, I was relieved to wake up and feel that my legs felt mostly ok. I was looking forward to today's walk as I knew the paths would be much nicer to walk on than yesterday and better scenery but it ended up raining all day and the scenery was mostly hidden in clouds. I left the Hotel later than normal as I had method in my madness. I would be walking to Bridge of Orchy and then getting the train back to Tyndrum to stay the night there and I didn't fancy sitting at a cold station for hours. It also meant I could check into my hotel in Tyndrum when I passed through and leave lots of my stuff in my room and have an easier last six miles....I'm not as daft as I look.
I walked through the Beinglas campsite and rejoined the Way and started walking along a track, this felt like a velvet carpet compared to yesterday. The track gently climbed through the valley before it got narrower but it was still a very good path to walk on, even though a strong wind was blowing the rain into my face at times.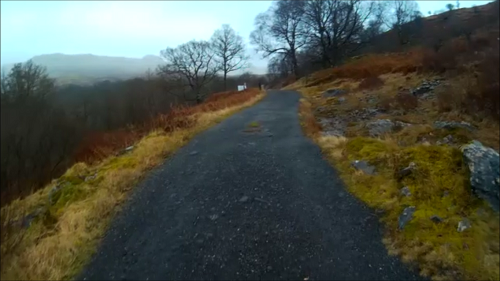 The Way would follow the main road and the railway for a little while before it passed under the railway line through a "sheep creep" which was built to let sheep pass through it and humans usually have to remove backpacks and creep through it. Soon after I passed under a road through a big tunnel where I had a break and got out of the rain for a while.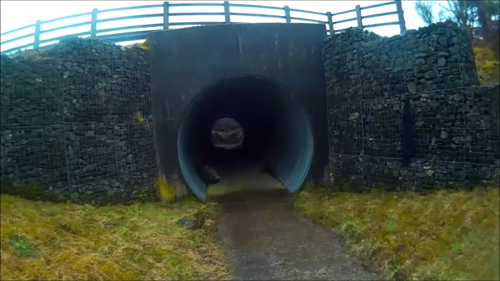 My break over, I set off again, and uphill to join another track which was rather soggy in places and required care. I said today was better paths but I also knew there was a section ahead that would be muddy and uneven in places but I carefully negotiated this section and got to a gate. From here you can turn right and head down into Crianlarich if you are staying there that night. There is also a seat there and a good spot to have a break.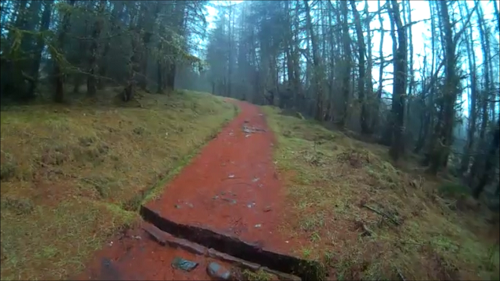 There is also a nice picnic bench as you head steeply into the woods and for the next few miles it's all up and down and quite sapping on the legs. Eventually I could hear the main road and knew I was near to reaching it and crossing it for a spot of road walking past the Strathfillan Wigwam campsite before heading back under the road through a tunnel which meant another chance for me to get out of the rain.
The next section would take me into Tyndrum and was quite easy but wet underfoot at times, especially crossing a small stream before the village that required lots of care as it was larger than usual. I entered the village and crossed the main road to go to the shop, bought some goodies and then checked into the nearby Tyndrum Hotel and had a good break and left some of my stuff there so I could continue much lighter.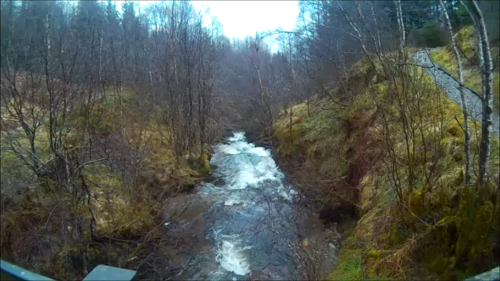 I knew the next six miles or so is quite straightforward once you climb the road out of the village. Much of it was level track which meant lots of standing water and puddle dodging. The track narrowed and went uphill for a bit on a path that was more like a river before descending and under the railway again and onto a nice wide track again.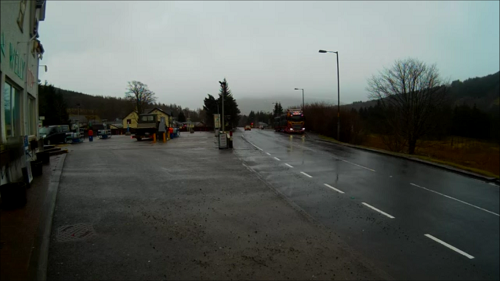 It had been murky all day but now it was starting to get dark quickly but I had my torch and I knew it was basically just one path to the end at Bridge of Orchy so navigating was never going to be difficult. This section has stunning scenery on clear days but for me it was lost in the darkness as I splashed my way along the track, the water getting into my boots a few times when there was no way around large puddles.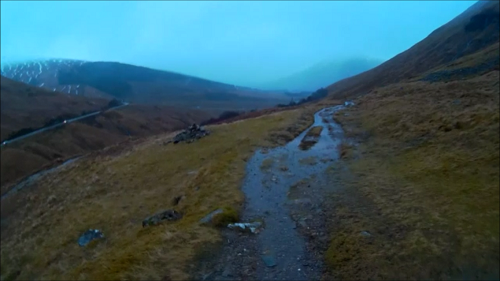 My head torch was showing me the way and also lighting up the sheeps eyes which was a bit spooky but eventually I saw the lights of the Bridge of Orchy Hotel and railway station not far away and downhill so the last mile of splashing was quite quickly negotiated and I was soon sat at the station trying to keep warm and dry until my train back to Tyndrum arrived.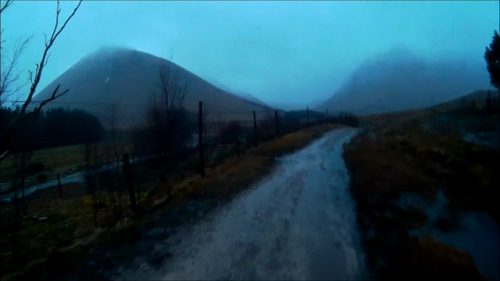 It rained all day today and I got soaked again but today was a much better experience and much nicer on my feet and legs but they were very tired by the end of the day with soggy boots. I had already checked into my Hotel so it was straight up to my room and out of the wet clothes i.e. everything and a well deserved rest. Hours later, it continues to rain and I know tomorrow will be really tough, and even worse if it's raining or if there is snow on the ground. I'm not expecting a dry day....sadly.