After three days of rain, it stopped and was replaced by snow and this ruined my plans for the day. My plan was to get the bus back to Bridge of Orchy and walk to Kinlochleven over the Rannoch Moor and the Devils Staircase but that would be a non starter as I'd still be walking until maybe 9pm which would be very stupid of me and dangerous. I had two options, either get the bus to the Glencoe ski centre and walk eleven miles over the Devils Staircase or stay on the bus to Fort William then another bus into Kinlochleven. As I waited in a blizzard for my bus I still was undecided but the weather forecast was that it would probably stop about lunchtime and then be an ok day. I decided to get off at Glencoe and do the eleven miles into Kinlochleven as I'd have plenty of time even if it was slow going.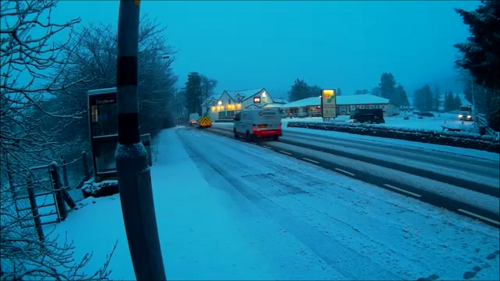 The bus journey to Glencoe made me nervous because of all the snow on the road so I was glad to finally get off it, put my snow chains on and head off down a small road which was burried under a few inches of snow towards the Kingshouse Hotel, or what's left of it as it has mostly been demolished and is going to be developed. I imagine that it will then be expensive and not in this Walker's budget once it's completed.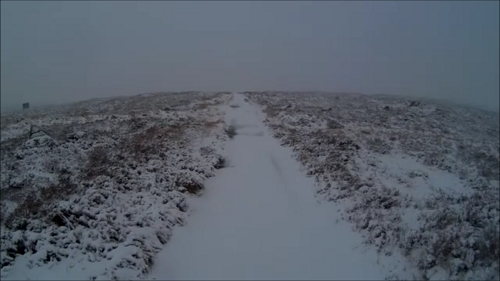 I passed the half demolished hotel and along the road in the blizzard, looking out for the marker sign to turn off it. The snow was so bad I even put on my ski goggles to help my visability. I saw the turn off and along an uneven narrow path that normally gave great views of the surrounding hills but today only a few were slightly visible. The path was wet and slushy in places, the snow covering the puddles meant I had no chance of avoiding them so by the time I eventually reached the road again and started the ascent of the Devils Staircase my boots were wet and heavy.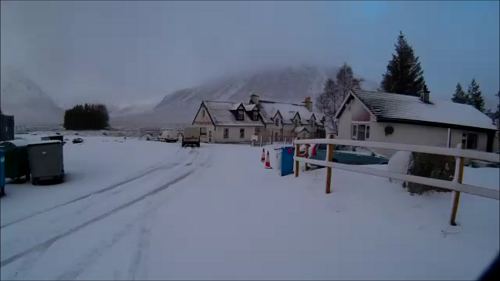 The plan for today was slow and steady but I had no choice really with the amount of snow, I was glad I chose the short walk option now. As I started my ascent I noticed footprints so I knew there were others on the trail or just climbing the Staircase. The path up was still visible but you couldn't see small rocks under it which made things a little tricky so I tried to step in the footprints that the others had left.
The snow had mainly gone off now plus it was behind me now rather than in my face and I looked up and could see three people not far away zigzagging uphill. It is always hard climbing up the Staircase but the deepening snow made it very slow going as you couldn't walk properly. I also looked back down and saw another two walkers coming up (we would all reach the summit about the same time).
I reached the zigzag section and took a few breaths every time I reached a corner before continuing and it wasn't long before I was at the summit cairn and looking back at the wintery scenery across the valley while I regained my breath. I started heading down while the others had a break, there were no footprints now for me to follow and then I realised that the other people were following my footprints now, we were all heading for the same place so I guess they were just following me.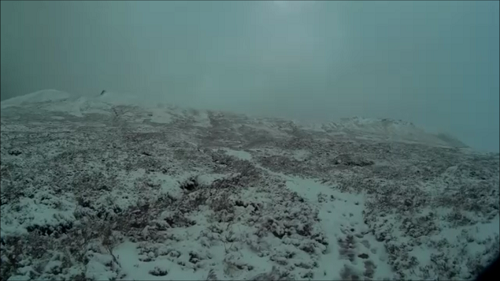 The path down was more difficult than going up because quite often there was no visible path and I had to tread carefully and use my walking poles to check for snow covered drainage channels which could break an ankle if you stood in one. The path was rough in places but at least visibility was good so you could now see the path winding down in the distance.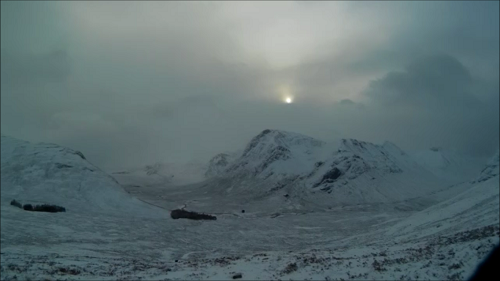 All I wanted now was for some level ground to walk normally upon but I knew that was some way off when the path meets a forest track that goes all the way down to Kinlochleven. Eventually I saw the track getting closer and felt happier but still there were plenty of uneven path to get through, and plenty of soggy slushy patches that you had no real choice but to walk through, my feet were wet anyway so it didn't really matter now.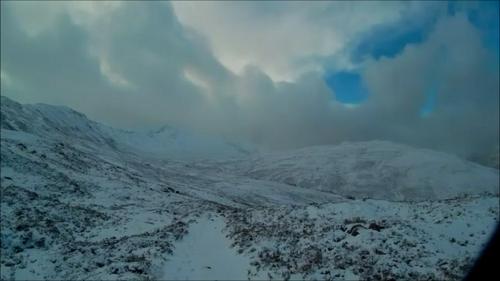 With a sigh of relief I reached the track and noticed that it was clear of snow, this was good news and I took the snow chains of my boots and started to head downwards. It felt really good to walk with a normal stride and not worry about slipping, stumbling on hidden rocks or fall into holes. There was plenty snow at the side of the track but not on it.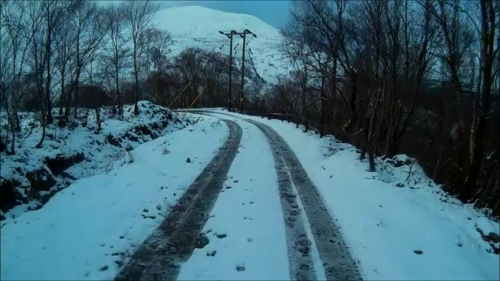 The track winds down through trees and is normally a pain in the knees and legs as it's quite steep but today it just felt good. I could see some of the track further down but plenty of twists and turns would be done before then. Soon I noticed there was hardly any snow about and it got less and less the lower I got until it had disappeared altogether but the surrounding hills were very white.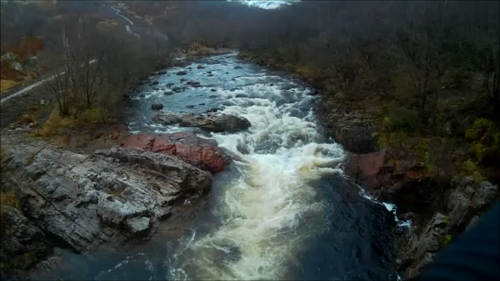 I got to a bridge where you cut off to the left for the Blackwater campsite or over the bridge and past some houses then a small bit off woodland beside the river soon brings you out into the village. Turn left to go to the shop or cash machine, straight over the road is a chip shop and turn right to continue the Way, past a pub and houses before a sign points you into the woods. Just after the sign is the Macdonald Hotel where I would be staying. You can also camp here or they have some camping cabins that sleep up to four people and are good value.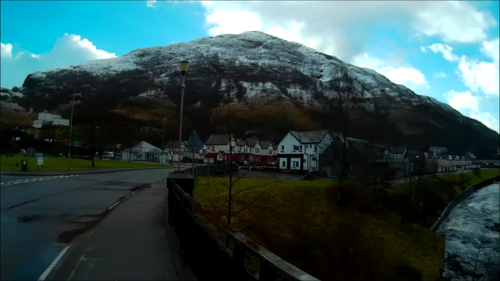 As I got the wet clothes off (yet again) I reflected on my day in the snow and my decision to miss out the Rannoch Moor section. Of course I was disappointed to do so but it was not a good idea. When I looked at the days walk statistics, it had taken five hours to do almost half the walk so if I'd done the full walk I'd have finished after 8pm at least, meaning descending the Staircase in about three hours of darkness with just a torch. This would have been crazy and dangerous so although disappointed, I knew I had done the sensible thing....for once.
It's my last day tomorrow on the WHW before continuing onwards to walk the Great Glen Way. I have about fifteen miles to walk but it's a mainly level track after a steep climb through the woods so even if there is snow about, the walking should be much easier than today and quicker.
Click here to go to Day 5 - Kinlochleven to the end at Fort William