I woke up in the morning knowing I had 10 miles less to walk than yesterday so there was no hurry to set off this morning as there was nothing to do when I reached my destination, a bunkhouse just after the village of Walton. My feet and legs were fine despite the 28 mile walk the day before but as I said, the paths were mostly grassy and good to walk on. The weather forecast for the day wasn't looking very good and scattered showers would be the story of the day and it wouldn't be very warm and as I was getting ready to set off there were a couple of showers which meant I set off from Once Brewed with waterproofs on, they would be on all day as showers came and went quickly but at no time did I think that maybe that would have been the last shower of the day and they also helped keep me warm as I headed into the strong wind.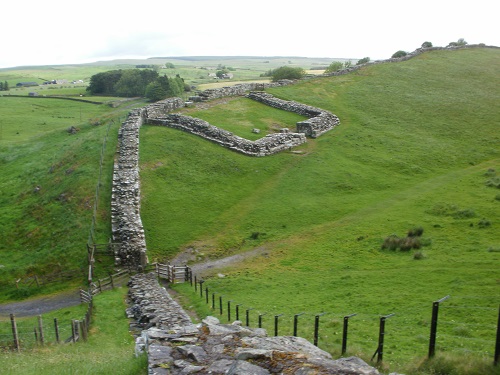 I knew that the scenery today wouldn't be as good as yesterday as there would be less of the Wall to see but also because of the occasional rain and the strong wind driving the rain into my face, there would also be a lot more soggy farmland to walk over today. From Once Brewed, there were quite a few up's and down's for the first few miles on good path but after a quarry I followed a trail through dreary farmland, crossing many stiles and gates and avoiding sheep and cow shit until I reached Walltown Quarry where there are plenty of benches to have a break, so this is where I had my lunch as I watched many other groups of walkers go by in either direction, there was a cafe here but it was closed and a sign telling you where the nearest cafe was, which was Greenhead, a few miles away and off the trail.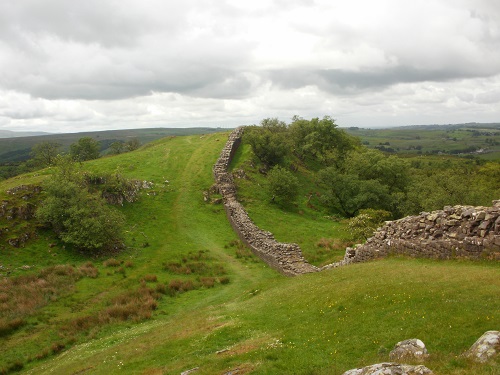 My lunch eaten, I headed off once more, first of all passing the ruins of Thirwell Castle which was originally made from stone taken from Hadrians Wall and soon reaching the village of Gilsand, which has a cafe/teashop and a pub> from Gilsand you cross the railway and go up a steep lane and head towards Birdoswold Fort visitor centre. From here to Banks, it was more dreary farmland for a couple of miles while the showers kept on coming and then onto a road which in hindsight I wish I had just stayed on as it was the one from Birdoswold Fort and my shoes would have been cleaner and drier, I don't think you'd miss any scenery or wall as you'll get the same views as from the path running parallel to the road.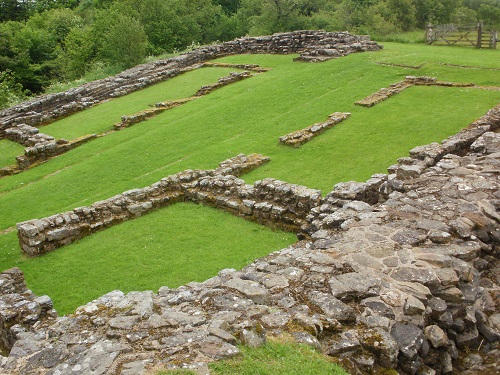 However, just before rejoining to road that would take me into Banks, there was an honesty box so I grabbed a couple cans of Cola for the evening and set off along the road thinking how strange it is that one day you hate the sight of tarmac and then the next day you crave some of it so that you don't have to plod through soggy fields. It's quite a narrow road and there were a few cars on it, probably going to the fort so just be aware as there's not much room at the side of the road for you to step onto.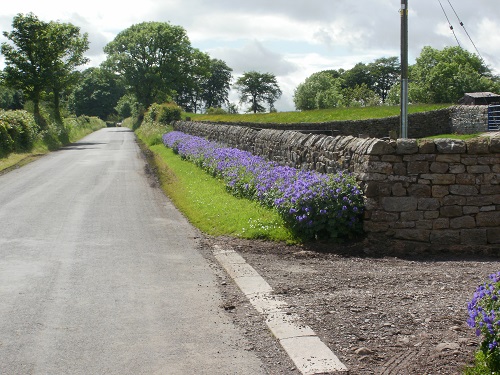 From Banks to Walton, it's almost a straight line through fields and meadows, passing an honesty hut at Haytongate which at least has seats outside it but the heaviest shower of the day came on at this point and I took shelter under some trees. A bit more farmland muck-dodging follows and eventually you see Walton up the hill and a bit of road walking will take you there but my accommodation for the evening was just a little further on at Sandysike, a bunkhouse which did me just fine and there was only one more person in it and he arrived much later, by which time I'd cooked and eaten my tea and had a shower and changed into dry clean clothes (thank goodness for baggage companies as you can fill your case with stuff you might normally have not have brought with you and plenty of food). It wasn't the best days walk I've ever done but it still had many good bits and I imagine that if the weather had been better, I'd have enjoyed them a little more. As I drifted off to sleep I was already looking forward to the next day, an easy 11 mile flattish walk and especially because I'd be staying in Carlisle city centre which meant takeaways and many treats.