I awoke early in my Travelodge after a good sleep and a good feast, the sun was out today and the forecast was that it would be nice all day so it was nice to walk today without having to put waterproofs on, but I still took them with me instead of leaving them in the room, where I'd also be staying that night. It was a short and easy last day, mainly flat but the main reason for setting off early is the bus service. There is a bus from Bowness On Solway just after 2pm and the next one is almost 5 hours later so remember that if you plan to do Hadrians Wall as there is just a pub in Bowness and maybe a tea room so either set off from Carlisle early or late so you're not hanging around at Bowness and also remember that the bus service runs at different times on Saturdays and not at all on Sundays where you'd need to get the taxi bus.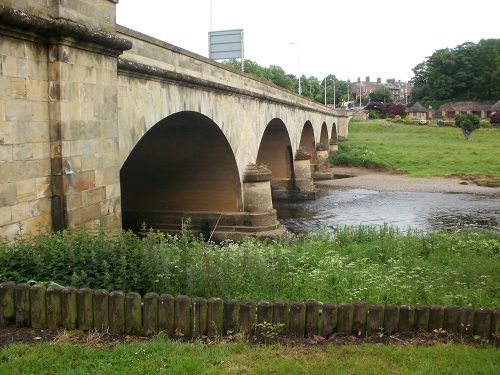 Anyway, after much unhealthy food the evening before I figured I might as well pop into Tesco and get a few goodies for todays walk and after the walk if I had to wait for the bus, I also popped into McDonalds for some unhealthy but tasty breakfast muffins to eat while I walked down to the Sands leisure centre where I'd left Hadrians Wall path the day before and continue along to Bowness, starting off by following the Riber Eden for a while along a nice path before leaving the riverside just before Grinsdale, one of the many little Hamlets you woill pass before you reach Bowness, some with seats and some with honesty boxes although I didn't buy anything as my backpack was bulging with goodies for the day. The path continued towards Beaumont where it then diverted along a road because of a landslip, I had a break at the seats in Beaumont and enjoyed a 10 minute break watching the world go by.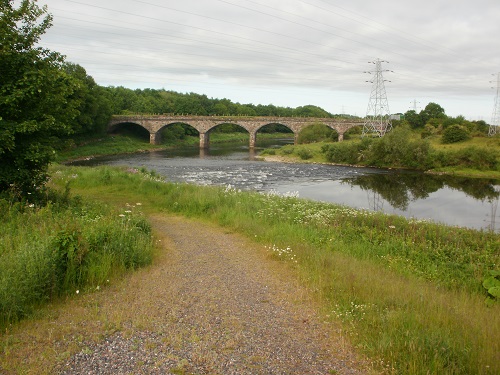 I knew after Beaumont that it was a short stretch to Burgh On Sands before a long straight road takes you over the flood plain to Drumburgh. Before you set off on Day 1, check what time high tide will be as this affects this stretch and means you might have to wait until the high tide has passed before you continue as the water floods the road, I had checked and high tide was at night so it was ok to go on. You can walk along the road or along the grassy embankment beside the road if you prefer and as I walked the embankment the early bus passed me on it's way to Solway, it looked quite busy. The road was quite busy with cyclists who were no doubt cycling the hadrians wall cycle route and also a few walkers who were probably on Day 1 of their Hadrians Wall walk. I felt sorry for them as it meant they would finish up with the horrible noisy tarmac day through Newcastle whereas I'd be doing my last day with much nicer scenery and hardly a sound as I looked accross the Solway to Scotland which looked like you could walk over as the tide was so low.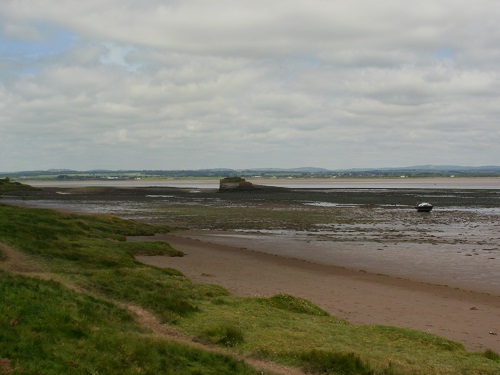 At Drumburgh I had another break on a bench just before the houses, I knew I only had a few miles left to walk on flat ground and plenty of time to get to Bowness, have a pint and then head back to Carlisle on the bus, so why hurry? A pleasant walk along lanes and over fields saw me to Glasson where I kept meeting walkers heading the other way, there must have been about 20 of them but hundreds of yards apart in seperate groups and I realised that they had probably all got off the bus I had seen earlier and were all walking Hadrians Wall, it always feels a bit strange passing someone knowing you are almost finished the walk and they are just starting out, again I hoped their last day wouldn't be too miserable through Newcastle. After Glasson it was time to head back to the road beside the river and past the man who tries to coax you into having your photo taken beside a sign telling you how far you have to go until the end, he'll even put on the signpost where you live....no doubt for a fee. I was about a mile from the end so there was no way I was going to stop now for a chat or a photo, after all this wasn't even the end but I bet he managed to nab plenty of the walkers I'd seen earlier starting out their walks.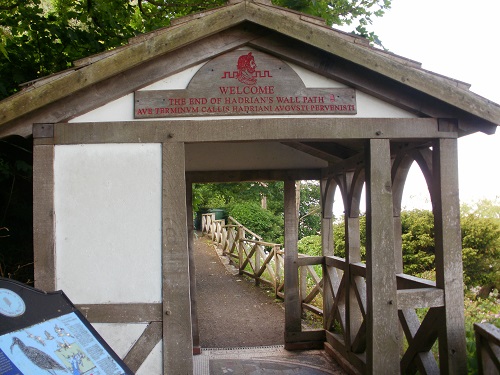 The last mile is along the road from Port Glasgow to Bowness On Solway with Scotland to the right hand side of me. At this point I thought about all the multi day walks I had done before and realised that all 10 that I'd done up to that point had always started and finished with no rain, I've never got to the start or finish with it raining and this would be another nice day to finish on, the best weather of my 5 days. I entered the quiet little village and found the sign telling me where the end was and a few seconds later I was standing under the archway of a pretty little shelter accross the path which acts as the start and/or finish of the walk, a much nicer finish that a simple sign or a stone. It's always nice when there are seats near the finish point where you can sit and reflect on your journey and sit with a smug smile on your face feeling good about yourself at finishing before moving on. It's also nice if there's a pub nearby to have a pint and relax before heading home and that's what I did as I still had an hour before the bus, a pint always seems to taste so much nicer at the end of a walk, doesn't it? Another pint soon followed and a chat with the owner and some walkers in the pub and then it was time to head to the bus stop and the short distance back to Carlisle and my Travelodge, obviously after getting more unhealthy goodies to stuff my face in the evening then in the morning it would be the short journey to the train station.
My thoughts after the walk
When I finished this walk, I said that it was unlikely that I'd do this walk again as I found many parts of it boring and there isn't exactly much left of the Wall to interest me into walking it again but with better weather or walking with other people, I might be tempted to do it again. It's not exactly a strenous walk that had me puffing away after a tough climb because there isn't one and any steepish parts are quite short in length and on good paths. It's probably an idea walk for a beginner to long walks or ideal for a family walking holiday but walking alone means that you are looking for distractions to try and keep your mind busy and apart from the middle section of the walk with most of the Wall in evidence here, the start and the finish days were flat or all on tarmac and if it's cold and wet and windy, it can make for miserable walking, especially if it's into your face all day.