I was intending walking 28 miles on the 2nd day but you might prefer to split this into 2 days walking and stay the night around Chollerford for a more relaxed walk but I only had 5 days to do the walk and even though today was 28 miles, most of it would be on grassy paths which were quite gentle on the feet and meant fast walking. I left my accommodation at nearly 6:30 as I had a long day ahead of me and it was a gentle drizzle so the grass was wet to start with but it dried out later on. You are basically following a road all the way to Chollerford and beyond but it's not a busy road and you cross it a few times during the day.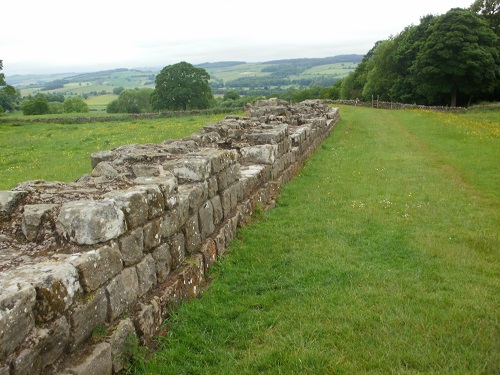 It was a bit misty too when I started so the first bit of scenery really was the reservoirs at Whittledene before passing the pub at East Wallhouse (far too early for a pint today even if it had been open), there is a cafe just off the route over the road but I didn't go and have a look if it was open or not. You basically follow the road until the Portgate where the A68 crosses (again there's a pub and it was far too early). The early morning drizzle had long gone and the jacket was now off, making the walking more pleasant although it has to be said that the going wasn't very strenous because of the nice grassy paths, making even the uphill bits seem not too bad.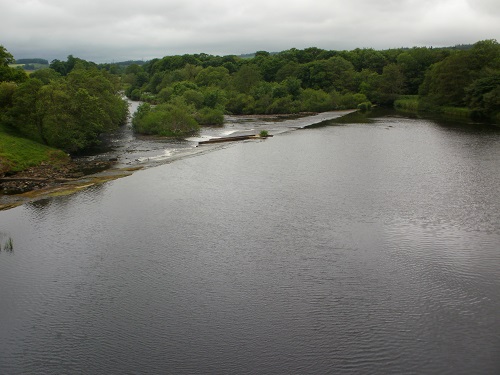 It's not long before you reach St. Oswalds Hill and a tea room, where I decided to stop for a break and a bit of cake and a can of cola before moving on, I do enjoy these little tea rooms. I headed off again and it wasn't too long before I saw my very first section of Hadrians Wall at Planetrees, it was a lot wider than I expected. It was only a small section but after 30 miles, it was about time to actually see a part of the Wall. You then turn towards a village called Wall before doubling back beside a busy road to cross the river at Chollerford. This is where you might choose to end Day 2 but for me it was about the half way mark and I found yet another tea room to visit.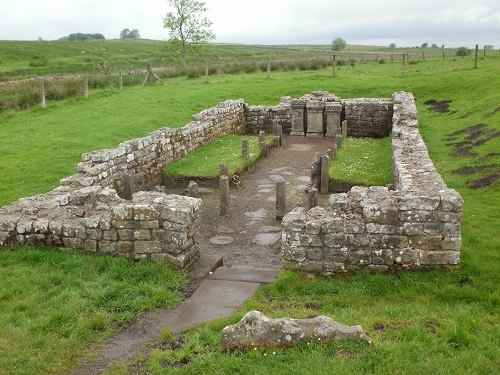 From Chollerford, it's a small stretch of road walking past Chesters Fort visitor centre and then onwards to walk along the embankments where the Wall once stood and following the road yet again for many miles passing the odd chunk of Wall. You leave the road for a while and the scenery changes to a more hilly one with lots of up's and down's and plenty of the Wall to look at, it's quite spectacular on a nice day as it winds it's way up and down all the hills. You eventually pass Housesteads where you will want to stop and take many photos but don't expect it to yourself as it will be busy with tourists and shortly after you reach Rampshaw Gap which is where the path meets up with the Pennine Way for about 12 miles, this section of the path is popular with tourists so expect the path to be busier here than anywhere else.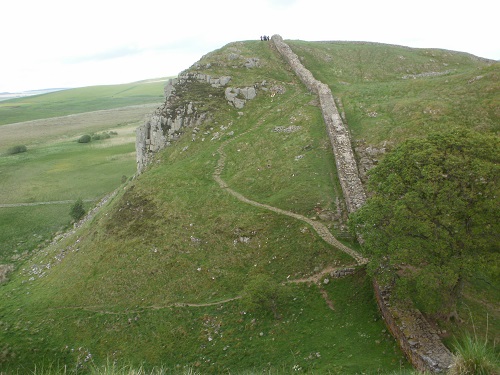 If you have split this day into 2 seperate ones, the final few miles shouldn't be too difficult but I was doing 28 miles so the up's and down's of the last few miles until I reached Steel Rigg and turned down to the youth hostel at Once Brewed made my legs a bit tired, I was just looking forward to getting to my room and a wel deserved sit down and relax for the evening. Once Brewed hostel is closing in October 2015 to be completely rebuilt and won't reopen until the summer of 2017 to be called YHA Hadrians Wall but the Twice Brewed In n just along the road has accommodation.