A miserable wet and viewless start to the Way
As my train got nearer to Ulverston, the skies got darker, clouds were very low on the nearby hills and rain was on it's way, I had a bad feeling about today's weather and I would be right. I started the walk in the rain and it rained the rest of the day, and this meant the grassy paths were soaking and the tracks were more like rivers, with plenty of soggy sections along the way to soak right through my walking shoes. The only surfaces that were actually nice to walk on today were Tarmac roads.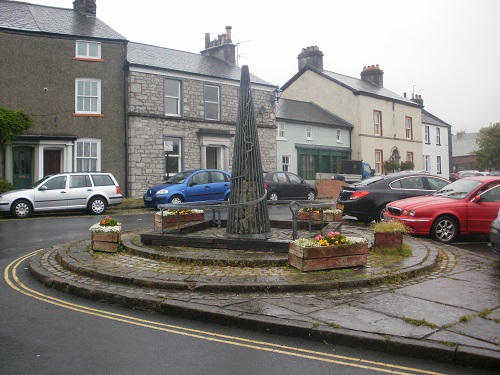 Anyway, I got off the train and walked up towards the start after putting the waterproofs on and getting something for lunch at the shop. A few photos at the sculpture cairn at the beginning and away I went, along narrow slippy paths and through grassy fields, my shoes already looking rather wet. The rain at least had a plus, because cows in the fields were all huddled up beside walls and took no interest in me. The first few miles would be a case of many fields, many stiles and many slippery rocky steps to cross walls and generally this section was rather dull as there was no scenery to look at, only cloud.
It was slow going, I just wanted some level path to stride out for a while but these sections were few and far between. I also was looking for some kind of shelter to stop and have my lunch but I had to do this under some trees. This was not a day for standing around so after lunch I was off again, more grass but then a bit of road. About here, my map, GPS and signs told me different things and I chose to go the way the sign pointed, along a road that headed away from where my map and GPS were telling me to go. I'm now pretty sure the sign was wrong but rather than head back, I looked at my GPS and saw there was a path further on that would join with the Cumbria Way again so I plodded on aling this road then cut through a farm yard and over more soggy fields and eventually rejoined the Cumbria Way.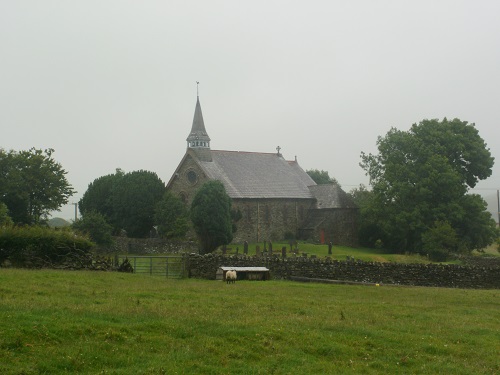 At least now I had seen the last of the farms and the landscape changed from rolling fields to a more hilly one, a wide grassy path felt better than all the ones in fields. I'm sure if the ground was dry and on a clear day, this section would be very scenic but today it was lost in the clouds.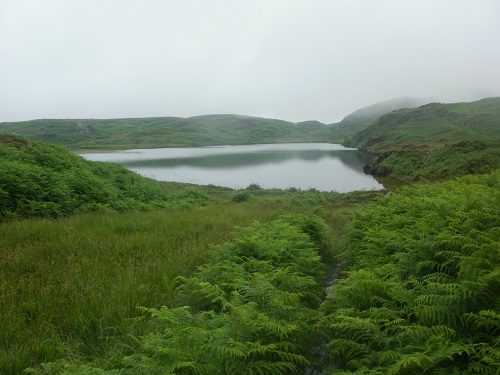 A lot of splashing through narrow paths surrounded by soggy ferns followed, just incase I wasn't wet enough before eventually coming to Beacon Tarn in the gloom and trying to jump over the many soggy and muddy sections until I got past the Tarn, not sure why I tried to avoid them as my feet were soaked by now anyway.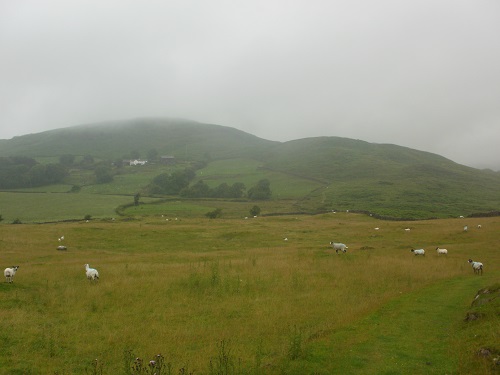 Eventually I reached a main road, crossed over it and headed towards Coniston Water, it could barely be seen through the trees and the gloom. Soon I was at the waterside path, where I would spend most of my time dodging slippy tree roots and rocks but when I eventually reached a boating club, the path suddenly became the width of a car and smooth, this felt a whole lot nicer.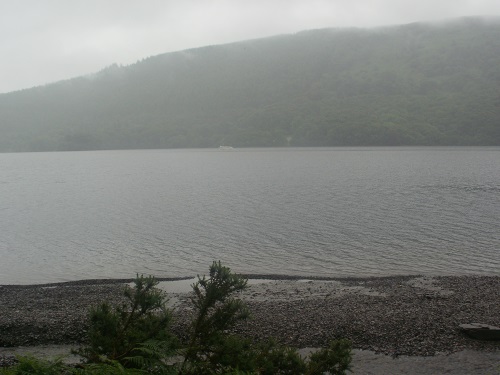 This lovely path would take me to a campsite where I watched people putting up tents in the rain, probably wishing they had stayed at home. From here it was road and level path all the way to Coniston where I got some food, got to the Youth Hostel and got out of my wet clothes, nothing was dry but I knew today would be wet and the forecast for the next 2 days would be dry, even if the ground will still be soaking.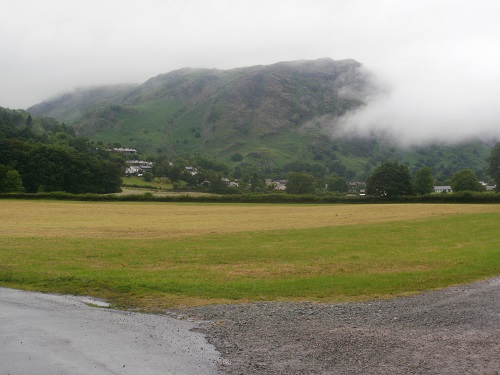 Todays walk wasnt great, not because of the weather but more because of the many wet fields and stiles I had to cross plus you went into many fields with no visible path so ended up often heading off course and had to change direction. I guess if the weather had been better, the views would at least have kept me interested but today was more a case of head down and get on with it, hopefully tomorrow will be better.
Click here to go to Day 2 of my walk, Coniston to Borrowdale