A sunny and scenic walk from start to finish
It's amazing how much difference a day makes. After yesterday's miserable day's walking in the rain, soggy wet paths and no scenery, it was a totally different day today. Today would bring dry weather, even some sunshine, the paths would be a whole lot better and the scenery was fantastic, in short today was a very nice days.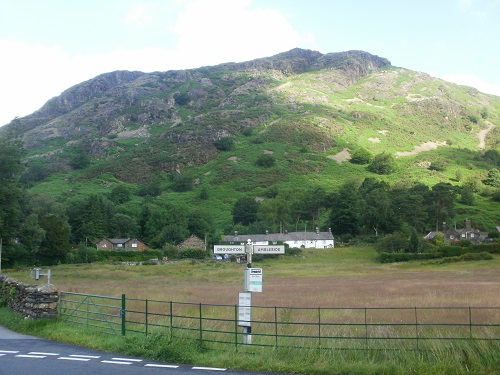 I left Coniston and I knew today would be a better day as I immediately saw hills that I couldn't see the previous day. A short walk through the trees would take me towards Tarn Hows and a nice path round the side of it before heading up into the trees again. After yesterday's soggy shoes and socks, it was nice to walk on dry paths.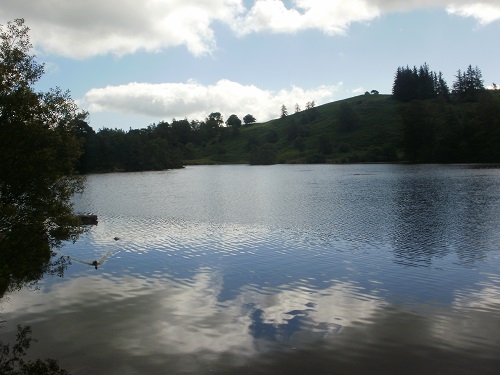 After Tarn Hows, the paths stayed wide and level and now the hills started to appear in my eyesight. The stretch after Skelwith Bridge was busy, unlike yesterday when I didn't see a person all day. A lovely walk took me along towards Elterwater and onto Chapel Stile where I stopped at the shop to get some food then stopped beside the river to eat it and have 30 minutes rest before heading off.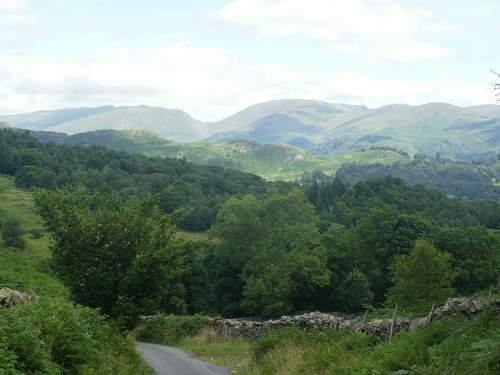 After lunch, the path rose through some ferns before heading down towards New Dungeon Ghyll which was very busy. The path went through the car park, past the pub then along towards Old Dungeon Ghyll. This stretch of path was rockier than before and lots of wet bits of path but they were easy to get round.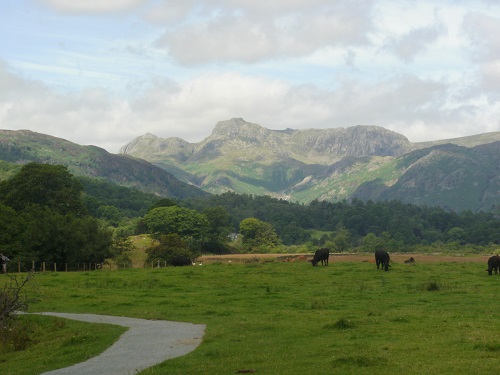 As I passed Old Dungeon Ghyll, looking ahead I saw that my gentle walk so far was about to change as I saw Stake Pass in front of me. I spent most of the path from Chapel Stile admiring the hills on either side of me, Pike O'Stickle looking particularly impressive to the right. Stake Pass was ahead of me, a faint path could be seen heading up the hill, it would be a case of just getting on with it.
To be honest, it wasn't as bad as I feared and the good path zigzagged to the top, then a level stretch before the path would head down. The views down toward Borrowdale were lovely, Glaramara to the left of me and Eagle Crag in the distance.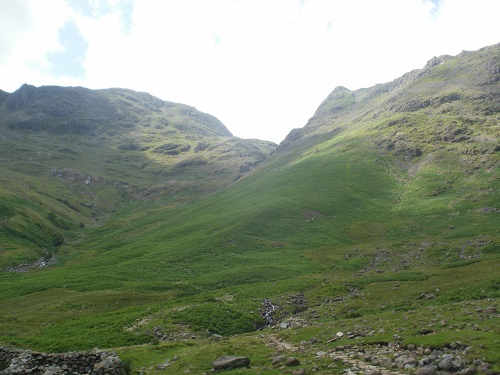 The path heading down was rockier than before, plenty of wet patches to avoid before a long zigzagging path took me down to the stream and the valley floor. The next few miles were slower progress as the path was quite rocky and for the first time today, my legs started to feel tired, they knew there was only a couple of miles left to walk.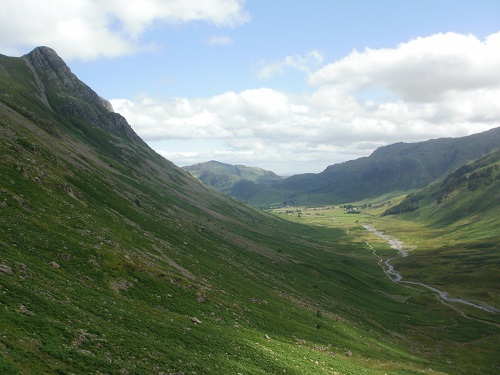 The path eventually met another path, which was part of the Coast To Coast path and this was followed all the way down to Rosthwaite where I would be staying the night at the local Youth Hostel, one of the nicest ones, where I relaxed with a few beers and thought about how much I had enjoyed the days walk and what a difference a day makes with the good old British summer weather.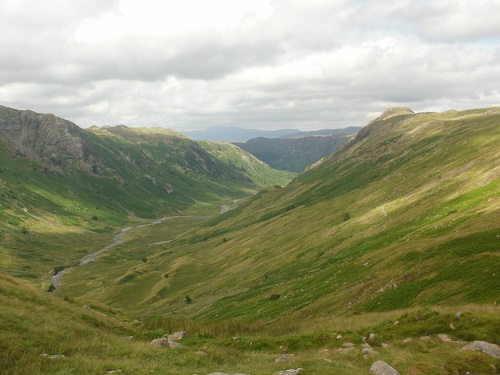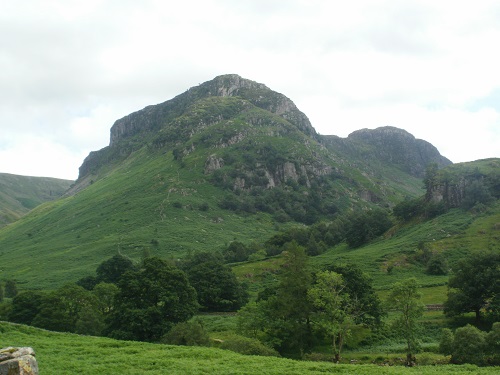 Click here to go to Day 3 of my walk, Borrowdale to Skiddaw House