A shorter day to Skiddaw House via Keswick
A full Dorm at Borrowdale Hostel meant not a great sleep, especially as I was unfortunate enough to be sleeping beside the snorer. It wasn't too big a deal though as I was in no hurry today, the distance was given as about 13 miles, with Keswick just after the middle, which would be handy for lunch and to pick up something for my tea, tonight's destination would be Skiddaw House Hostel, which is miles from any road but a lovely peaceful setting with good views.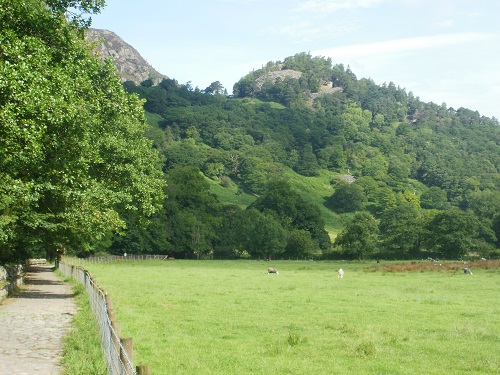 I left the busy Hostel and headed back into Rosthwaite along the Coast To Coast path for a while then turning left to follow a path towards Grange, passing below Castle Crag on the left and following the River Derwent which got wider as I neared Grange.
Then, another of these instances where a sign tells you to go one way but your map suggests going the other way and it looks a better path. A sign pointed me to go left and I did so, the path narrowing as it made it's way through ferns at the side of some woods, ducking under some low branches. I saw on the GPS that in a while this path would reach a road which I could take to meet the other path, the one my map said to go and that's what I did.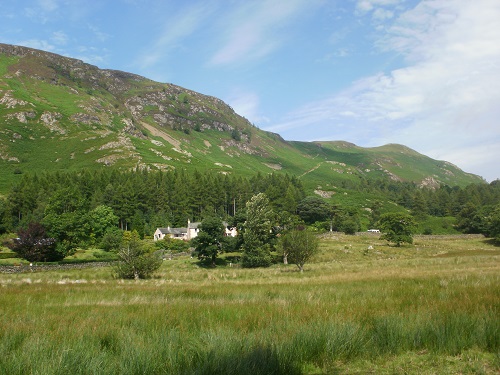 I was glad to get off this narrow wet path and onto the road and down to join the other path, which was far wider and smoother to walk upon and this took me to the shores of Derwentwater and lovely views over the water towards Walla Crag and Bleaberry Fell in the sunshine. A lovely walk along the shore on a well made but busy path would then take me towards Portinscale and then into Keswick but the views over the water towards Walla Crag and also to Catbells (which looked busy as usual) and Maiden Moor on my left.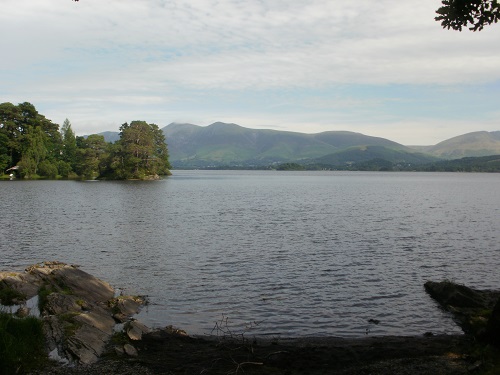 In my eyeline now were the Northern Fells, Skiddaw and Blencathra looking majestic as they towered above Keswick, as well as nearby Latrigg. I entered Keswick and grabbed some lunch and went into a park to sit down on a bench and have it and a rest. So far the walk hadn't been very strenuous but my legs were tired and the hot sun probably didn't help. I could have sat in the park for ages but I still had about 6 miles to go and some of this would mean uphill walking, something I hadn't done much off on the Cumbria Way as it's mainly a low level walk.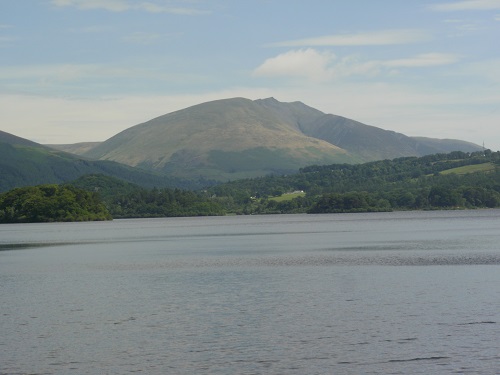 I left busy Keswick and my path was between Latrigg and Skiddaw which looked even bigger than before. For the first time in days I heard traffic as I got nearer the A66 which was as busy as ever carrying day trippers to and from the Lake District. My trail was taking me upwards and I was puffing away and sweating in the hot midday sunshine as it curved round behind Latrigg. Eventually it levelled out as the track took me to a popular car parking place judging by the amount of cars there.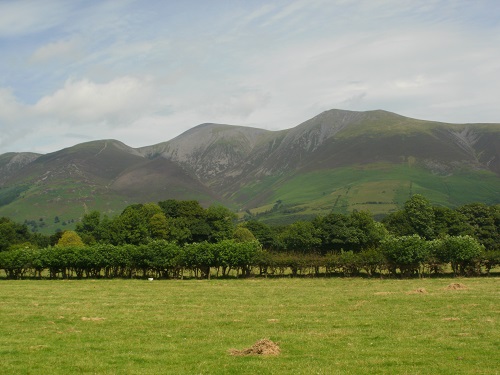 The next part of the walk would be familiar to me from my walk a few weeks ago including Skiddaw and Latrigg and it gradually climbed alongside Lonscale Fell for a while until I could see the path coming from the Blencathra Centre over the other side of the valley, a path that would join the one I was on later on. The views back were fantastic over Keswick, so many hills could be seen in the sunshine, you just had to stop and admire what you were seeing.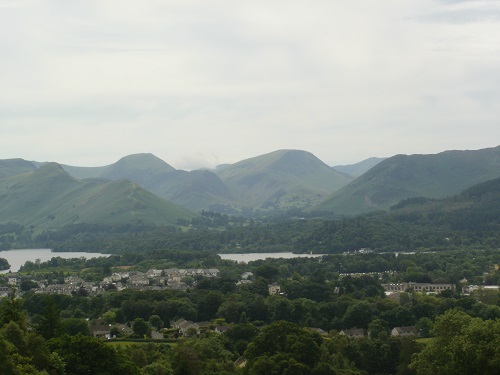 The 2 paths were getting nearer to joining in the valley between Lonscale Fell and Blencathra and in the distance now I could see Great Calva which meant Skiddaw House wasn't far away and soon I would see a gate where the path comes down from Mungrisdale Common to meet the path I was on and Skiddaw House comes into view, a house in the middle of nowhere which would be my bed for the night. The Hostel was really quiet, I had a Dorm to myself and I settled down after a shower and my tea to admire the view from the Hostel towards Great Calva and High Pike, which would be a hill I would climb in the morning if I chose to walk the High Route.
I drifted of to sleep as darkness fell over the Northern Fells feeling content about the days walk. Not the longest or hardest walk I've ever done but it was certainly very scenic. I knew tomorrow's walk to Carlisle wouldn't be anywhere as scenic, especially near the end where I'd just be plodding tired through farmland and rural Carlisle.
Click here to go to Day 4 of my walk, Skiddaw House to Carlisle