A very long and hot day to finish the walk
The remaining 25 or 28 miles depending on whether you take the East or West routes from Skiddaw can either be walked in one day or maybe stop at Caldbeck. If you have managed the previous days walks then you should be able to walk to Carlisle from Skiddaw House without too much trouble as it's quite flat apart from the section at the start over High Pike if you choose the shorter but steeper Western route.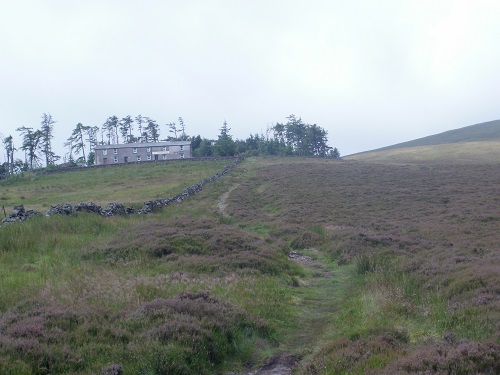 Today was going to be a long day for me so I was up and away early from Skiddaw House. I had been hoping to leave the Hostel in warm conditions wearing shorts and a tshirt but it was chilly and the nearby hill summits were covered in cloud and possible rain was forecast for the morning.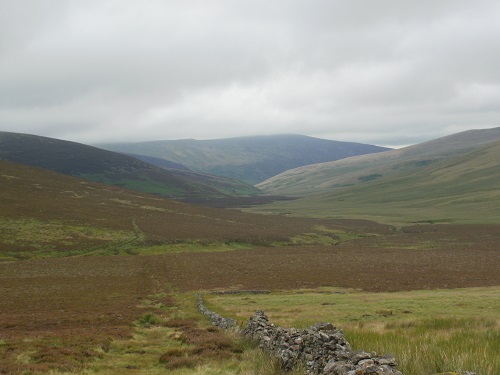 I decided to take the West route, which is the higher option but a couple of miles shorter than the Eastern alternative. The first 3 or 4 miles would be pleasant walking on dry paths and tracks towards High Pike, it's top covered in clouds still, I hoped they would clear before I got there. Eventually after a brisk walk to waken the legs up, the Cumbria Way left the track near Carrock Mine ruins and started to follow a wide grassy path until the demolished Carrock mine at which point it started raining but by the time I got my waterproofs on, the rain went off, typical.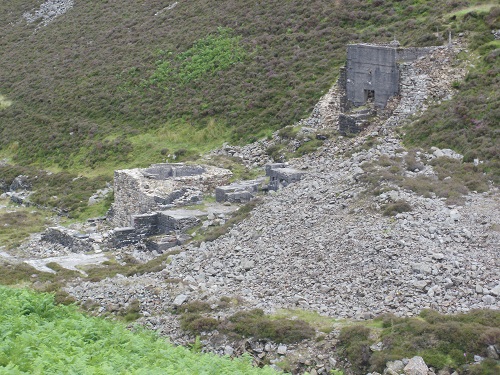 The path then followed the stream uphill but the path was very wet and muddy in places, so it was slow going as the path headed uphill into the clouds. Eventually the path turned right towards the hidden High Pike summit on a wet path that required a bit of jumping or walking round patches to keep the shoes dry. I past the hut at Great Lingy and soon after I saw the welcoming site of the bench beside the summit and took advantage of it to have a rest and remove the waterproofs. It was warmer by now but I was still in the clouds so no views today.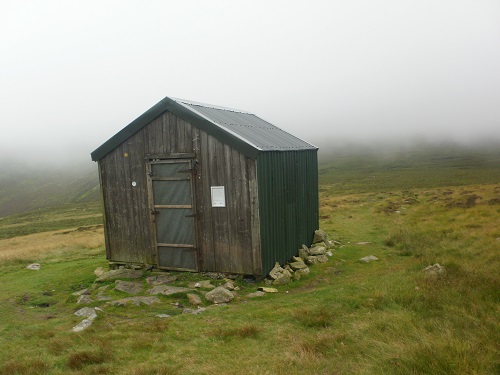 As is common, a few minutes after leaving the summit, the sun shone through and the clouds vanished giving me views back to the summit I had just left in the clouds and also down towards Caldbeck. From here, a very nice grassy path headed gently downwards until near the small village of Upton, that I passed through a couple of minutes before entering Caldbeck and heading towards the shop for an ice cream, a big bottle of Coke and a couple of things to have for my lunch a little later. I had a sit down on a nearby bench for a rest.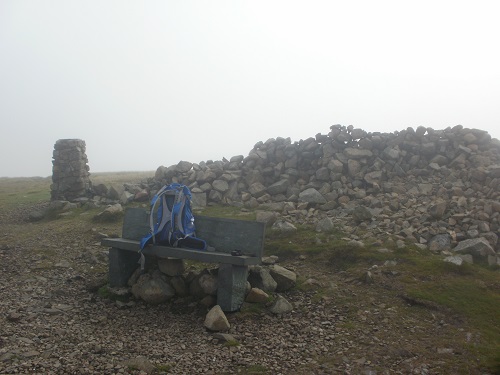 Some people might choose to stop for the day at Caldbeck but for me that would have meant finishing about 11am so after a break I headed out of Caldbeck for the last section to Carlisle.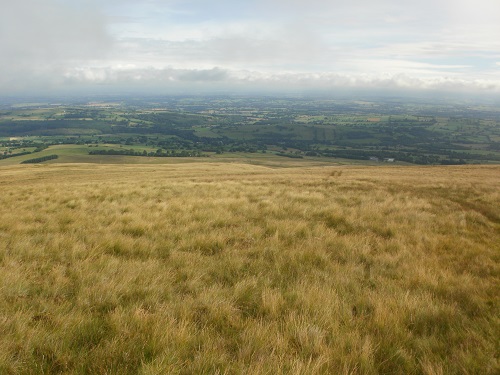 FROM CALDBECK to the end at Carlisle
Please look at the official Cumbria Way before you set off as there are 2 lengthy diversions between Caldbeck and Bellbridge, the first one being very hard to follow. When I left Caldbeck, I was soon at a fence with diversion signs and showing where to walk. Ok, seemed simple enough but the diversion lasted about 3 miles and most of the time there was no visible path. Occasionally a marker disc would be seen at a fence or stile pointing in a general direction but with no visible exit. Somethings a disc would be so old it was worn out so you had to just follow your map and aim for a part of the field then look for an exit, and sometimes I couldnt see one and had to cross barbed wire. Eventually my GPS showed that I was getting near the original path and I was relieved to join a lane near a farm, turn left then follow a better signposted path for a while, eventually heading down steps to join the Cumbria Way again.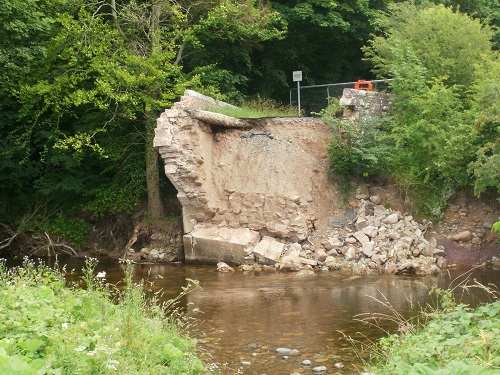 A small walk would take me to the 2nd diversion, this one far simpler but also a bit confusing as the road closed sign info makes it sound like it's closed to all traffic including pedestrians. The lane would take me to Bellbridge which has been washed away but I was on the correct side of the river. If you are on the other side, you can't cross it and face a lengthy walk back to find the lane near Sebergham and pass the road closed signs. I stopped along the lane to have my lunch. After lunch I was soon at the bridge to see the devastation caused by the flood and no sign they are going to rebuild it anytime soon. After here, it's mainly a riverside walk through fields of sheep for miles. Not spectacular but still nice gentle walking until you reach Dalton.
At this point I somehow took the wrong path and ended up on the wrong side of the water but didn't realise for about half a mile. I decided to stay on this path instead of heading back as it was a good path and heading the right direction and surely there would be a bridge at some point. This would be a bad move as eventually the path got narrower and sharp nettles were ripping away at my body and clothing, thankfully I wasn't in shorts. This path dragged on for miles, through horrible woods, muddy at times before eventually reaching a bridge and onto a cyclepath.
I've never been so happy to see a path, my arms scratched. Next time I take a wrong path, I'll head back even if it means an extra miles walking. This path and the heat had drained me on one of the hottest days of the year and I was glad to see a bench in the shade beside this cyclepath to have a short break. I was only about 2 miles from the end but I needed this rest. 10 minutes later I set off, feeling much better and headed into the city centre, full of speeding cars and horn tooting, reminding me why I hate the city life and love being out in the fresh air of the country.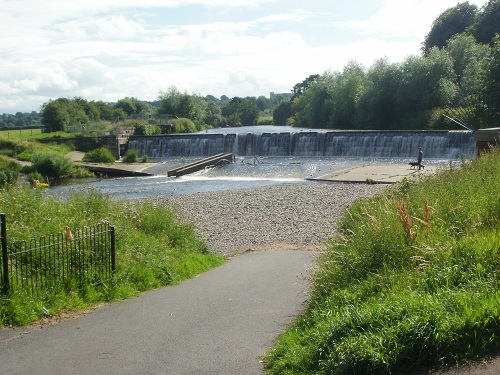 I found the information centre which is where the walk ends but there's nothing about the Cumbria Way, nothing to say you've completed your long distance trail, it's very much an anti climax to a very nice walk. All that's left to do is find somewhere to get something to eat or locate where you are staying, or the station.
I was staying at Carlisle Youth Hostel which is basically student accommodation which is rented out during their holidays but it did me fine. A single bed in my own room and right beside a large supermarket so that was tea sorted. The incredible heat today though meant that I preferred a large tub of ice cream than having to cook something, a wise decision as well as buying lots of Pepsi, boy was I thirsty.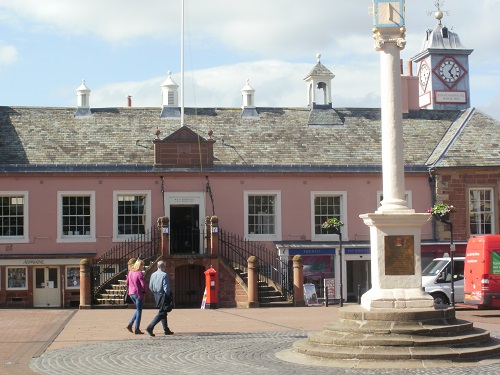 My final thoughts about The Cumbria Way path
I had enjoyed the Cumbria Way but not the first day due to the weather but it's not too strenuous a walk on mainly good paths and tracks apart from the farm section near the start at Ulverston. I'd do the walk again but probably start at Carlisle this time as it's always better to finish at a place that has a start/finish marker.