Today would not be as scenic as before, partly because I spent quite a time walking through woodland but also because for the first time on the trail, clouds were covering the higher hills and it would get cloudier as the day went on. The day started with a gentle stroll to Rifugio Vazzoler where I picked up lunch then a gravel track downhill for a while before a leg sapping ascent that went on and on. It was then a straight forward walk to my Rifugio for the night, Rifugio Carestiato.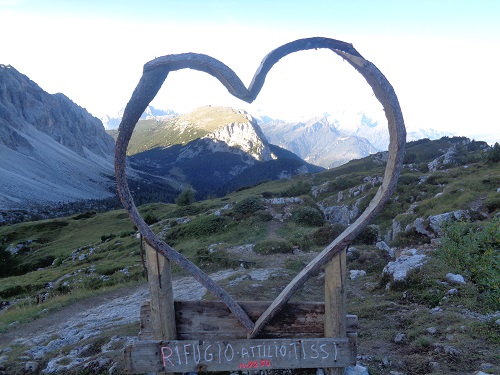 It was reasonably warm as I left Rifugio Tissi taking care down the steep descent. I would be walking through a valley for a couple of miles, the surrounding hills were either hazy or the tops covered with clouds. I didn't see anyone along the route and I really enjoyed the peace and quiet plus an easy walk. Before I knew it I was at Rifugio Vazzoler and I stopped there to pick up a sandwich and a drink for later on and have a little break.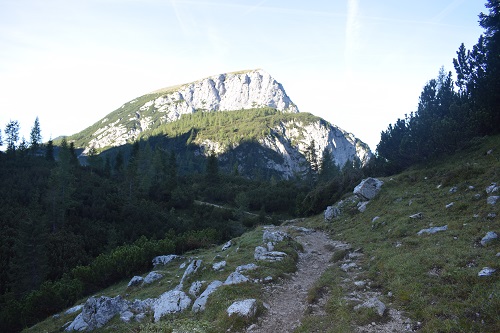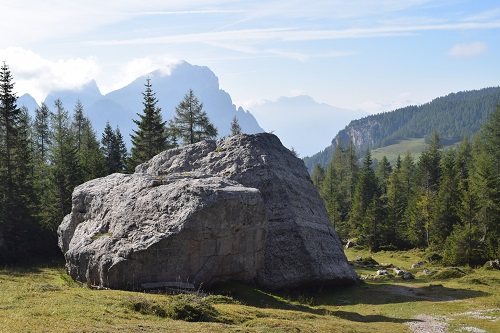 Back on the trail, it became a wide gravel track, descending quite steeply. Across the valley I could see a path snaking uphill and realised I would soon be on it. The views were quite hazy meaning the views weren't as spectacular as the previous days but it was still very warm as I soon realised when I left the track and started uphill through woodland which was hard going due to the tree roots and rocks on the path.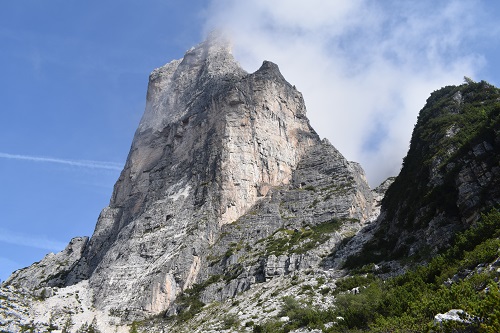 I was glad I was mostly in the shade but I was still sweating loads as I kept heading upwards, through occasional rock pools. I spent quite a while in woodland so I wasn't able to see the high point for quite a while, much to my relief. I got nearer it but the last part was steep and on loose gravel making it even slower. At the top I stopped to have my lunch plus get my breath back and take in the views from the Col dell'Orso.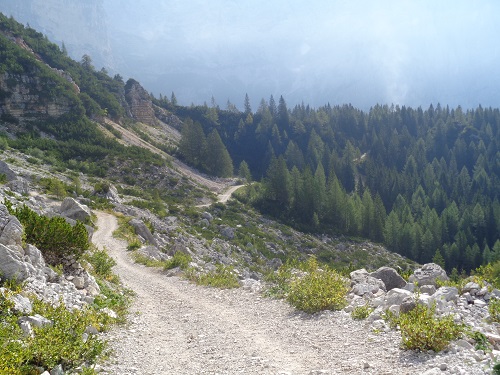 As I ate my lunch I looked at the next stage which from here looked like a reasonably level path gently contouring round under the sheer rockfaces but I would be wrong. It would see me clambering over boulders now and again, making sure I followed the painted signs on the rocks and most of the rest of the section was over rocky ground.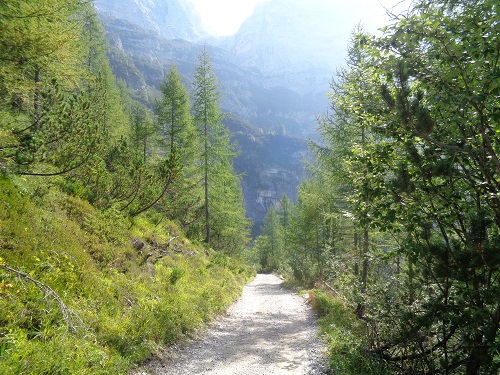 I was heading towards a climb but I looked at my GPS and realised that I was cutting off before this. When I cut off it would see me heading uphill mainly on rutted grassy paths until I reached Forcella del Camp. There is a bench near there but sadly for me it was taken so I headed onwards as the path turned to the right giving me my first glimpse of Rifugio Carestiato. It wasn't far away but it certainly took ages getting there, the path was mainly gravel but plenty sections of rocky bits had to be passed over with tired legs.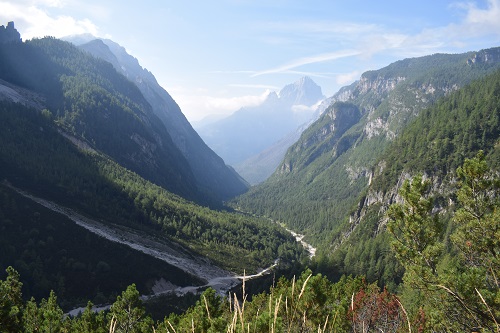 After what seemed like hours I was heading up through woodland and soon the Rifugio came into view, a welcome sight. It hadn't been a long day's walk or as strenuous as the other days but my legs are feeling tired after six days in the Dolomites but only two more remain. I checked into the Rifugio, got showered and got a beer. I took it outside and realised just how cloudy it had got, it wouldn't surprise me if a storm came.....but it didn't.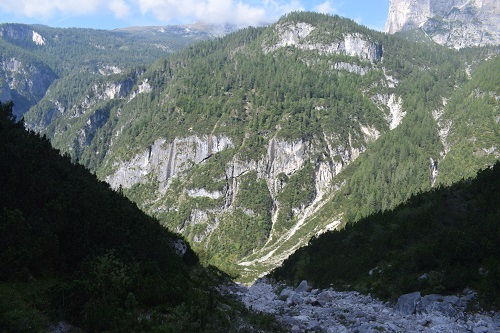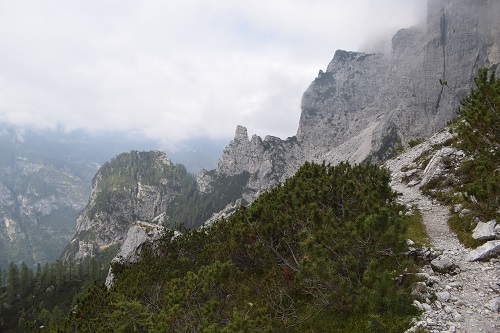 The Rifugio Carestiato
The room I had in the Rifugio Carestiato was crowded, not much spare room but the shower was very welcome, using Euros rather than buying a token like some previous Rifugios. The food was good although cheese, potatoes and green beans was an unusual combination but I slept well even though the room was crowded. Mind you, I always tend to sleep well after a long day and so much fresh air plus relaxation.