Today would be a lovely walking day, plenty of scenery and quite a lot of the walking would be along lovely paths which didn't gain or lose much time but there was still one quite big ascent. A stop along the way at a Rifugio for a drink would see lots of motorbikes and someone who lived only a short distance from when I lived in Scotland.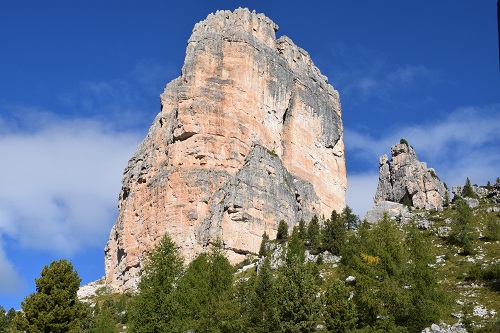 Today would be the first morning that it was actually warm, warm enough to start in tshirt and shorts and sun cream applied rather than the gloves and hat which I'd worn the previous two mornings. I left the Rifugio after breakfast and immediately cut off the main path to take the varient route to Passo Giau rather than steeply up to Rifugio Novolau and then a steep descent which some people say requires ropes and a bit of courage, I had neither so happily settled for a lovely walk with it's up's and down's on a rocky path with nothing too strenuous. The best part was that because it was a varient route, it was quiet, leaving me alone with the views to myself.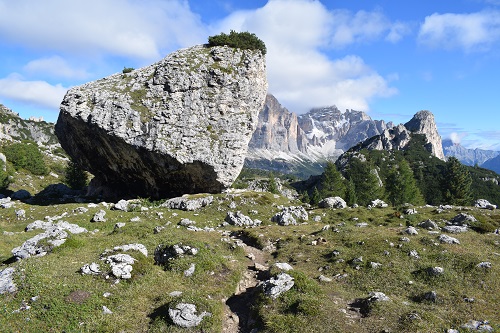 All good things come to an end though and the path joined up with the main one from Novolau and immediately got busier. As I continued, the sound of motorbikes filled my ears and soon I saw the road leading to the pass and the Rifugio Passo Giau which had a very busy car park. I decided to stop for a cold drink, it was too early for a beer. It's obviously a busy spot for motorcyclists and many of them were speaking English including a few Scottish accents, one of them lived very near where I used to live when I stayed in Scotland.
After my break I headed up a small ascent and then was rewarded with a reasonably level path with lovely views down towards Cortina. It was nice on my feet and made a welcome change from all the ascent and descent of the previous days. Ahead of me though I saw people walking steeply uphill and knew my level path was running out. I could see the top of the path though so I knew it wasn't going to be as hard as the previous days, but it would still hurt.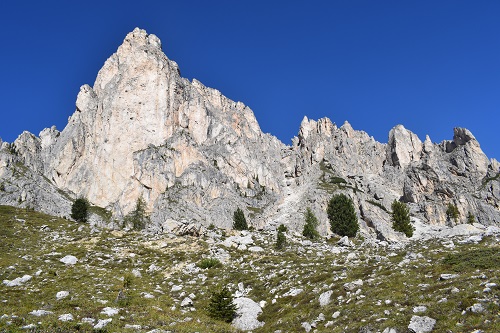 A lot of huffing and puffing would soon take me up the rocky path towards the top and I knew that I would be rewarded with fantastic scenery, and so it would be. I took time to catch my breath and take in the scenery all around me, I'm running out of ways to describe the beauty of what I keep seeing every day. After I got my breath back I continued onwards on a lovely grassy path.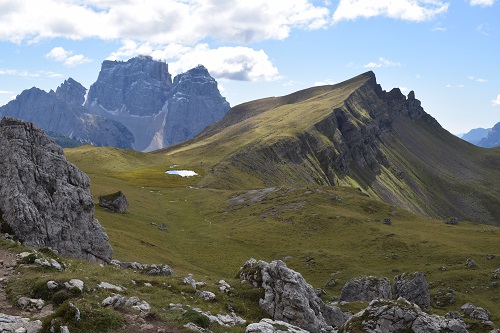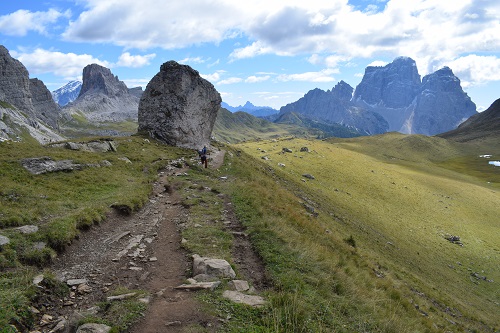 The path was lovely as more hills came into view and more wow moments. The path gently headed mostly downhill and I went through a grassy meadow where I stopped to get something to eat and a sit down and just take in the scenery before moving reluctantly onwards and reached the Forcella Ambrizzola which gave fantastic views down towards Cortina. Ahead of me I could see a relatively level path beneath a steep rock face, plenty of rocks and scree told me that rockfalls could be a regular occurrence so I quickly moved on.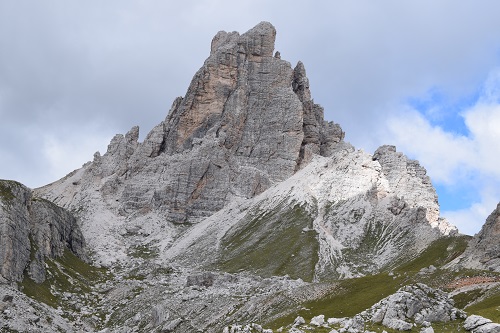 Once through this path, I started heading downhill on a nice path and I could see a nice wide track in the distance. Eventually I reached it and this would take me all the way to my Rifugio for the night, Rifugio Citta Di Fiume but the track was anything but level as it had many up's and down's before the welcome sight of the Rifugio and the many cows beside it, their cow bells welcoming me at the end of another lovely day.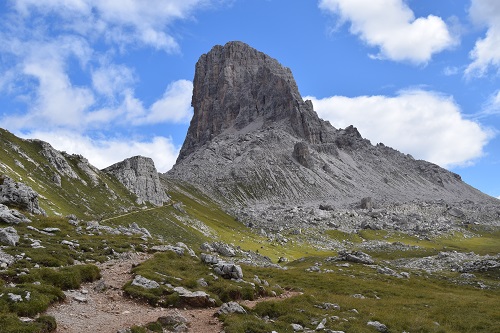 Today had been an easier walk on my feet and legs but was still sensational and the views continue to amaze me. I've now reached the halfway point of my trip and know there are four more days ahead of me, hopefully as nice as today and even more incredible views.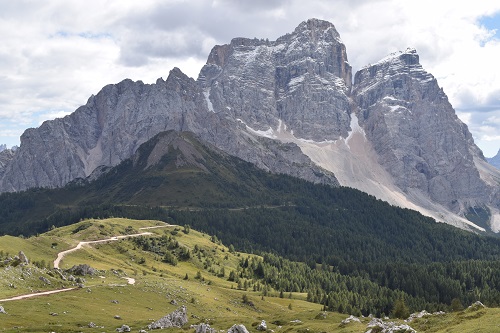 The Rifugio Citta di Fiume
I stayed the night at the Rifugio Citta Di Fiume, I was lucky to be first into the room so got the choice of single beds rather than bunk beds and a better sleep. The shower wasn't free and only lasts four minutes so you have got to be quick or be left with shampoo or shower gel still on you. I was also joined here by a couple of people who I had shared a room with at Rifugio Scotoni a couple of days earlier which made it a happier experience for me and some people to talk to over dinner and then breakfast in the morning before saying goodbye to them.