After the previous days long walk, today would be shorter but just as strenuous, starting off with a steep ascent to rejoin the main path near the lake. After that, I would see a Rifugio high above in the distance and that's where I would be aiming for as I got into a bit of snow on the path for the first time. Nearly at the Rifugio I would cut off and have a few miles of mostly level but narrower path before a careful descent to get my lunch. After this it was a case of down and then up through woodland to reach my Rifugio for the night and a welcome beer and sit down.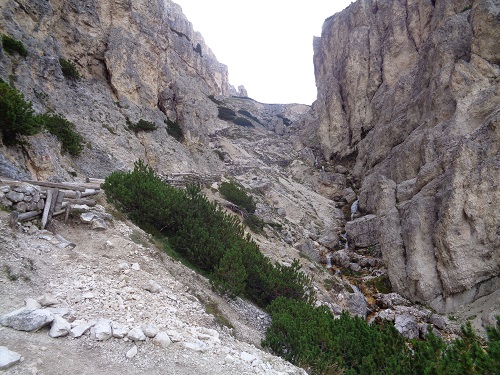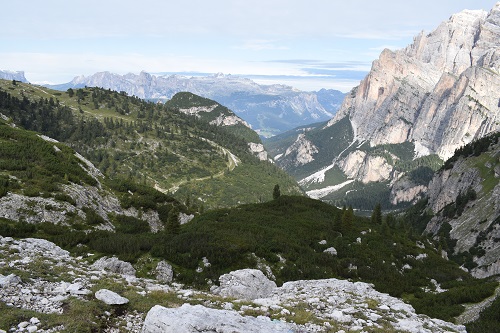 I had a good sleep and enjoyed a larger than usual breakfast as I knew I needed energy as the first couple of hours would be steeply uphill. It wouldn't be as long as yesterday so I said goodbye to my roommates and started heading steeply up the zigzags that I'd come down yesterday, I could see many other walkers up ahead of me and very soon I was out of breath.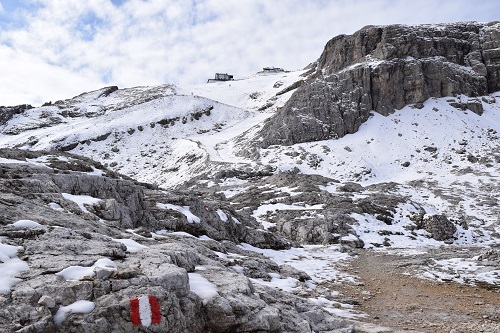 I was in no hurry luckily so it was a case of getting my head down and get on with it, many stops were needed before I reached the cut off point from the previous night near the lake. It was another chilly morning and high above me the Rifugio Lagazuoi stood perched high above and surrounded by snow. It wasn't too bad a walk towards it, increasing height more gentle than before but also now as I got nearer the Rifugio I started walking in little patches of snow, taking care not to slip.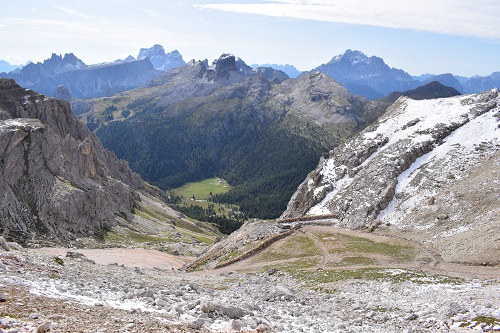 Ahead of me I saw walkers zigzagging steeply up to the Rifugio but luckily for me I would be leaving the trail before that point and heading towards Rifugio Dibona. I was happy to leave the trail and walk along a level but muddy path for a short time before a very nice walk on a narrower path keeping about the same height, just following the signs. Eventually this would see me following a sign for Rifugio Dibona and start descending a path with lovely views across the valley. I made the mistake of not looking at my GPS and continued down the path enjoying the views until I realised that I should have stayed on the original path, not the signposted one. This meant an unnecessary climb back up to the path.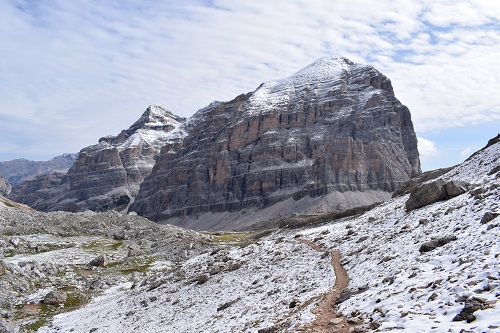 The path now was narrower than before as it ascended below huge cliff faces before turning into a much rockier and narrower path which meant taking care where I was walking as it was a long way down. I eventually saw Dibona below me but this meant a very uncomfortable descent on loose rocks but thankfully I kept upright and reached a track much to my relief which took me down the short distance to Dibona where I had a welcome sit down, a beer and a bit of cake.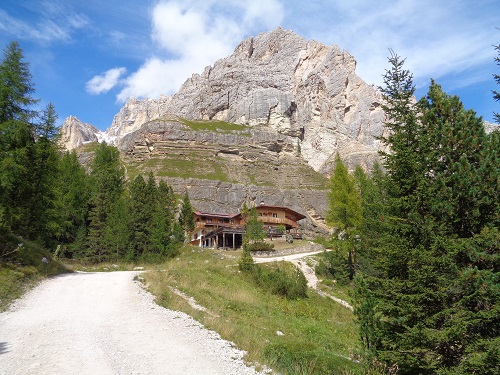 Lunch over, I left knowing I had about three miles left to walk but it wouldn't be easy. It started off with a long descent down through the woods which reminded me of many of my walks back home. As I got further down, the sound of traffic was noticeable, and many motorbikes. I hadn't heard traffic really since I started off and carefully crossed the road before starting a long and sweaty climb up through more woodland on a rocky path that just kept going up and up.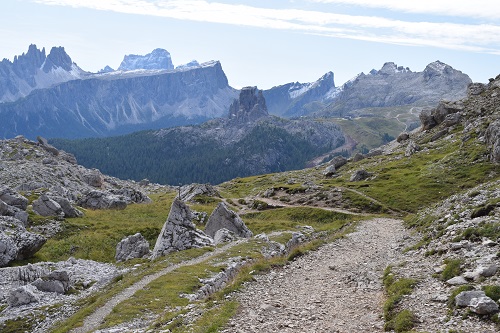 The path turned right and I saw a Rifugio high up on a hill in the distance, it was Rifugio Nuvolau and thankfully I wasn't staying there as it looks very high up. A few people that I stayed with last night are staying there, I'm glad I wasn't joining them. Eventually, much to my relief the path joined a tarmac road and the Rifugio Cinque Torri was just along the road, my day was over and my legs were happy.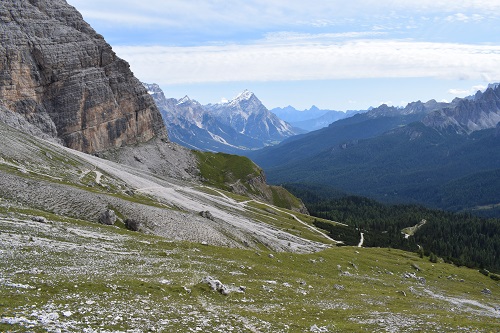 As I sat outside with a beer taking in the incredible views in front of me, it made the hard day worthwhile. I've now walked three days out of eight and I know more incredible views are coming every day but this means hard climbs, a little sacrifice for the scenery. Now fully relaxed, I got checked into the Rifugio and got my stuff sorted.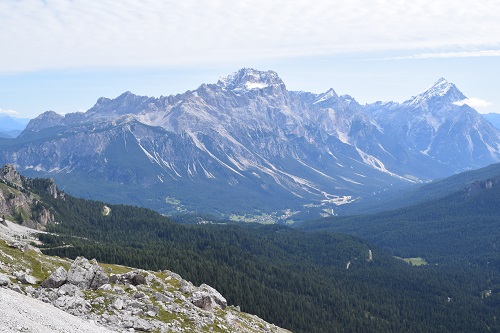 The Rifugio Cinque Torri
The Rifugio Cinque Torri has incredible views, I enjoyed the food also and find that I'm trying (and enjoying) new things, even if I'm not entirely sure what I'm ordering. All the ascent and descent, mixed with the couple of beers and good food meant my eyes feeling rather heavy which meant an early night and hopefully recharge my batteries before another hard day tomorrow but then again maybe it'll be a gentle day....unlikely.