Today may not have had the breathtaking scenery of the previous days but by no means was it lacking in them. It started off with a nice levelish walk through woodland and scree underneath spectacular rock faces before a bit or road and track took me to about halfway. At this point the day changed, starting with a very steep climb to Rifugio Coldai where I stopped for lunch and then a rollercoaster of a walk took me to the bottom of the hill that would take me steeply up to Rifugio Tissi, my bed for the night.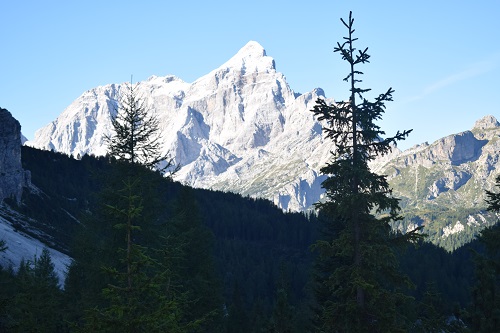 The breakfast wasn't as good as the other places I had stayed but it was sufficient. I headed off not long after, going gently down through woodland which soon got thinner giving lovely views around. The sun was out, blue skies all around but I was in the shade of the Pelmo which at least kept me cool. The woodland got thinner and soon I was walking through a bit of a scree field and occasionally had to cross small boulders before another bit of woodland took me to the road and the Rifugio Passo Staulanza.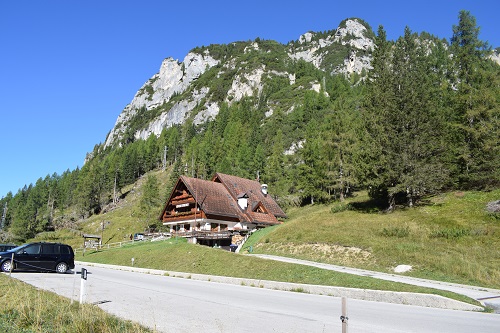 If I'd known how easy the two miles would be I'd have been tempted to stay there instead of Citta Di Fiume but it didn't really matter. A small bit of walking along a road just proved to me that Italian motorists are crazy as so many of them overtook cars on bends. I was glad to leave the road and head along a nice gravel trail. By now the sun was on me so shorts and tshirt were on and soon after the sun cream was applied on a bench just before a farm shop called Malga Pioda where there is a water fountain as well ass accommodation.
As I had a short break before the shop I noticed people walking up a steep hill behind it and knew my easy day was about to finish. Sure enough, I left the track and started heading upwards, my legs felt heavy even though I hadn't done any ascent yet. The sun didn't help me as it was very hot and no wind, the path winding it's way up the hill before levelling out and a nice bit of grassy path took me to a gentle downhill track.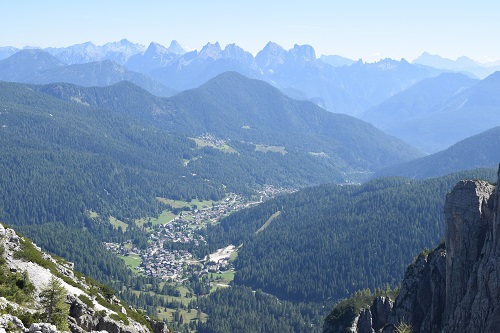 To the right of me was a very steep hill and I could see people climbing it and realised that I too would be climbing it soon. A quick downhill track took me to the bottom of the hill far too quickly and I started the long zigzag rocky path, the zigzags made it easier but also longer but it was a case of head down and get on with it, resting often to take in the views, lots of photos and get my breath.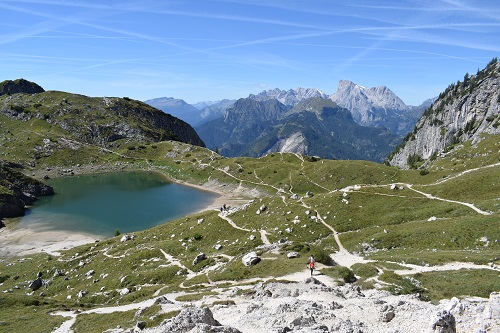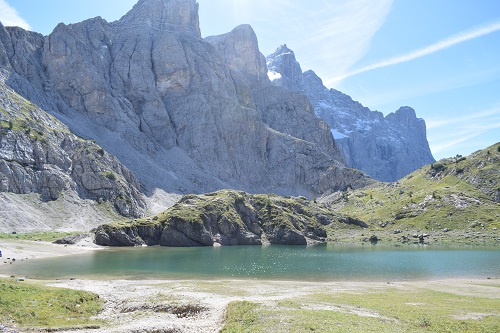 Eventually after much huffing and puffing I got near the top and the Rifugio Coldai was a welcome sight. I wasted no time in getting inside and ordering lunch and a drink. A sign earlier told me that my Rifugio for the night, Rifugio Tissi was less than two hours away so there was no hurry. Reluctantly I finished my lunch and moved on, starting with some ascent where the sight of Lago Coldai was a nice sight. The path went around it before heading up and over, giving me new beautiful views. Up high on a rock stood a building, I then realised it was Rifugio Tissi and knew much climbing was ahead of me.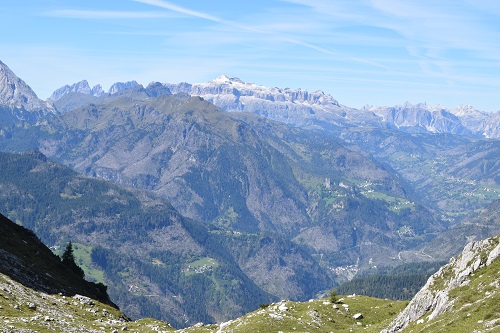 Before I got to the turn off to the Rifugio, a steep downhill section on loose rocks had to be carefully negotiated and eventually the path levelled out a bit but still plenty of up's and down's. I eventually reached the turn off point and this meant a very steep rocky climb to Rifugio Tissi. I got to the reception hardly able to talk but soon I was sat looking across at the sensation view with a beer after getting fresh clothes on.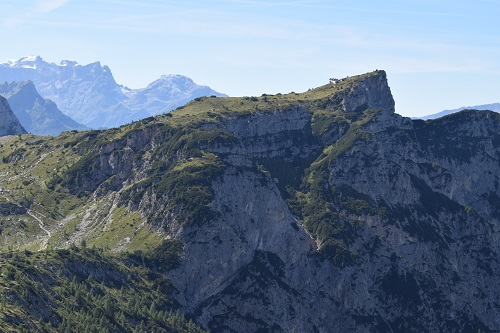 It had been a walk of two halves, the first being pretty straightforward walking and the second half being strenuous in the hot sun but the views of course were worth it, even though my legs might not agree. I'm a bit sad knowing I only have three days left on the Alta Via 1, I'll miss the views but not the leg sapping climbs.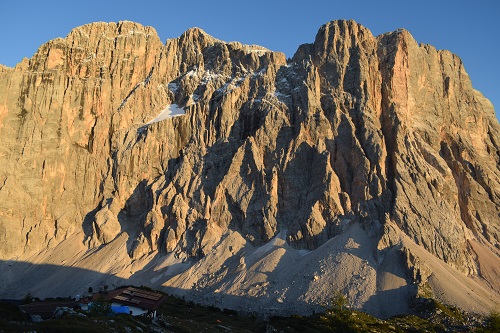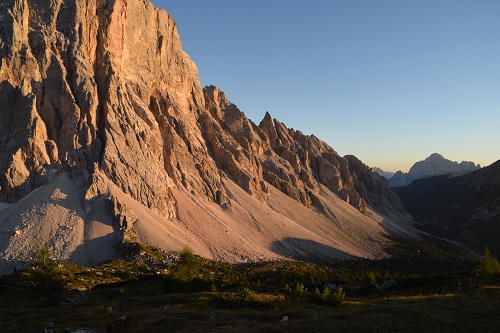 The Rifugio Tissi
Rifugio Tissi gives a sensational view over the valley towards the Civetta especially in the evening after dinner when everyone seems to head to a cross higher up to take in the spectacular sunset. The room I was in could do with a bit modernising but I've stayed in worse. I ended up being in a room on my own and took a mattress of another bed to put on top of mine as I could feel the wooden slats as I lay on my side. Breakfast was good, even having scrambled eggs which was a welcome change.