Today would be quite a short day, plenty walking through woodland but also plenty of scenery to admire. It would start with a misty descent, some road walking then long sections of easy woodland walking gently ascending until it opened up into open space and great views. A bit of scree walking on good paths and more uphill in woodland would take me to a high point and spectacular scenery and the descent to the Rifugio Pramperet.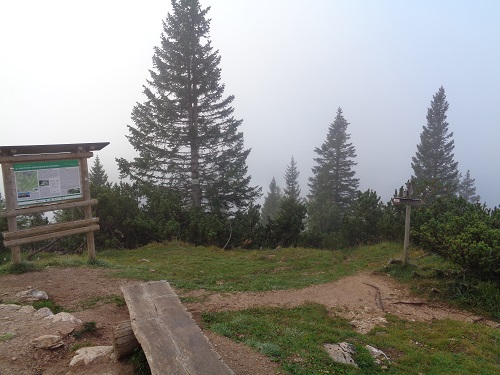 I was surprised to wake up this morning to find the Rifugio in mist but there was no hurry today so I ate breakfast and hung around a while as it slowly started clearing. When I left, a short path down through the woods took me to a track that would take me near to the Rifugio Passo Duran which is on a road. I had plenty time today so I stopped for a hot chocolate and a can of Cola for later and just had a sit down enjoying the views for a short while.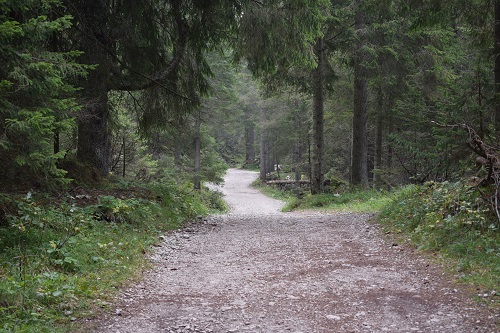 The next part of the trail was a mile or so down from the Pass on a windy mountain road, with no sign of any path beside it for a safer walk. Luckily it wasn't busy and there was a small verge now and again to step onto when motorists sped by. At least now most of the mist had cleared and the surrounding hills looked magnificent in the blue sky.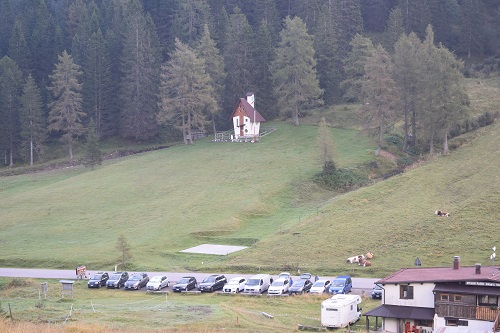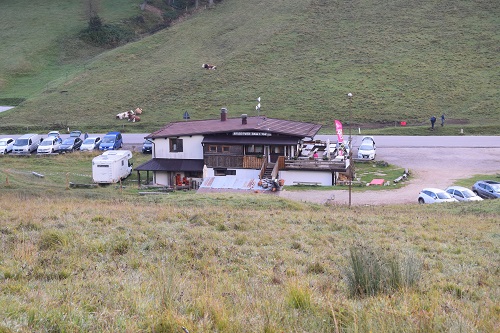 Although the road was reasonably quiet, I was still happy to reach a small car park where I started a gentle ascent through the woods and left it. It was now getting pretty hot so the shade from the trees was a welcome relief even though I was still stopping often to wipe the sweat away from my face. I was gaining height with occasional views of the surrounding hills but that would soon change as I reached a high point and the woods finished leaving spectacular views over the valley.
I decided to have a sit down on a rock for a while and take in the beauty before me. I could see a road zigzagging up a hill with a small village at every turn. I could also see the next section ahead, the path would be mostly level apart from a few little climbs over rocks in a scree field before entering woodland further on at which point I stopped and had the can of Cola I bought at the Rifugio earlier as it was now very hot and the shade of the trees most welcome.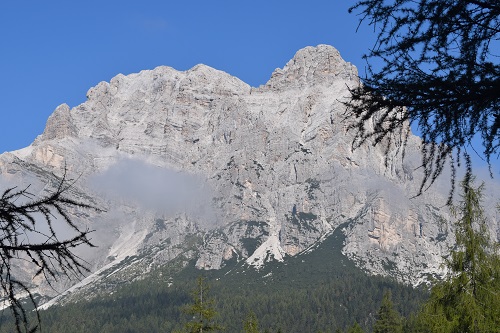 I reluctantly set off again, through more level woodland until I reached a junction of paths and I started heading uphill in no rush. On the ascent I passed a hut which also had a water tap outside it which I used to cool myself down for a bit. Back on the path it was a case of heading up but nothing that strenuous and all the time giving better views around. Up above me I could see the top of the hill getting closer and closer even though I knew I wasn't going that high.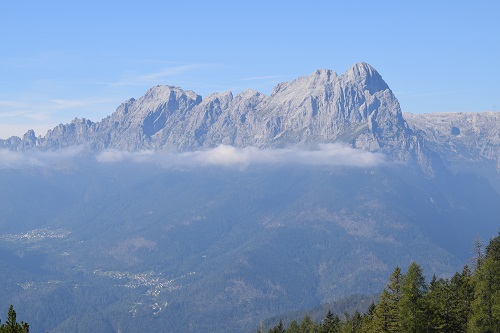 Even though it wasn't that steep I was still glad to reach the high point and walk on level path for a while as new scenery came into view, and what fantastic scenery it was. Now I was seeing signs for Rifugio Pramperet with the time on them so knew I wasn't far away. The path then started zigzagging downhill where I passed a few people, surprisingly the first ones I'd seen on the trail since near the start today, not sure where everyone has gone but some mentioned about heading down to a village and getting a bus to the end.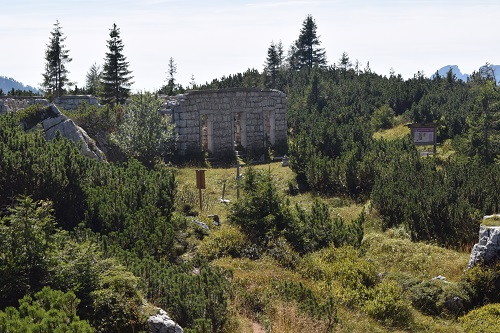 Although I was nearly at my destination there was still time for a few steepish climbs, my legs felt quite tired even though not much ascent was done today. I soon saw the Rifugio in the distance, it looked bigger than I imagined and I was soon inside it after an easy descent, passing some horses and day walkers. I was happy to have finished and out of the sun enjoying a cold beer and resting my tired legs and hot feet.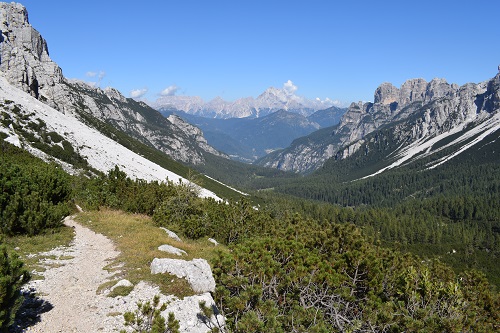 It had been an easier more relaxing walk today and I spent some time thinking about tomorrow and finishing the AV1 and back to civilisation and reality. My AV1 is nearly over and that makes me both happy and sad at the same time as it has been a very enjoyable experience with incredible scenery.
The Rifugio Pramperet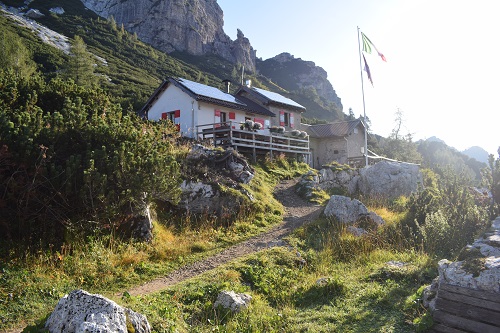 The Rifugio Pramperet doesn't have a great reputation and it's pretty basic but I was happy just to get a cold drink, a bed to sleep in and my last meal on the trail before getting back into my usual eating habits. After staying six nights in really busy Rifugios it was really strange that only seven people stayed here including a nice American man and two of his grown up kids walking the trail together, how cool is that? We all had a good chat before retiring to bed knowing that tomorrow would see the end of my fantastic adventure.