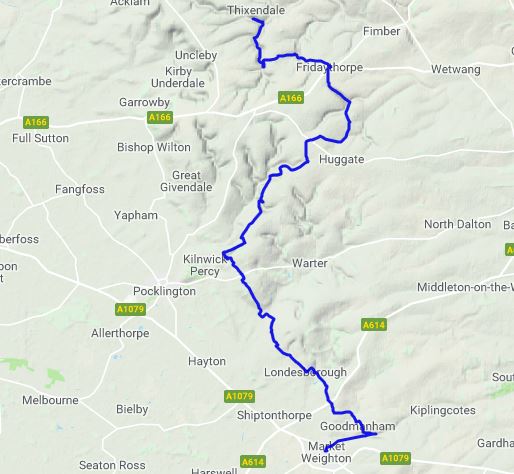 Today would be a rollercoaster kind of walk on a very hot day with not a lot of wind to cool me down but it would be a lovely day with some scenic walking through grassy valleys.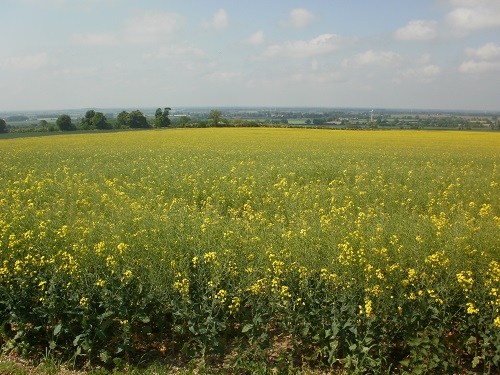 I travelled back to Market Weighton from my overnight accommodation in Hull by the bus, the weather forecast had predicted a cloudy day with occasional sunshine but it would be the other way around. It was a later start today and I had two choices leaving Market Weighton, either retrace my steps from yesterday along the railway track or take an alternative route out of the village. I decided to retrace my steps so I could do the whole trail and not miss out a chunk of the trail.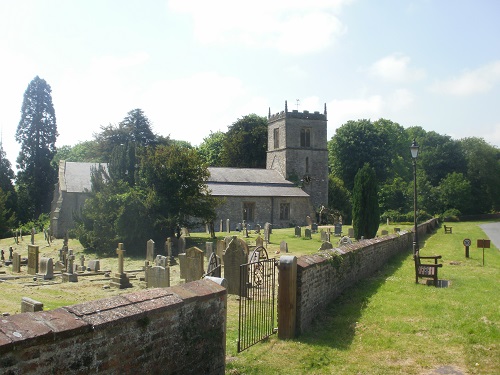 The railway track was again quite busy with dog walkers on a bank holiday but soon I would reach the end of it and reach the Yorkshire Wolds Way again. A gentle walk uphill on a road would soon see me breaking sweat, something I would be doing for most of the day but soon I would reach Goodmanham and then onto a nice shaded track and a few narrower paths before eventually reaching some open space, the lack of mountains on the Yorkshire Wolds Way means you can see for many miles around.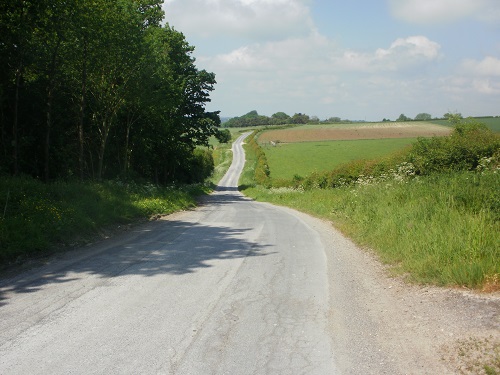 A few field edges and grassy paths would follow, with no real hills. Soon I got near Londesborough which is where an alternative path from Market Weighton meets the original route. A lot of road walking followed with views all around but it was all still a bit hazy in the sunshine. It was ages before the road reached a farm yard and I was then back onto normal paths again.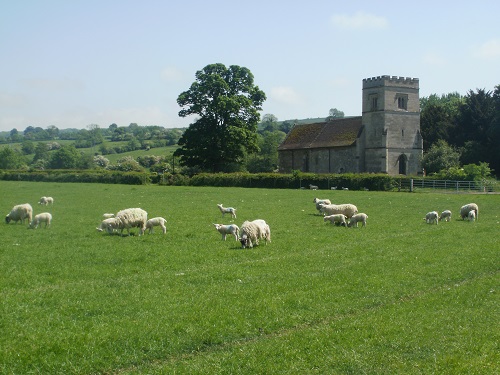 I reached the small hamlet called Nunburnholme and found a bench near the church to have my first real break of the day. Reluctantly I headed onwards and started a long climb up through the fields that would eventually take me above Millington. It had been quite a long slog up to this point but the reward was a level and scenic walk above the village and onwards with lovely views over the valley.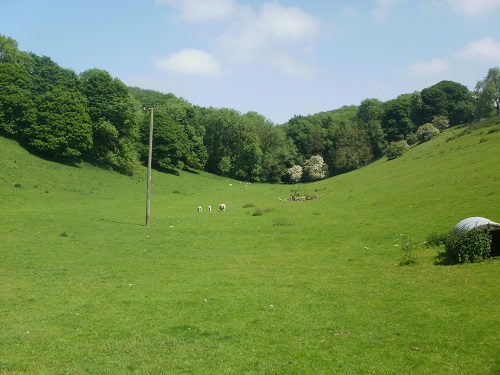 Sadly though, the grassy path started to head downhill and this is where the start of the rollercoaster started. As the path descended, a look over the valley told me something steep was a few minutes away, this would have me puffing, panting and sweating in the scorching sun, no wind here to cool me down. The path eventually reached the top and I breathed a sigh of relief and a welcome rest.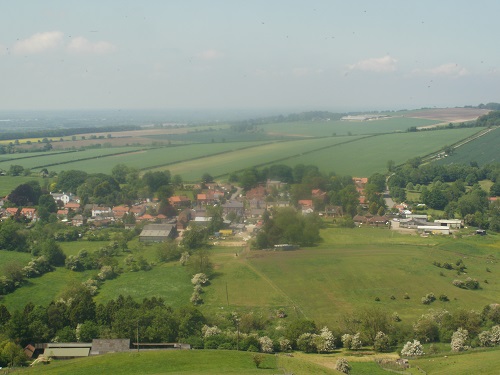 More ups and downs would follow, luckily the scenery more than made up for the effort. All I wanted was some level walking but it didn't seem to last long when it came. I was getting near Huggate now and to my relief I left the tracks and walked on some level tarmac. It felt good at the time but I didn't know that I would be on this road for ages. I reached the Huggate turn off and wished that I had been stopping here for the night but there was still a long way to go today.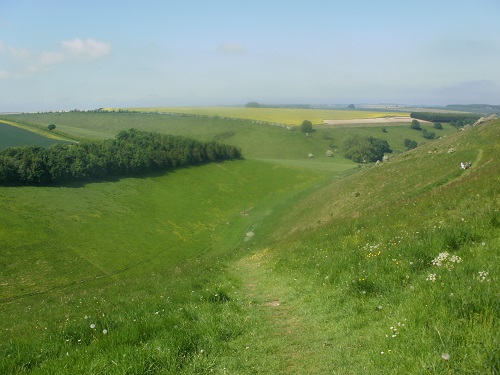 I seemed to be on this road for ages before gladly leaving it and onto paths again. As I descended a grassy path, I saw a welcoming bench but people were sat on it, this was the story with nearly all the benches today so I pressed on. Soon I came to something a little different, a grassy path gently heading uphill in a lovely grassy valley, it's steep sides however meant no wind would reach me and this gently climb ended up being quite a strenuous slog up through the snaking valley. I was relieved to eventually reach the end of it and enter Fridaythorpe.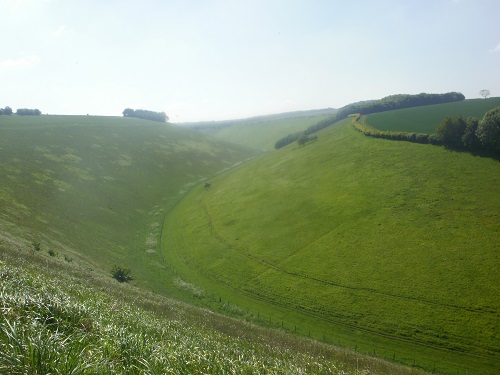 Here there is a little shop in the petrol station and I bought some goodies for later on and had a break in a shelter beside a small duck pond for a while. I stayed a while before moving off, my backpack heavy with food and also water and cola. I was sure I only had just over a mile left to Thixendale so I was far from happy to see a sign saying that there was actually four miles left.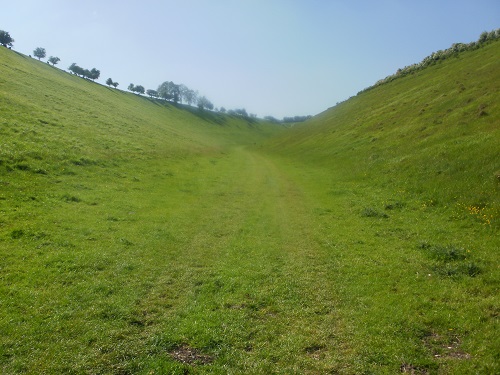 If anything, the day was getting hotter and the extra weight I was now carrying didn't help. The track out of Fridaythorpe was quite gentle and some trees gave me welcome shade from the sun now and again. Ahead of me I could see that the path would soon dip down before climbing back up again, luckily more trees were around for some shade now and again.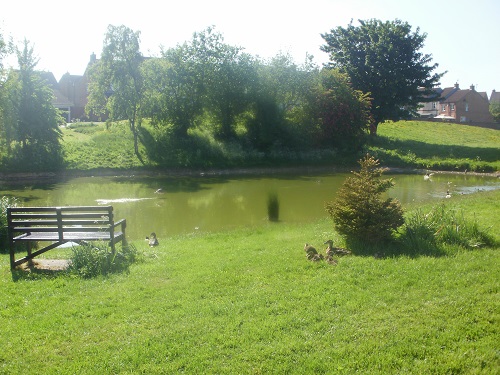 At the top of this grassy hill, the path levelled out for a while before heading steeply downwards. At the bottom, the path headed almost back where I came from past lots of sheep, many of whom were suffering in the heat and some clever ones had worked out that it was nicer in the shade from the trees. I just headed on and on, knowing I didn't have far to go.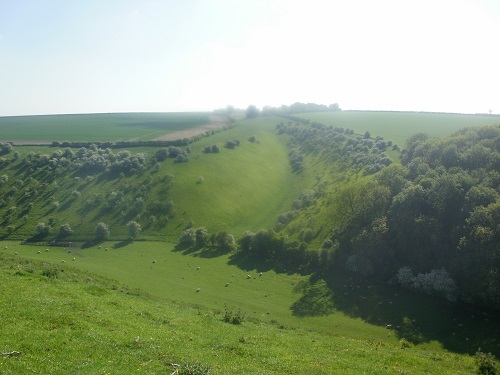 I soon joined a road and this would take me to Thixendale, much to my relief. I entered the village and walked along the road for a short distance before spying the Cross Keys pub hiding down a little side street off the one and only road through the village. I felt relief to have finished walking for the day but was then shocked to find that the pub wasn't open for over an hour so I had to sit outside and wait. All I wanted to do was get into my room and shower all the sweat, dust and sun cream off me but this would have to wait.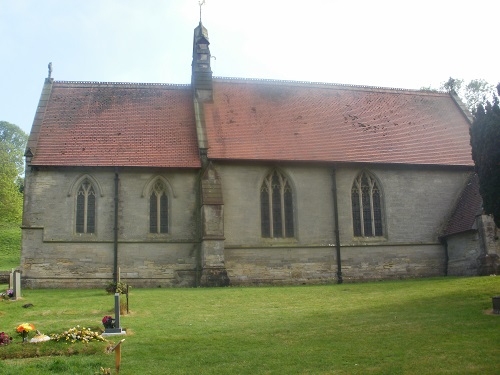 Today had been quite a rollercoaster, harder than I was expecting and the scorching sun and little wind made this feel an even longer day. It had however been very scenic, I loved the walks through the grassy valleys especially. Another long walk awaits me tomorrow, the weather forecast suggests it will be cooler with more clouds than sunshine, I hope it's correct. I also hope it's a more gentle day and an earlier finish in Ganton.