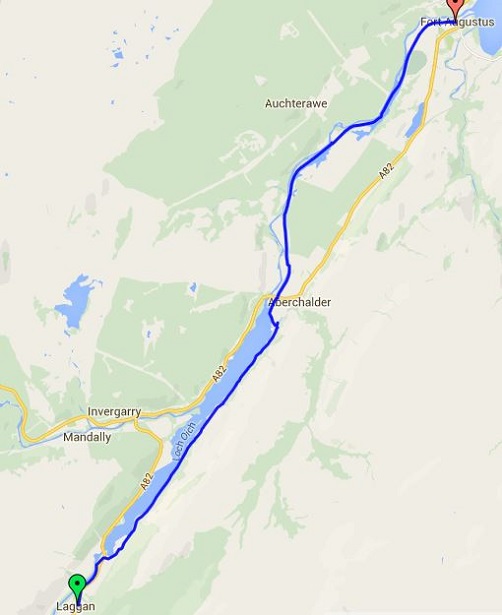 After yesterday's long walk, today would be about haf the distance and almost totally flat, which hopefully would give my legs and feet a bit of a rest. I had to catch a bus back to Laggan Locks then walk the 11 miles back to Fort Augustus from there, the bus was just after 10am which meant no early rise and as I was the only person in the room, I slept well.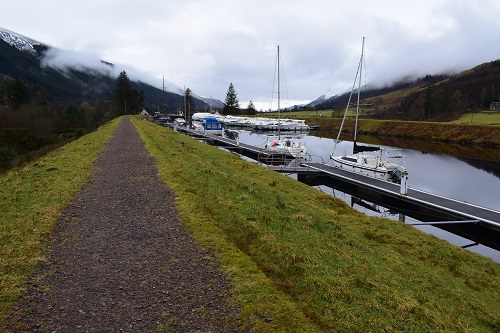 I got off the bus, walked down a short road and was at the Locks, which is where I finished yesterday. I got my camera out and started my walk, firstly on a woodland path before crossing the road and heading along a road past a waterpark and past an old railway station which they are doing up. From there it would be walking on a new cyclepath round Loch Oich to Aberchalder on an old disused railway line. The old path can be seen a short distance down below , it was soggy, muddy and uneven but now I was on a nice level wide path. I was the only person on this stretch today but it can get busier with bikes in the warmer months. A few miles later I passed a bench just off the path with nice views on the Loch and had my lunch there, as I always have.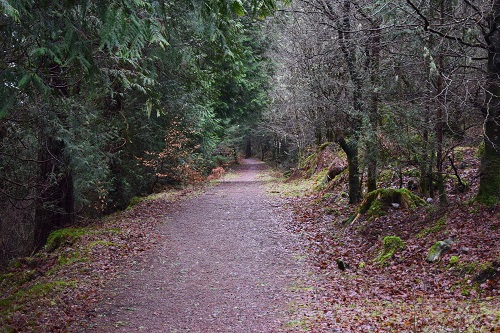 I could have stayed there much longer enjoying the view and the quietness but I still hadn't reached the halfway point so reluctantly I set off again, back on the cyclepath. A bit further on is a long wide tunnel which is useful if you want shelter from the elements to have something to eat or just a break. I didn't stop though and passed through it and soon after, I crossed an old railway bridge.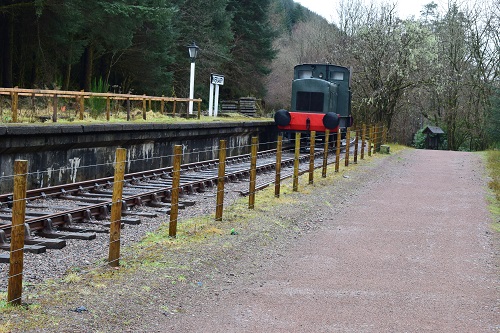 The cyclepath path ends here and becomes a narrow but smooth path round the rest of the Loch to the road at Aberchalder where I crossed over it and soon after that I crossed the canal on a lock and would stay on this side of the canal all the way to Fort Augustus. There were six or so miles to walk along the Canal as it winds it's way up the Great Glen and I saw no one until I neared the end of the canal.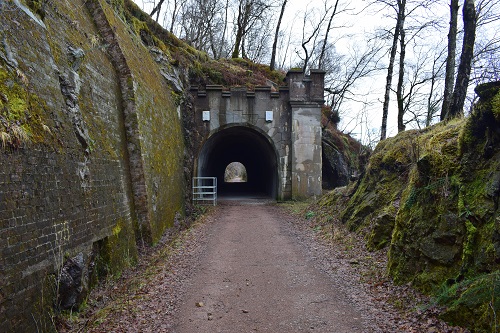 I love the stillness of the Canal and how quiet it is, the only noise would be from the ducks and geese. There are a few benches along this stretch so I had a couple of breaks before the end. The views along the Canal and surroundings were lovely and gave nice reflections on the water.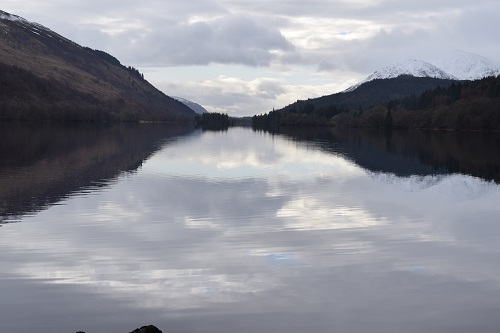 Before long I was entering Fort Augustus and a series of locks that take boats up or down from Loch Ness, it's busy in summer and nice to sit canalside with the hundreds of tourists and watch but there were no boats today and just a dozen or so tourists taking photos. I walked down the locks to the end of the road.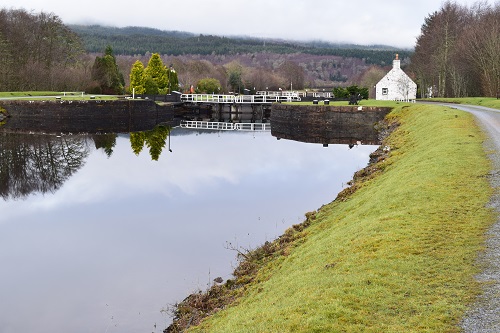 If you have time to spare, which you should have if you have walked from Laggan, then cross the road and follow the path. Soon you will have wonderful views down Loch Ness. Today it was busy, there were a few tourist busses in the car park. I took in the views, took some photos then back along the path.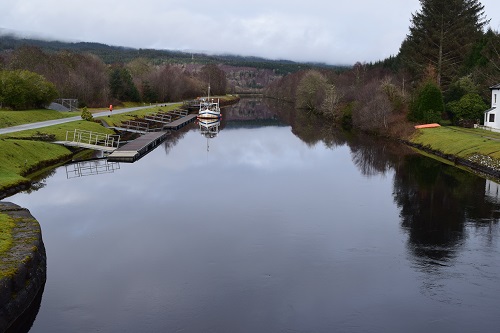 Fort Augustus is a quiet little place in the Winter and busy in the Summer, I prefer it quiet. There is a little shop in the petrol station and a chip shop just after it so that was tea taken care off. Just after that, a sign points you left up a steep hill heading out of Fort Augustus and just up here you will find Morags Lodge Hostel, which is where I always stay and my stuff was already here as I stayed here the night before.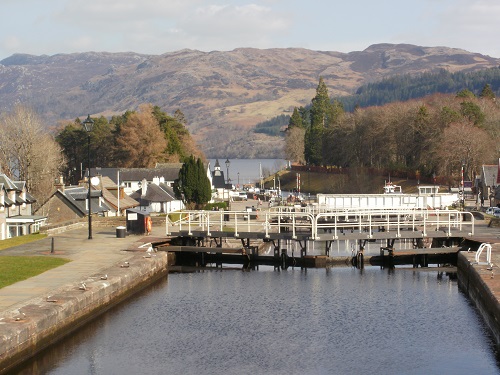 Today was an easy day and many would consider it a boring one as it's nearly all level cyclepath or towpath but the views are excellent in good weather and at eleven miles and less than four hours, it feels a bit of a rest day before a more strenuous day tomorrow walking to Drumnadrochit.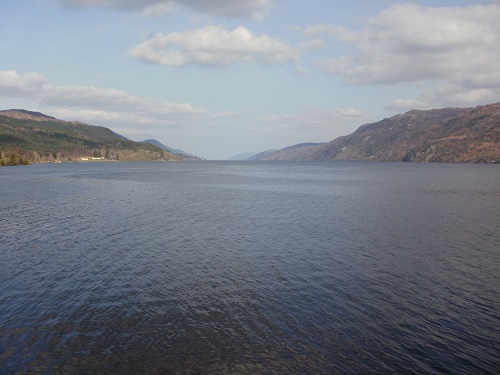 Morags Lodge - Fort Augustus
The Great Glen Way passes right by Morags Lodge so it made sense to spend the night here plus it was cheap and certainly cheerful. I was greeted by a welcome smile, told about the facilities and got my room key. The room was en-suite, which was a bonus and my dorm had two bunk beds in it, so I chose a bottom bunk and I was the only person in the room. Each bed had power sockets built into the top of the headboard as well as little individual lights, which meant you could read without annoying any other guests and charge up your phone as you slept. I didn't use the kitchen this time as I planned to use the Chip shop. I went down to the lounge area, beside the bar and used the free wifi.
The Hostel has a couple of vending machines selling a variety of things but there are shops in the village if you need things. The lounge is spacious, has free wifi, plenty of sofas and there is also a bar. The whole Hostel was very clean, staff were friendly and knowledgable and overall I would recommend this place to people. I have stayed here five times now.