I had another good sleep and the room to myself, my legs and feet were hoping that I would just have a day off but today was a long one, about 21 miles so it was up and away about 8am. The weather forecast for today was that it would be a third dry day in a row, and this would end up to be correct and quite warm at times.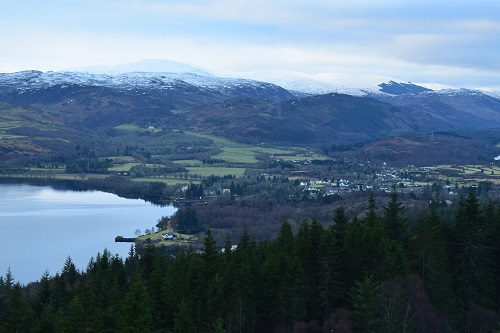 I left the Lodge and headed uphill on the road and followed that for a while before a sign directed me into the woods. This first climb of the day would more than wake my sleepy legs and feet and soon I was puffing away. It soon reached a track and I got my breath back as it contoured for a little while. I then reached a marker board which gives you a choice of low or high routes. The lower route is a fairly even forest track nearly all the way to Invermoriston but it doesn't give many views apart from trees. If you're in a hurry or just want an easy couple of hours walking, choose the lower route. If you want views, you need to go the higher route but it's worth it. I chose to walk the high route today.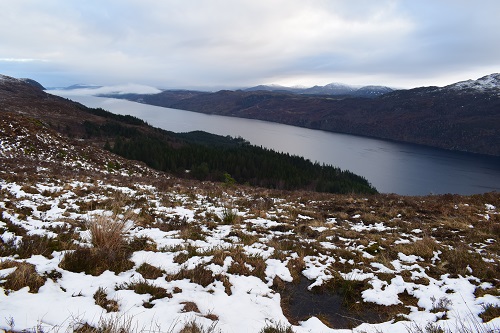 From the junction of paths, the higher route takes you up through the woods, zigzagging steeply until you get above the trees and the path starts to level out and you get good views. The path has some uphill and downhill after that but don't forget to keep looking behind as well as forwards to see the Loch and surrounding hills in their glory. There were small patches of snow on the path once I got out of the woods but nothing slippery to slow me down very much.
The views were wonderful, especially looking over towards the snow topped hills. There was no wind and the only noise I heard was water now and again running downhill in small streams and the Loch looked so peaceful and not a monster in sight. Just over three miles from the start, I came to a lovely stone shelter which gives great views down the Loch as well as a welcoming sit down, and I did so.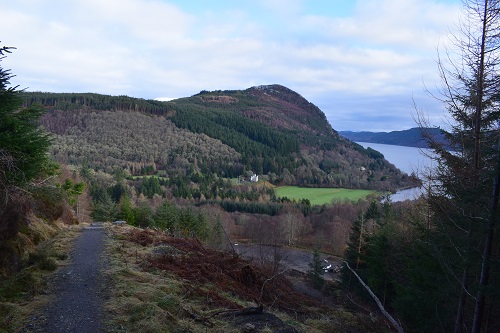 It's a very nice walk from here on quite newly created path so it's nice on your feet and nothing too steep but later on it would start descending quite steeply and would meet up with the lower path just above the small village of Invermoriston. A path now runs alongside the forest track to keep you off the track and then Invermoriston appears down below. It's still a steep descent down to the village where I stopped at the shop which seems to have been on sale for years. I had a small break here and shared some of my pie with a Robin before moving on.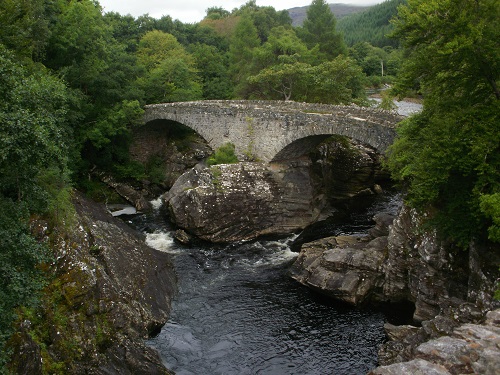 The road out of Invermoriston has heard more swear words from me than any others I have walked on. It's very steep and just keeps zigzagging on and on and when you think you have reached the high point, it zigzags more. I then came to a marker board telling you of another lower or higher route choice. Again, the lower route is nearly all forest tracks with limited views but it has many hills to go up then down again before a long slog upwards. The higher route is more strenuous but has excellent views all around and better than being stuck in trees for hours so I went that way.
It was uphill to start with through the trees then down again and over a bridge. The path would then start to ascend on a nice path which then joined a track for a while before that stopped and became a path again. The views were now appearing all around and there was more snow on the paths but nothing very deep or slippery. The path kept heading upwards until it reached a sculpture made out of local stone and wood, from here the views were fantastic, a good excuse for a rest.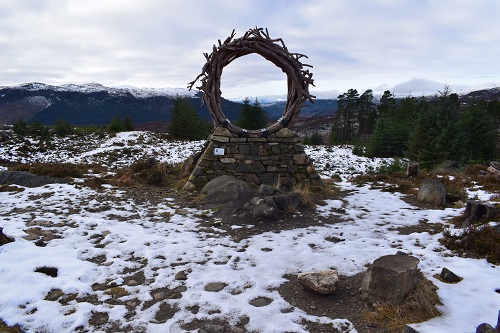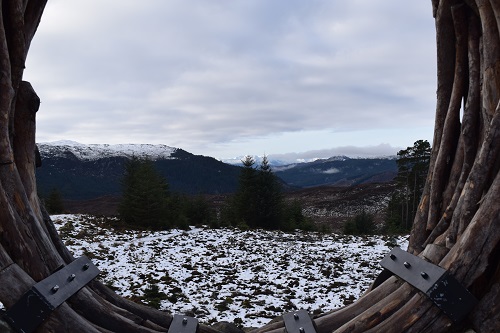 This wasn't the top of the climb though and after a short break I continued upwards and kept going up and up, sometimes through trees and sometimes in the open. I was really overheating today but it would have been too cold up there to remove my jacket. I knew there was a shelter up there and eventually I passed it. I then saw tyre marks in the snow so this told me that I had reached the high point now. It's a nice shelter but 10 minutes further on and downhill is a much nicer one with seats on both sides giving great views down the Loch in both directions.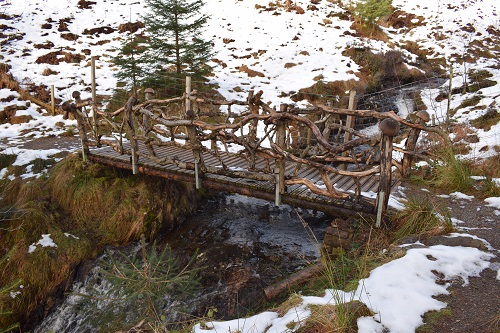 I met the cyclist here and also a runner, these were the only people I saw on the trail all day. From the shelter it was generally downwards on fast walking track which eventually met the lower path and it continued its way onwards. My legs were starting to get tired now but there was a long way to go yet. The track became a path that crossed some open grassland then uphill before reaching the car park at Balbeg.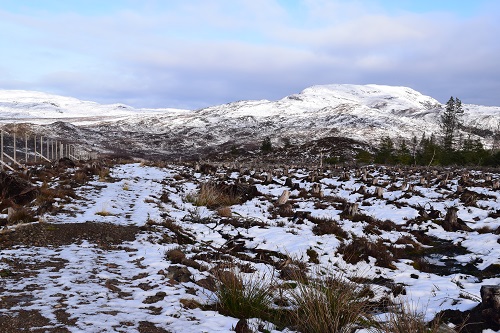 I wasn't looking forward to the next bit, over three miles of tarmac which had my feet throbbing. The views either side were lovely, apart from the wind turbines on a snow covered hill. I could feel myself slowing down and took a short break in a passing place just off the road to get my backpack off, something to drink and five minutes rest from the tarmac.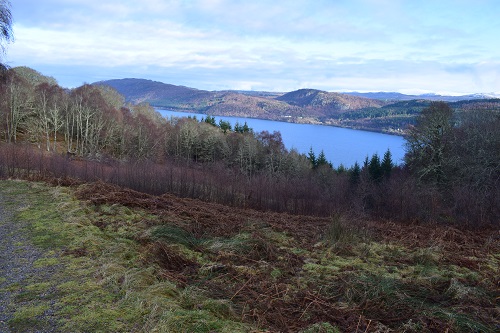 I set off again, not too much tarmac left. I could now see Drumnadrochit down in the distance but it seemed far away. To my great relief, the sign appeared telling me to head off the road and steeply down a path, muddy in places, through the trees. It kept going down and my legs weren't happy at the steepness as it just kept going and going, passed a couple of houses and the noise of a river got louder, which meant I was almost down. The track became tarmac and I saw the end of the road and the bridge over the river. This is a very popular wild camping spot in the good weather. All that was left to do was walk along the pavement to my accommodation but what a long walk it was, passing a petrol station, surgery and shops before I finally was finished at the 1 Loch Ness Hostel.
It had been a long and strenuous day, but this was because I chose to do the higher routes and enjoy the views. The lower option would have been easier but a bit boring for me being in trees so long. I only have one day left on the Great Glen Way and so far I have been lucky with three dry days and the weather forecast is looking good for tomorrow.