This would be one of those walks that you just make up as you go along. I had originally planned to walk this route a few weeks before and include Blencathra but after climbing Blencathra in the clouds, it was obvious that there would be no scenery above a certain height so I cut my walk short and decided to come back another day to do the rest of the walk. So, I returned and changed my route plan to miss out Blencathra and instead do a couple of other Wainwrights but this would all depend on the visibility as I don't see the point climbing hills and getting no scenery. Basically then, I would decide once I got up high what I would climb the rest of the day.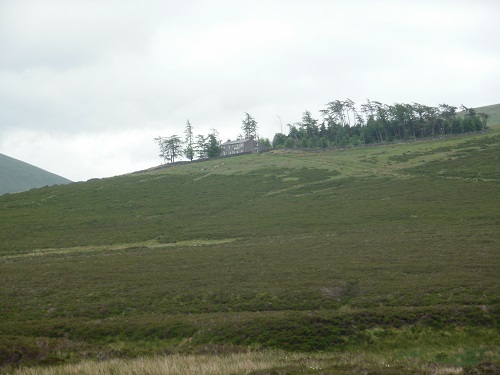 I set off from the car park just above Blencathra visitor centre and walked gently uphill along a track that would take me to the cross road of paths near Skiddaw House, the point that I'd abandoned my earlier walk. Looking around, there were clouds covering the higher hills but the lower ones were fine. It's a lovely walk past Skiddaw House, with Blencathra on one side and Lonscale Fell on the other side, a hill I would hopefully climb later. After Skiddaw House, Great Calva is on the right hand side and the path continued past that until it was time to leave the track and start climbing up the steep grassy path up towards the summit of Bakestall.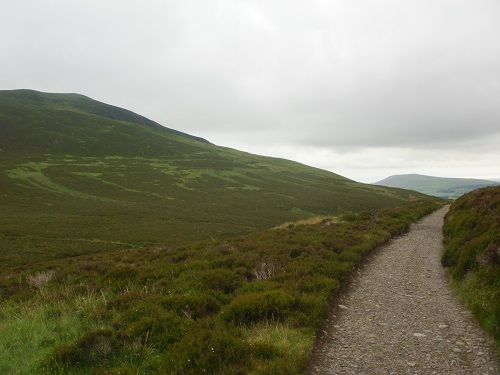 Bakestall is unusual, it's not really a hill, it's really just part of Skiddaw and somewhere that you'd probably just stop for a rest before continuing up to Skiddaw but it does give you some good views from the cairn over to the Back Of Skiddaw hills and over towards Binsey, walks that I'd done in previous weeks that I'd also enjoyed (you can read about it Click Here).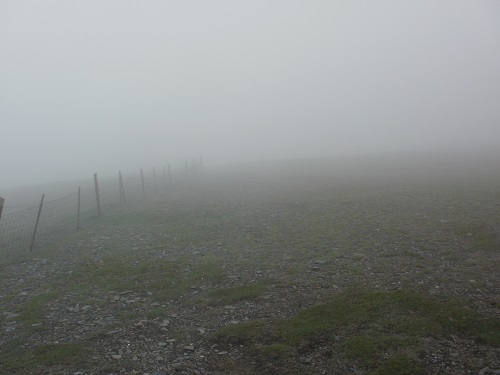 It's basically just a grassy path up to Bakestall, nothing major but still tough. Bakestall summit is about 2200feet and the clouds were not covering the summit so this told me that maybe only Skiddaw itself would be covered in clouds, the others should be fine so I decided to press on and do the full walk.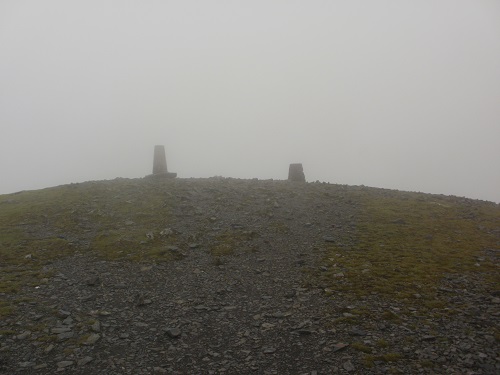 When you leave Bakestall, you are then on a quite gentle uphill path and then following a fence, at this point I started walking in the clouds and it got chilly, the warm clothing went on. I couldn't see Skiddaw summit so it was just a case of following the path uphill, the good path eventually changed and I started walking on a path through scree and past a cairn and shelter, but this wasn't the main summit.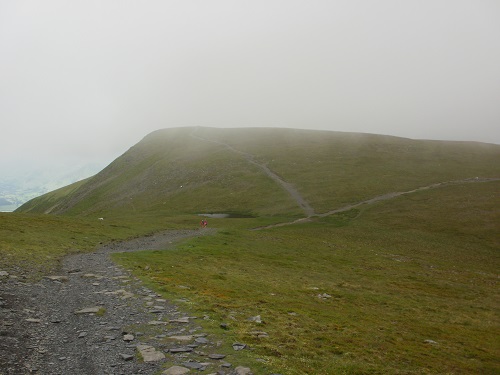 I decided to stop at this shelter to have my lunch as I didn't know whether I'd get shelter further on, plus it would make my backpack lighter. After my break it was a short uphill stretch to the main Skiddaw summit, but I wasn't hanging around here today as there was no scenery and it was cold. I just pressed on, my next stop would be Long Side which meant I had to leave the summit ridge and head down through a scree path, never something I like to do and I was glad to get through it. While I was descending, I was below the clouds again and looking at Long Side and Ullock Pike.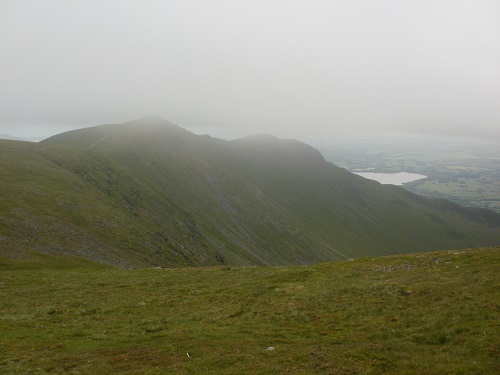 After being in the clouds for a while, it was lovely to get some scenery and very nice it was too. It was also nice to see the route I would be walking and it would be a nice ridge route over Long Side to Ullock Pike, then back again and divert to Carl Side, all on nice level paths and dry grassy ones too. The views from these hills would be worth the eariler walk through the clouds.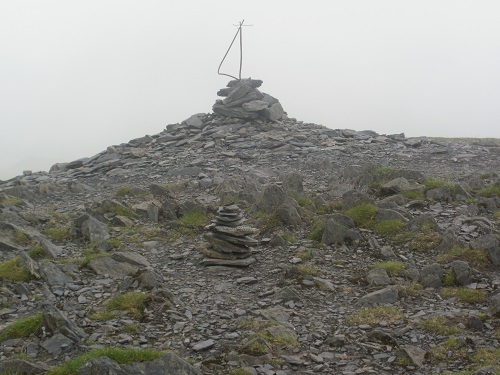 Ullock Pike is just a few minutes walking from Long Side, not a lot of effort was needed to reach that summit or back again to climb Carl Side. The next summit would be Skiddaw Little Man which would be in the clouds and a horrible zigzag path through the scree from Carl Side until reaching the ridge coming from Skiddaw. It probably wasn't a long path but it always feels further when you can't see where you're going so I was glad to reach the cairn on the ridge and head along to Skiddaw Little Man.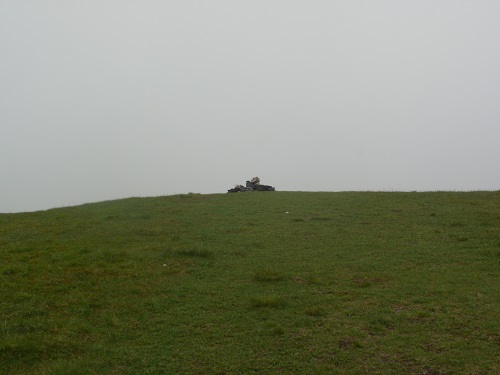 The next hill I would be aiming for would be Lonscale Fell, which I was hoping would be below the clouds. As I descended, the scenery returned and Lonscale Fell came into view, todays hills had all been quite close together, not miles between them. It was simply a case of just following the path which then was joined by a fence and a stile to cross it, although the grassy path continued on both sides, although the one on the right would end up finishing at a fence with no way of crossing it, so make sure you go to the left of the fence, unless you want to jump it.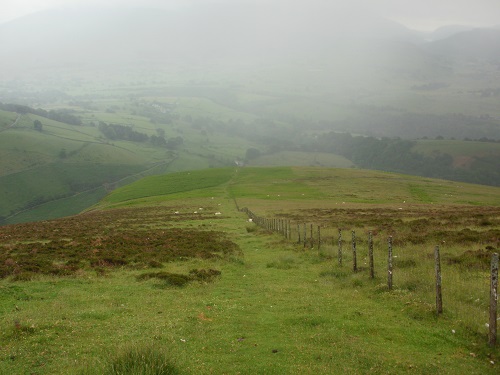 The grassy path meant I reached the summit quite easily and then took a short detour to Lonscale Pike, which gives you good views over the valley towards Blencathra, but this was still in cloud. Although I'd been in the clouds some of the day, there had been no rain but it was getting darker and I wondered how far I'd get before it would start. The answer came soon enough as light rain started falling as I walked down the steep grassy path from Lonscale Fell to eventually join the track that is part of the Cumbria Way and a nice walk towards Latrigg.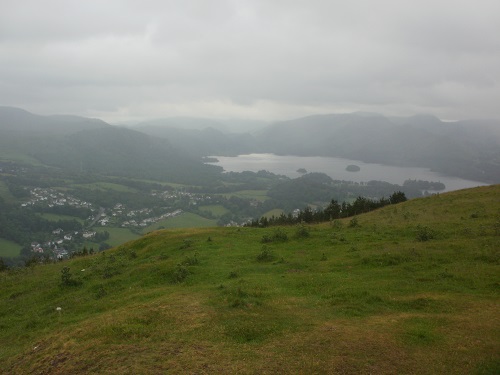 I decided to take the detour to climb Latrigg as I'd never climbed it before and wanted to tick that one of the list, plus it's not exactly a huge hill. My legs were getting heavy by now, the steep grassy descent from Lonscale Fell hadn't been nice but the Cumbria Way was very nice for my feet and legs. Eventually though it would be time to leave it and head up the grassy path towards the ridge where Latrigg sits.
Climbing to the top of Latrigg doesn't take a lot of effort really, it's a nice grassy path to the summit, although I wasn't exactly sure where the summit was as I couldn't see a cairn. By now the rain was getting heavier so no point hanging around, my hills for the day had all been climbed and it was just a matter of the long descent back to the car.
I had really enjoyed my walk today. Ok, I was in the clouds for some of it and there would be no fantastic sunny views over the surrounding hills but the actual walk and the paths were very easy to walk upon, making walking easy and also quick. This is certainly a walk that I will return to do again but hopefully on a day when it's dry, sunny and all of it below the clouds.