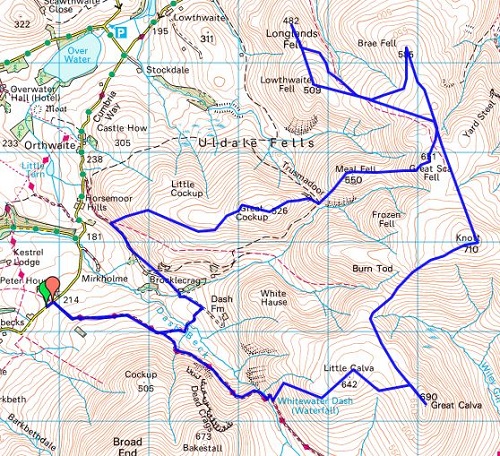 It was bank holiday and I wanted to go away walking for a couple of days but didn't want to do the busy touristy hills so I decided to aim for an area north of Keswick and do a walk that took in 7 Wainwrights and then a short 3 mile or so drive to climb up Binsey as its not near any other hill and I'd hate to come back another day for such a quick and easy hill (I ended up taking 30 mins to get up and down again).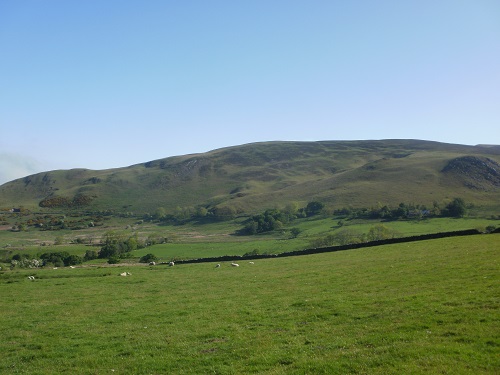 So, I set of from Yorkshire about 6am and arrived at my car parking spot at Parker Farm at Orthwaite at 8:30, just 1 other car was parked. It was a lovely sunny morning and a pleasure to set off in shorts and t-shirt instead of full waterproofs and warm clothing for a change. What a lovely day it would turn out to be.
This is a walk thats mostly on grassy paths between the hills and it was dry, even the boggy bits had dried up making the walking so much easier today. The initial couple of miles were gradually uphill on a track towards a farm, just to wake my legs up and to take in the scenery in front of me, including Skiddaw to the right of me which seemed to have a cloud over it most of the day. I could see my first hill Great Cockup to the left of me and Great Calva in front of me which would be the last hill. The track split and I headed left along the foot of the ridge heading up Great Cockup, the track ahead would be walked on later on when I returned back after Great Calva.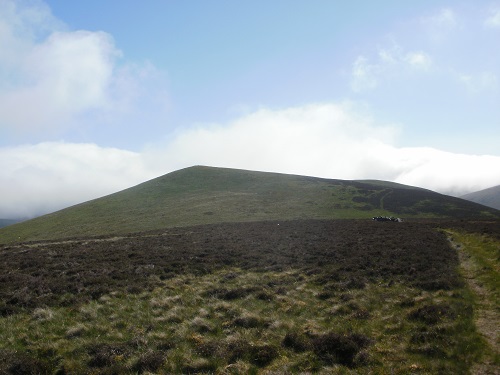 The route I had copied from the Internet then suggested I turn right and climb upwards but it was all ferns and gorse so I ended up walking diagonally and upwards along a path until the vegetation disappeared and then I headed upwards to find a path or get to the ridge leading to the summit. Eventually I came to a path and followed it to the summit, this was really the only time today there was no visible path. It didn't take long to reach the summit, it never does with grassy paths where you can walk your own stride, none of those horrible steps that seem to be made for giants.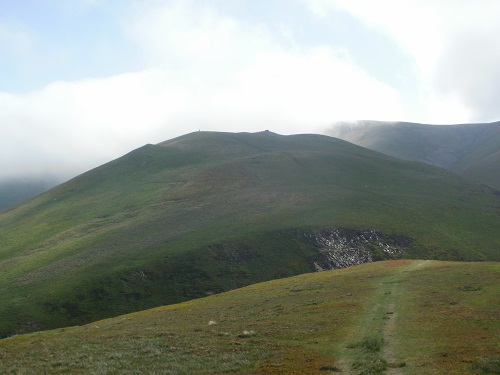 From Great Cockup, it was a straightforward path over to Meal Fell, from where I could look up and see Great Sca Fell but my route would take me over that later on so I intended taking the path off to the left before the climb to the summit to save wasting energy, so I dipped down from Meal Fell and headed diagonally along a path that comes out to the side of Great Sca Fell and headed for my next hill Brae Fell. At this point I met a walker, first person I'd seen all day. It was a straightforward walk to Brae Fell, crossing Little Sca Fell (not a wainwright) and then returning a slightly different way to the summit of Lowthwaite Fell (not a wainwright) and eventually meet up with the path heading up to Great Sca Fell.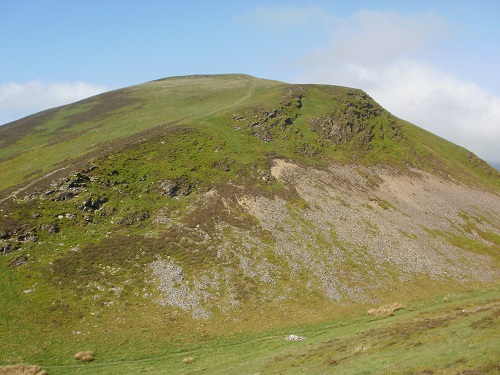 I was starting to feel tired legs now, the early rise and long drive probably to blame and I decided to find somewhere to sit to have lunch but there really wasn't a good place to sit so I decided to press on and have a break at the summit of Knott. I think my legs then went in the huff as they were very heavy as I headed uphill to Knott but I had a sit down on the small cairn, had lunch and took in the view, especially Skiddaw which looked huge. I could have sat longer but I still had one more hill to climb, Great Calva. I could see the metal cairn in the distance, I thought they were people.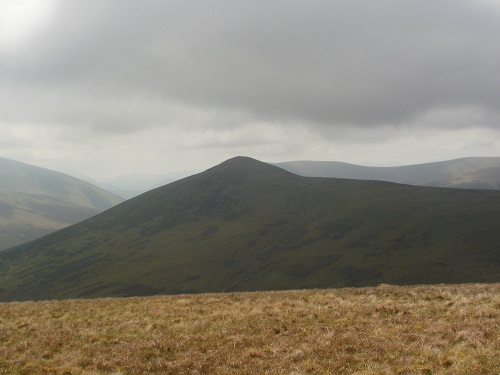 As I headed off from Knott, I noticed how dry the section was as it's obviously a bit boggy in the winter, my shoes would remain dry today. The day had gone so quickly, mainly due to the nice grassy paths and I felt a touch sadness as I started to walk uphill beside a fence towards my last summit of the walk. As I reached the top, 3 people were sitting there, the most people I'd seen all day and I crossed over the fence, touched the cairn and started my descent back to the car.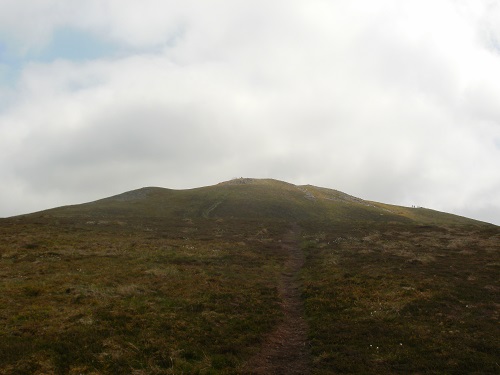 Now, the route I was following was fine up until now but the path just seemed to disappear and I just followed the directions on my GPS which took me diagonally downward through lots of heather, Im glad it was dry. I aimed towards a fence where a path was heading down and took it but it was a bit steeper than I liked and wouldn't be very nice if the ground was wet and slippy. On reflection, I should have taken the other route down from Great Calva which meets the track coming past Skiddaw House as its probably a better path.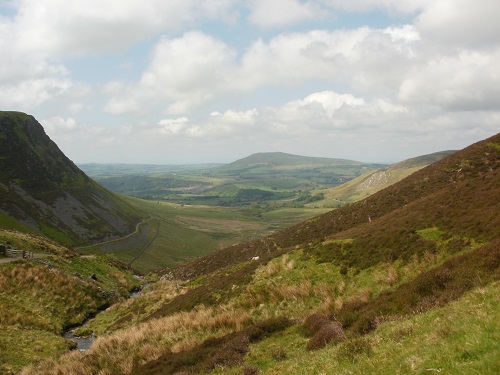 Eventually I reached the bottom of the hill and the track, I looked up towards Bakestall, the path up looked long and steep, I was glad I'd do it another day. The track I was now on led downhill, it was quite a lot busier with bikes and people just out for a walk and enjoying the fresh air and it wasn't long before the track joined up to the one I'd turned off at hours earlier. It wasn't long before I was back at where my car was parked, it was far busier than when I left it about 9am. I had a little break and headed off to climb Binsey, there seemed no point leaving it for another day seeing as it was so close and relatively easy and quick to walk up. I drove to the car parking area at Binsey Lodge and got a parking space.
The short and easy walk up Binsey from Binsey Lodge
To say Binsey was easy is a bit of an understatement, it took me 30 mins to get up and down again and only one and a half miles. It was still a pleasant walk though in the sun as I was walking on very wide grassy path and not too steep, the only steepish bit being the final few yards to the cairn and trig point. The walk up isnt that scenic but when you turn round, that's another story as the hills I'd just walked earlier were in front of me plus the Skiddaw range and Over Water below me and Derwent Water to the right. It was a pleasant walk down the grassy path back to the car and then my drive to the Youth Hostel at Patterdale where i would be staying two nights.
I'd enjoyed my walking today very much, the weather, the grassy paths, the quietness of the hills, the scenery, everything was fantastic today and certainly one I'd do again.