A Rocky Roller Coaster of a day in the Southern Fells
After yesterdays nice walk over Skiddaw and surrounding hills ( Read about it HERE ), todays walk would be a completely different experience. A day where my feet never seemed to be on a level piece of ground, would involve lots of climbing over rocky paths and boulder fields and many up's and down's. When I finished my walk I thought I'd walked many miles more than I actually had, but it was still a very nice walk.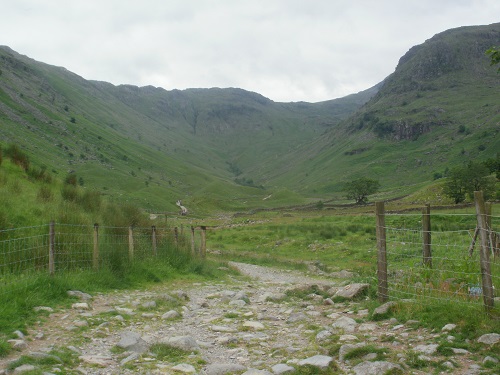 The starting point for today would be Seathwaite near Rossthwaite, the parking would be at the side of the long lane from Seatoller, basically just park behind the last car in the line and that's what I did. This was certainly a very popular place for walkers judging by the amount of cars already there when I arrived about 9am. The weather was dry, sunny, warm and not much wind, a day for shorts and tshirt mainly. I was looking forward to this walk as I set off along the rest of the lane and headed towards the valley with Glaramara on the left of me and Base Brown on the right, the destination it seemed for many of the other walkers as I left the main path to climb upwards and everyone else continued straight ahead on the nice wide track.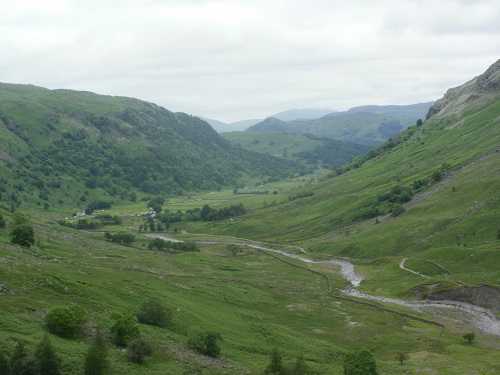 I slowly climbed up after leaving the main path, sweat already coming from my brow in the morning sunshine. There were 2 women a short distance ahead of me on the path, I would see them many times during the day as they were doing almost the same walk as myself. The path levelled out a little but it was then time to head up the steep grassy side of Seathwaite Fell, I didn't see a path so it was basically just a case of heading uphill, avoiding the crags until a path eventually appeared and I followed it to the ridge and along to the summit. Today was a day when the surrounding hills would have no cloud on them for the majority of my walk, Great Gable and it's surrounding hills on the right looming large before me.
From Seathwaite Fell, again there seemed no sign of a path so it was basically just a case of heading over easy to cross moorland towards the couple of small tarns where a path would emerge taking me to the main path heading up towards the summit of Great End. This was a junction of a few paths and the quiet day that I'd had so far would change. It was a Saturday so I expected it to be very busy but what I hadn't realised was that this was the day that a large charity climb of Scafell Pike and surrounding hills would take place plus a fell race, everywhere I looked I saw hills covered with a long train of people with identical coloured tshirts slowly walking up hills that I'd planned to walk up soon after Great End.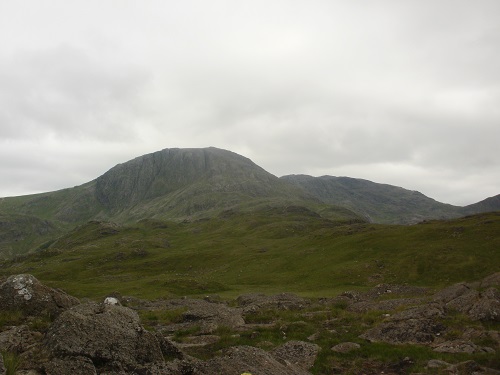 The walk up the path to Great End was steep but it wasn't as bad as it looks, but at times I was walking through boulder fields whilst looking behind me to try and not get in any of the runners way as they puffed up to Great End. I reached the summit and decided to find a quiet place away from the summit to have my lunch and a think about a change of plan for the rest of my walk. I'd planned to walk up 2 non-Wainwrights (Ill Crag and Broad Crag) but these were far too busy and I knew I'd spent most of my time stuck in the traffic jams of charity walkers. I therefore decided to miss those 2 hills out and instead climb up Esk Pike which was not covered in as many people and not a huge detour from my original route and I'm glad that I did.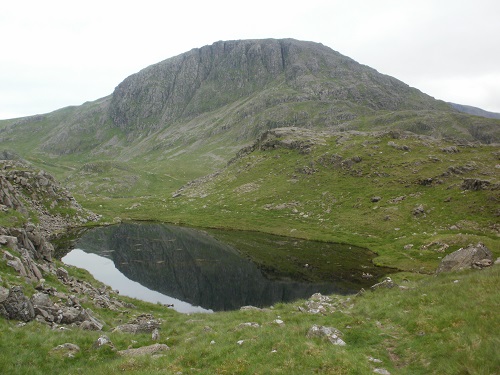 I descended Great End after my break, still lots of charity walkers were slowly ascending it but this path is wide so no problem. At the bottom of the path, a few paths go off in different directions and I headed off up Esk Pike, which only had a few charity walkers on it, with some organisers who were trying to either encourage them or convince them to give up as they were so slow, I felt sorry for them, they would have raised a lot of money but felt like they had failed in their walk. Esk Pike wasn't that tough a climb, the path zig zagging at times and disapearing but the general idea was to keep heading upwards, so much easier on a day like today when you can actually see the path ahead of you. You get a great view from Esk Pike of the Gables, Scafells and many other hills, this is why I love walking in The Lakes.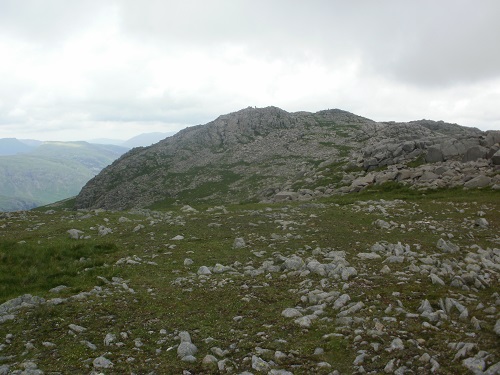 The rest of my walk would see me heading over Allen Crags and Glaramara then over Rosthwaite Fell, it seemed like a simple ridge walk but it was one of those that drag on with many up's and down's, rocky summits, boulder fields and cairns that weren't actually the main summits. The first part to the summit of Allen Crags was easy enough, from where I could look along the ridge towards Glaramara and I could see that it was going to be a rocky roller coaster. At times the path would disapear and I would generally just head along the ridge after visiting nearby cairns.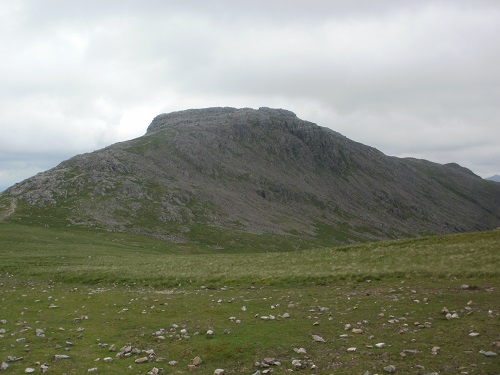 There are parts of this ridge that have you doing a bit of scrambling, something I'm not that keen on but I know some people love this, but it meant slow going at times. I reached a couple of summits before I eventually reached the main summit cairn of Glaramara after a short detour from the path. All that was left to climb was Rosthwaite Fell (also called Bessyboot) and the long descent down to Seatoller and then the long lane back to where I'd parked my car a few hours earlier.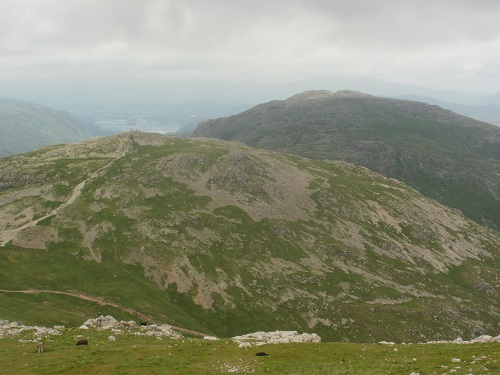 There's not much of a path between Glaramara and Rosthwaite Fell, or maybe I just missed it but again it was just a case of continuing along the ridge towards the summit cairns or Rosthwaite Fell and the summit before it. By now I was getting fed up of the rocky paths, my feet never seemed to be on a level piece of ground all day and this would continue all the way to Rosthwaite Fell summit and then the steep descent down a non-existant path until I rejoined a well worn path through ferns down to Seatoller and eventually some level ground. All I had to do now was the lane back to the car.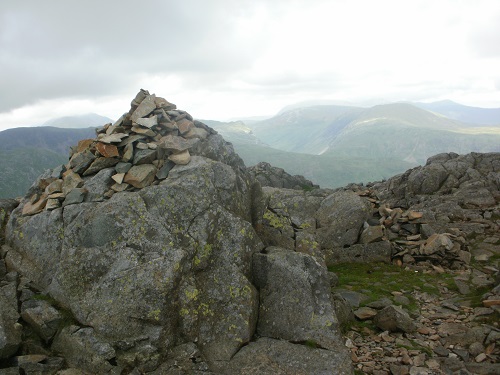 It would be about a mile along the lane back to where I'd left the car and the narrow lane was busy with people leaving the area so you have to be careful. Eventually I reached the line of cars and I realised just how popular this spot is as the cars lined up for quite a while behind where I'd parked plus the long line in front of mine.
I was glad to reach the car and a well earned sit down, surprised that I hadn't walked as far as I thought I had. I hadn't enjoyed the paths today but the scenery was well worth the walk, it's certainly a walk I'd do again but make sure it's not the same day as a huge charity event. I know I don't own the hills but sometimes I just like a bit of peace and quiet on the hills, just me and my thoughts.