After yesterday's fantastic walking near Braithwaite (Click Here to see the Orthwaite Circular - May 30th 2016), today's paths would be much different, gone were the grassy paths I had enjoyed the day before and today would be rocky paths, but Im not really complaining. It would be another hot day but it wouldn't be hazy sunshine like the day before, the views would be simply stunning today in the Lake District.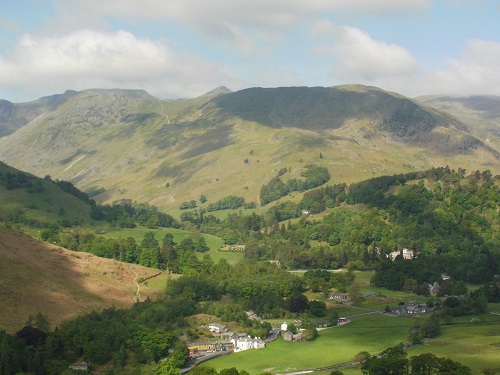 Place Fell was first on the list of 3 Wainwrights today, and it was a slog all the way. If you've ever walked the Coast to Coast, todays walk follows the same path up to Boredale Hause, so you'll know what a slog that part is. If you haven't walked the Coast to Coast walk...why haven't you? Do it, it's an experience you'll never forget. Today was a windy day but I was sheltered walking up the steep path from Patterdale towards Boredale Hause so the sweat was soon dripping off me.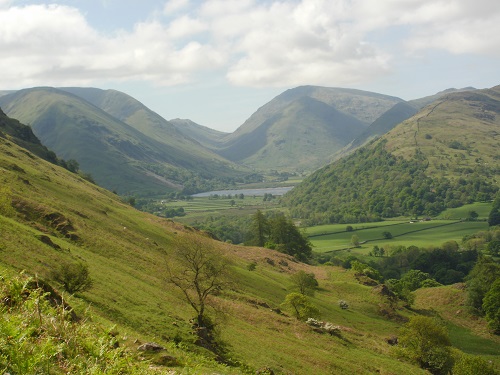 This would be a climb of many many stops to get my breath but as I got higher, the views across towards Helvelyn and the surrounding hills got better and better in the clear sunny morning, and Patterdale looks even nicer looking down at it in the morning sunshine with a backdrop of Helvelyn and the Edges.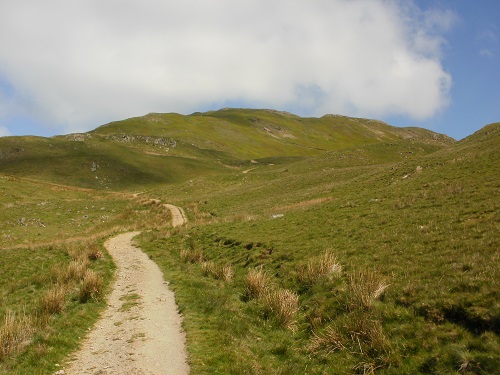 Although I was suffering this morning, happy memories came back about my Coast to Coast walks and I felt jealous seeing people head off for their next stage. It's a tough slog to Boredale Hause where you're greeted with a junction of many paths leading different directions and people with maps and guide books out trying to work out which path to take. As I took the left path to start climbing up Place Fell, a girl was heading towards Angle Tarn but looking at me and checking her map every few strides, maybe she thought I'd taken the wrong path or maybe she thought I was on the Coast to Coast path and should follow, luckily she kept going.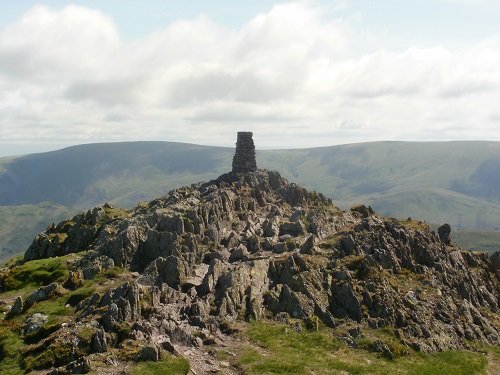 It's an even bigger slog up Place Fell after Boredale Hause but at least the path is very easy to follow, you really can't get lost as it heads all the way to the top, which you can't see until you get near the summit. So, it's a case of head down and get on with it, stopping frequently to look over Helvelyn direction and taking many photos. I was happy because for once I could name nearly every hill in my view.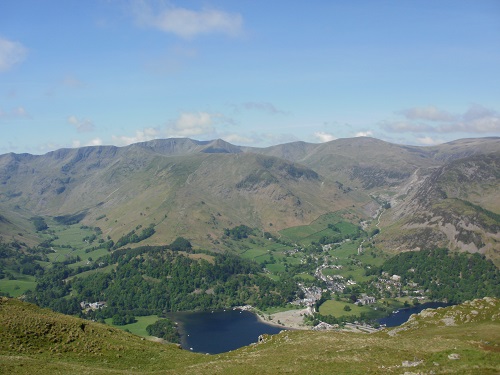 Near the summit, there's a crag where you have a choice of a small scramble through it or a levelish grassy path round it, I took the easy path but took the other one on my descent. After this craggy section, the path thankfully levelled out quite a bit and the summit and trig point came into view, it wasn't long before I was up there, taking in the 360 degree beautiful scenery and quite strong wind to cool me down.
I didn't stop long at the summit and was soon heading down and getting my energy back. I could see plenty people walking in different directions and a few families heading up Place Fell, I guess it's the school holidays. Soon I was at Boredale Hause again and again there were many people sat there checking maps and guide books as I headed straight over and back onto the Coast to Coast path again and towards Angletarn Pikes. It wasnt long before the path split and I took the left hand side one and then it wasnt long until I was looking for a path on the left for the final stretch up to the Pikes. I took it and headed up the grassy path, and eventually reached the Northern peak then headed to the South peak where I stopped to have my lunch looking down to Angle Tarn, a lovely lunch spot.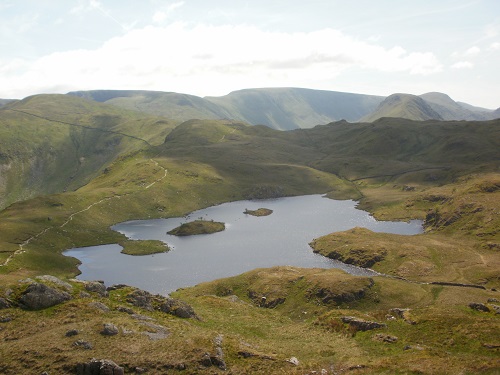 The walk between Angletarn Pikes and my final hill of the day Beda Fell...it's really not very interesting as it follows a ridge but the route I had copied took me over to another crag and back, no idea why but it really wasn't worth it and I couldn't find a path so basically just headed towards the summit then back towards the ridge until I found a visible path. A few up's and down's followed until I thankfully got to Beda Fell summit. I didn't stop, it was quite a dull stretch but you might feel the opposite.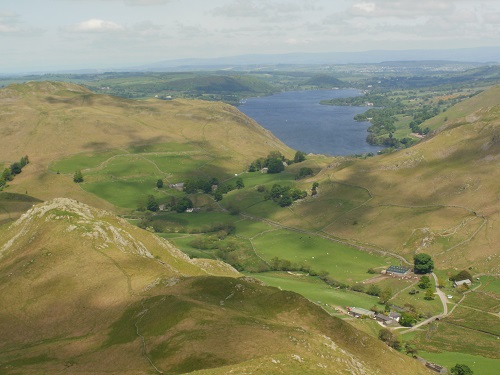 The 2 best things about Beda Fell, one was the view up to Place Fell and the other was a metal chair on the descent in the middle of nowhere that I used for a short break, it looks over towards Ullswater. It was still a case of heading down the ridge until I got to a wall and turned left to reach a road. I followed it as my route told me to but then it went down a path, but this was someone's drive with gate closed and no sign it was a public footpath so I retraced my steps and walked along the road until I got to a junction where I headed down towards Sandwick and towards the Lakeside path signposted 3 and a half miles to Patterdale.
It was a roasting hot day, I had even run out of water but I only had just over 3 miles to walk. I then saw a few groups of walkers ahead of me who were all sat outside a building and I was delighted to see that it was a tea room at Beckside Farm, which also has accommodation. A small tub of ice cream and a bottle of Cola were soon consumed and I felt much better and ready for the last couple of miles.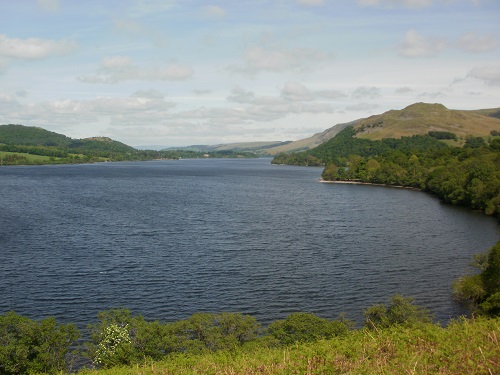 There was less than 3 miles to go and I was on the Lakeside path and it was busy. However, it was certainly not as smooth as I'd hoped it would be, the path was quite rocky and you had to watch your feet or you tripped, it also never really goes near the waters edge so don't be expecting a cool breeze from the water. It was a long 3 miles, I kept hoping to see Glenridding over the water but I didn't see it for ages, that meant Patterdale wasn't far away either and my legs were tired as they headed down the track to come out near Patterdale school, past the Hotel and then I visited the shop, which is expensive but I guess they can charge extra as there's no competition.
Soon I was back at the Youth Hostel, tired and sweaty but I'd enjoyed my day in the hills above Patterdale although next time I'll miss out Beda Fell and head the other direction towards High Street.