After walking in such a glorious day the previous day, I awoke at Honister YHA knowing that the forecast for today was one of possible rain, mostly cloudy and quite strong wind so I set off knowing there would be a possibility of no scenic views from the summits today. Happily the forecast wasn't totally accurate (no surprises there) and the day produced no rain and I had very good visibility from all peaks, the only difference from yesterday being that the background would be grey rather than blue.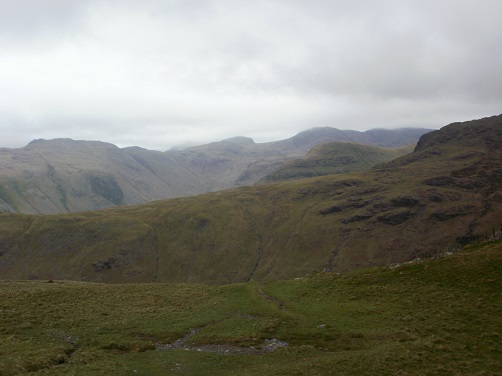 I would be doing the Newlands Horseshoe plus 3 extra Wainwrights but starting the walk from Honister where I had stayed the night and the first hill would be Dale Head. This is the highest point of the route but as you are starting from about 1,000ft at Honsiter, it's not that bad then. I set off from Honister, after seeing the runners, cyclists and walkers head their own ways and I headed straight uphill from the Hostel. You can't get lost going to Dale Head as you just follow the good path alongside a fence basically all the way up to the top.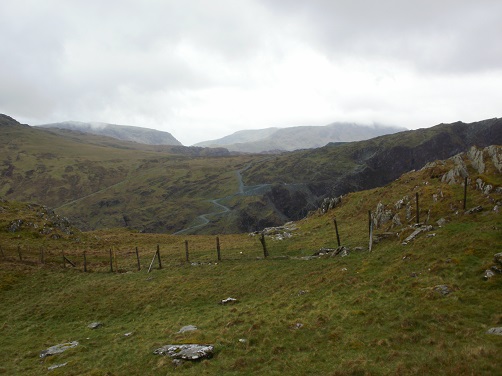 It's reasonably steep but it's mostly short grass and you can adjust your stride to suit, none of those nasty steps O0 As you walk up Dale Head, keep looking to the sides and behind you as the views open out. Great Gable summit was under cloud today, I was so glad that I had done it the day before. It didn't seem too long before I reached the summit and the rest of the hills could be seen. I stopped for a moment to name them all in my head and was glad to see there was no clouds on the summits. I had been mainly sheltered from the wind until the summit but I knew it was going to be hard work in places as it was so strong.
After Dale Head, it's a pretty straight forward walk to Hindscarth and then Robinson and you'll have done 3 Wainwrights in really quick time without much effort really. At this point, the horseshoe goes down the ridge towards Little Town but I was going to take a longer route and do Knott Rigg and Ard Crags and make it a longer horseshoe. I descended towards Buttermere through the slightly damp Buttermere Moss and then steeply down to Newlands Hause car park which was quite busy and I stopped there for a little rest and watched as cars came up the pass and pulled in, driver would get out and take a photo down the valley and drive away again.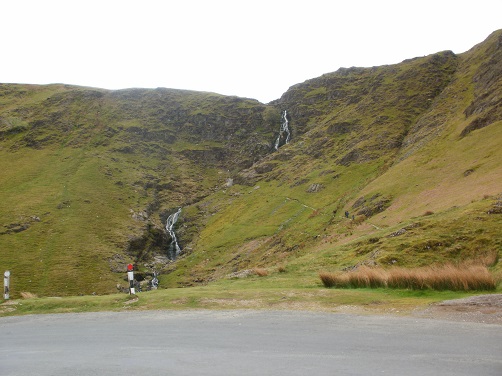 After my break it was straight up the grassy hill to Knott Rigg but by the time I was nearing the summit, the wind was getting really strong and making walking quite hard as the wind was sideways on. I looked to the bigger hills to the left of me including Causey Pike and was glad I wasn't up there. I would be up there next day, weather permitting but when the next day came, there was rain and low cloud so I saved that walk for another day.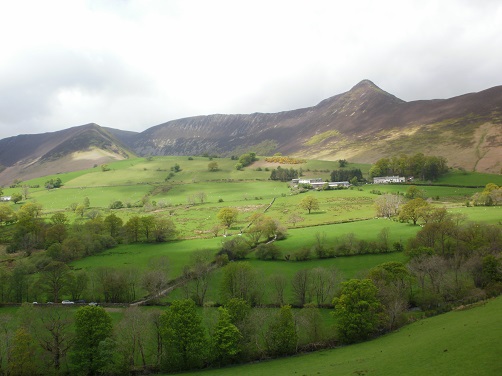 There was no time to pause at Knott Rigg summit as I wanted to get Ard Crags over with and get down to lower ground but as I got nearer the crags, the wind seemed to fall away but I guess the bigger hills were now sheltering me. The views weren't as spectacular as the day before but they were still very nice. Ard Crags was crossed easy enough and it was downhill to walk a few miles before eventually reaching Little Town.
As I reached the country roads and then Little Town, most of the possible car parking spaces were taken up by the bank holiday tourists but I hadn't seen many walkers, so where were they? I looked up towards the summit of Catbells and I got my answer, it looked quite busy up there. At Little Town, just before I was going to start walking uphill I was just thinking that it would be great if there was somewhere to sit and have my dinner as I wasn't wanting to eat it on Catbells, I wanted a bit more peace. As if by magic, I looked up and saw a bench and claimed it O0
Dinner over, it was time to join the families and their pets for the quite easy walk up Catbells, my path would be joining a ridge between Catbells and Maiden Moor. I walked to the summit, turned round and walked away along the ridge and headed towards Maiden Moor.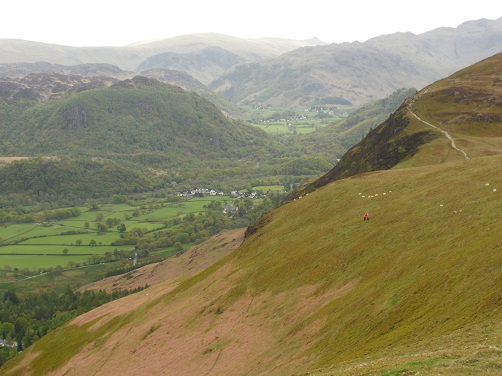 At this point a middle aged woman asked me if I had been to the top and when I said that I had, she said "well done". I walked away quite puzzled, did I have the look of someone so unfit that it was an achievement to have climbed Catbells? I do love tourist walkers though, you can tell the difference when you pass them and say hello and they look at you with a look only a tourist walker can. I wasn't going to hang around here long and at least Maiden Moor looked a bit less busy.
Maiden Moor (not to be confused with Made In China) is quite and easy walk from Catbells and gives you lovely views of Derwent Water below you and a good range of hills to the right of you including the others on the Newlands Horseshoe. At this point, most of the day trippers will turn back and you will get "hello's" back from passing walkers, ahhhhh. High Spy isn't far along this ridge and from the summit you see Dale Head not far away but it's a fair way up from Dale Tarn. Happily today, I'm not going that way.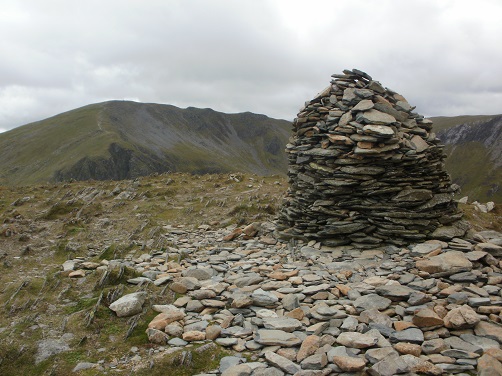 I was heading towards Castle Crag and from there head towards the Honister Pass and up to the Hostel. A path was soon found heading away from Dale Head and soon I was descending down through what looked like old slate mine houses and alongside a small stream then over it and a nice path to the foot of Castle Crag.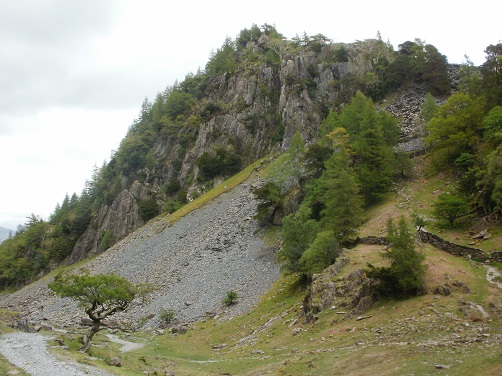 Castle Crag isn't your normal Wainwright and I'm not sure why it's even in his books as it's not very high and nothing spectacular about it but maybe that's why he liked it. From the foot of the hill, it's a zig zag path up through some slate and before you know it, you're at the summit. The summit though was not what I was expecting and not what was in the book and a few other walkers were saying it must have been vandalized as it used to be more "built up".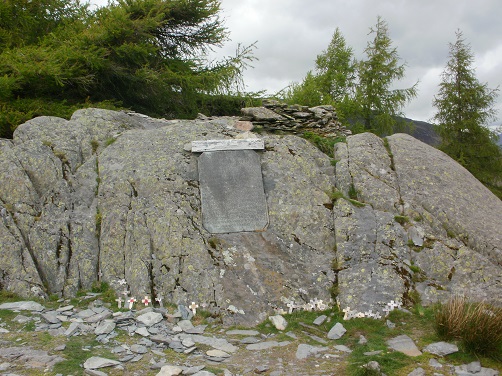 It was a case now or retracing my steps down and along the path for a while before turning off down a bridleway and this would take me nearer the Honister Pass. A smile came upon my face when a few people passed by and I remembered I was now on the Coast to Coast route and memories came back. I wondered if they were doing it, I wanted to join them. I could see the slate mines and Hostel up in the distance but this felt like the longest slog of the day, I think it always feels that way when you see the end in sight, doesn't it? Eventually I reached the Hostel and walked in knowing I had enjoyed a good days walking and better weather than I'd hoped. The man in the Hostel bar/reception saw me and asked if I was wanting my "usual?". There's a nice feeling about a nice cold beer with scenery then a shower after a walk rather than having to change clothing and drive home.
If anyone fancies doing the "normal" Newlands Horseshoe, I'd say it's a good one to do, easy to navigate and not as strenuous as many walks but still fantastic views. I'll return to do this walk on a sunny day.
Some more views...