The weather forecast for my previous two days in the Lake District had not been accurate, the promissed rain never happened so when I saw the weather forecast for today saying heavy rain about dinner time, I wasn't sure if this would be correct. If it was indeed going to be heavy rain, there would be no point going walking as I'd be in the clouds and not get any scenery. I woke up at my Hostel to sunshine, so it was looking good and I headed to Mardale Head to start my walk.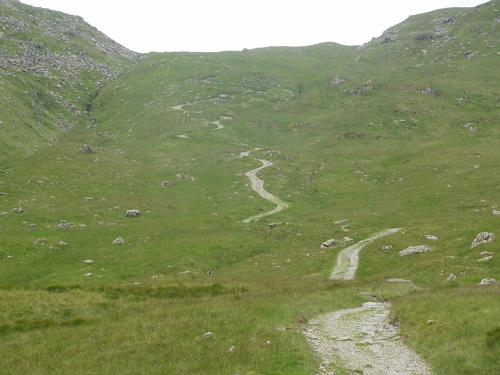 Mardale Head car park can get busy at weekends despite it being so remote but it wasn't busy when I got there on a Tuesday, maybe they saw the weather forecast and were staying away? It was dry when I set off through the gate at Mardale Head but how long it would stay like that? When you go through the gate, you have the choice of 2 paths, the one on the right (signposted Ringingdale) takes you up to the High Street range but the one on the left was the one I wanted, it zigzagged it's way up the hillside on a loose stoney path before levelling out a little. On the left of me was Branstree and on the right was Harter Fell but clouds were starting to cover the tops of the hills and it was getting darker, it looked like the weather forecast was going to be correct after all.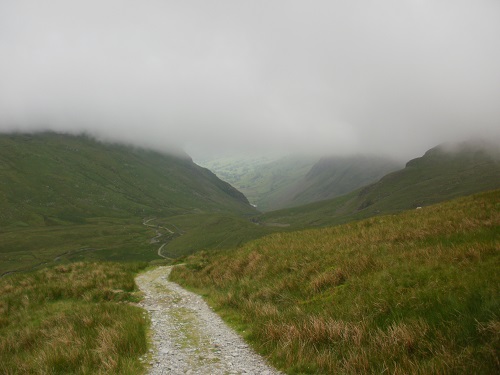 After climbing up that high, it was a bit disapointing to then see the path drop quite a distance, knowing that I'd have to climb all that ascent again to climb Tarn Crag. A bit further on, a sign pointed left (Sleddale) and this is where I left the main path.
Going up Tarn Crag was a case of just heading straight up the hill, no path could be seen and as I did so, the rain started to come down and I decided to stop and put my waterproofs on, I had the feeling they would be on the rest of the day and I'd be right. By now Tarn Crag was in clouds so I had no visual point, it was just a case of heading straight up and a bit to the right til I got onto the ridge from where the summit wouldn't be far away, although it didn't appear until I was a few feet away from it.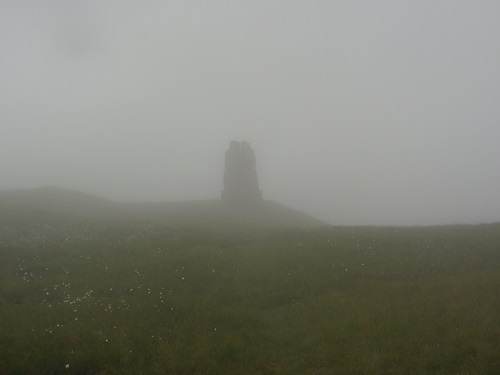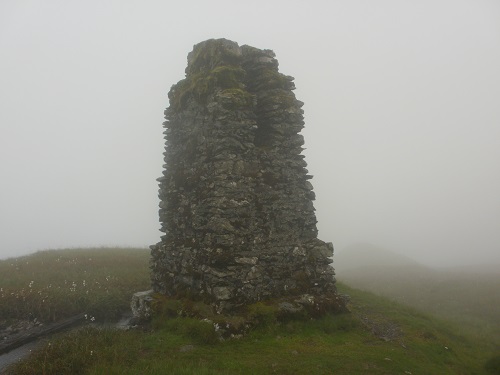 The clouds were coming and going, giving me the kind of views that had me wishing that it was a sunny day, I felt I was missing out. Leaving Tarn Crag, it was a case of following a path towards a fence, then following that fence, a Cairn could be seen further up after the fence changed direction but this wasn't Grey Crag summit. The fence turned left and I turned to the right to follow a path to the summit of Grey Crag.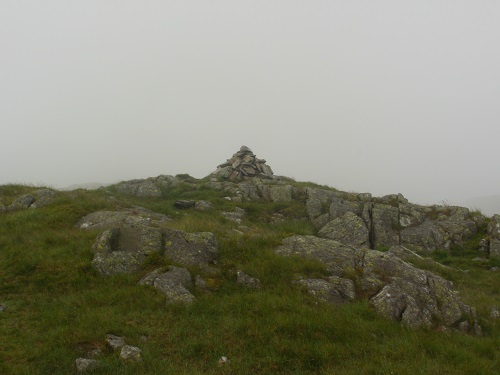 The journey between Grey Crag and Branstree has to go down as one of my least favourite, I'm sure there must be an easier way, maybe more visible in better weather. I left Grey Crag and followed a path to the summit that I'd seen earlier and crossed a fence, I then followed the instructions given to me that suggested that I simply headed straight down the hill to a small stream and then straight up the other side to Branstree but this was horrible. There was no visible path so it was a case of stomping through long wet grass, avoiding marshy areas and loose rocks plus the occasional peat bog. By now my boots were soaking and heavy and the rain was not going to stop and downwards I kept going, looking up at Branstree and not seeing a path going up that hill either.
After a very long time, I reached the bottom of the hill and crossed the small stream but there was still no path on the other side so I guessed it was a case of just heading straight up. I noticed a fence a little distance on the left and decided to head for it as I hoped this meant there would be a path following it, I was relieved to reach it through long wet grass and see a visible path beside the fence. I guess normally this climb up to Branstree would be quite easy but with my wet boots and me feeling miserable, this walk seemed harder than it should have been, the summit just never seemed to get any nearer. Eventually it levelled out and a couple of stones could be seen on the ground, this was Branstree summit cairn, a huge disapointment after such a struggle from Grey Crag.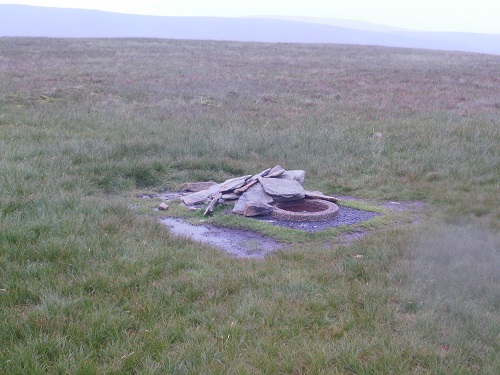 At least from here I could see Selside Pike nearby and there was a path all the way so I set off, making sure I got on the correct path and enjoyed walking on a level path after so long walking through rough grass and reached Selside Pike without much trouble. I was glad to see there was a shelter (there is no cairn) and I stopped inside it for a while and had my lunch although it wasn't big enough to stop the rain hitting my head.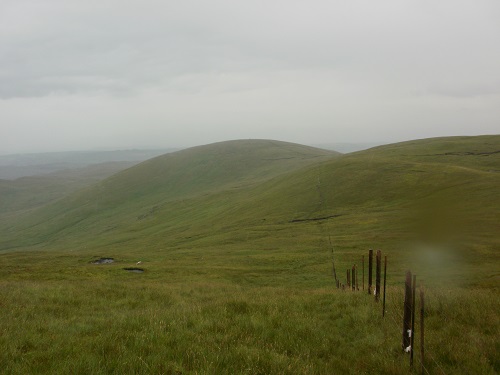 It would be downhill from now on to the road going to Mardale Head and all of it would be on a path, much to my relief. I kept looking at the hills around me, I'm sure they would look great on a dry sunny day but today they looked grey and lifeless. The path from Selside Pike headed down to another path where I turned sharp left and followed it, I could see the car park at Mardale Head from here and my bright red car and then it was a simple case of zig zagging down to the road, taking care as there was quite a lot of slippy wet rocks. On reaching the road and turning left, a short walk had me back to my car and the removal of all the wet clothing began before heading back to my Hostel to get dried off and hang the wet clothes up to dry.
Today's walk would certainly come into the "would be a great scenic walk on a sunny day" category but today it was wet and miserable and so was I. One day, when it is indeed sunny I'll return to do this walk again, take better photos and look for a better way to descend between Grey Crag and Branstree and enjoy it far more.