My laptop wouldn't charge so I needed to find a route to plot on my GPS that was quite easy to follow and quite near my Youth Hostel in Troutbeck. After some time browsing walks on my iPad I decided that the Kentmere Horseshoe might be a good choice as the start was not far away. I then realised that if I started and finished the walk from the Hostel I could "bag" another 2 Wainwrights before I reached Kentmere.
I woke up in the Hostel raring to go and started off in the mist again and wondered how long and high until I got similar views to the day before. It was a gentle uphill stroll through a few fields and lanes until I crossed a couple of large stiles and basically headed straight upwards towards the summit of Sour Howes, trying to follow a faint path that kept disappearing in the mist. As I got higher, the light got brighter and I knew it wouldn't be long before I'd be above the mist and sure enough as I reached the summit, the path to Sallows could be seen above the mist and some of the hills I would be doing later on. It was 9:30am and I was already in a t-shirt as it was so warm, the omens looked good.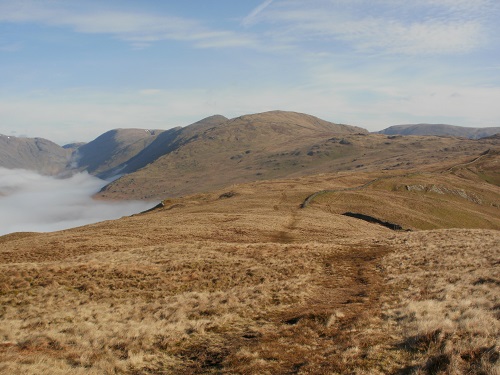 The route to Sallows was short and easy and before soon I was descending into the mist heading down through woodland towards Kentmere. The path I had plotted took me down to a farm and then a lane heading towards the church. The road out of Kentmere was steeper than I was expecting but at least it meant I was climbing and getting nearer to getting out of the mist and some good views. Before long I was out of the mist and heading up towards Shipman Knotts, and my first sign of any other walkers, it would get much busier as the day went on and I reached High Street but not crowded. The walk between Shipman Knotts and Kentmere Pike was quite short and I had to consult my GPS to confirm that I was actually at the summit.
In front of me, the scenery was now opening up and I could see Thornthwaite Crag beacon in the distance, the last time I saw it was in November when it was only visible to me when I was about 50 feet away from it. On the left of me was a roller coaster ridge with 3 Wainwrights that I'd reach at the end of the walk after Thornthwaite.
If you have done this horseshoe before in decent weather, you'll know that after Harter Fell the views are spectacular and that photos just don't do it justice. I found myself looking to the left and seeing masses of hills and then looking to the right and seeing how much flatter it was towards Shap. I pressed on towards Mardale Ill Bell and sat behind the cairn to have my lunch and take in the views over Haweswater and for once I was able to look around me and name some of the hills and visually trace where I had walked down Kidsty Pike down to Haweswater reservoir and along towards Shap. It was one of those breaks where you really don't want to move but you know you will have to at some point.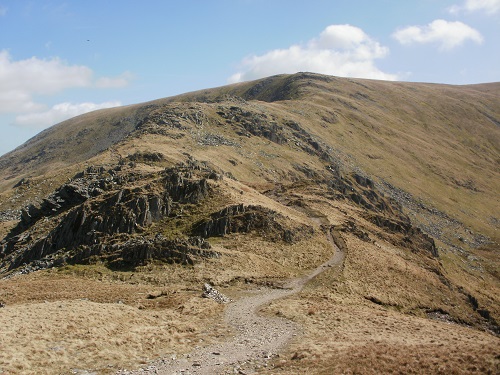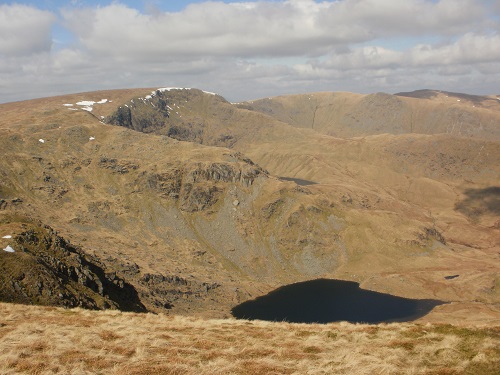 Reluctantly I left the cairn and headed towards High Street. It's possible to miss this out and just head to Thornthwaite but it's an extra Wainwright and not much extra effort. The walk to High Street was probably the best bit about this walk as you descend quite steeply and try not get too distracted by the scenery at either side with Haweswater and Kentmere reservoirs in view surrounded by spectacular scenery. At the bottom bit of the descent was a little shelter and again I could have sat there for ages taking in the views.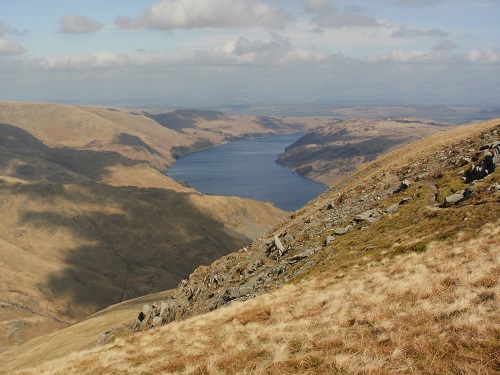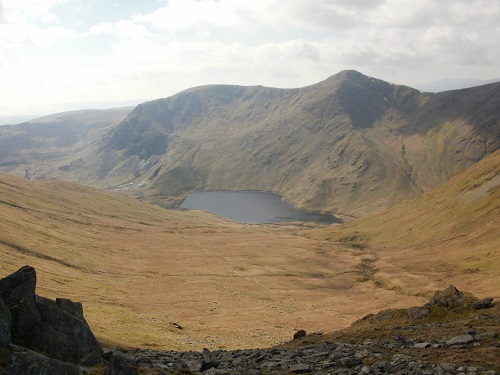 The paths on most of the horseshoe were not only dry but level enough to be able to stride out and it wasn't long before High Street was reached and the views towards the Patterdale area now came into the view and the surrounding summits. As you looked around the summits, you could see people on all of them and the joining ridges, hopefully enjoying themselves as much as myself in the April sunshine. This was the busiest part of the walk as people seemed to congregate from all directions.
A few minutes later and you are at Thornthwaite Crag beacon with not much ascent between them and only the roller coaster section of 3 summits to do before the long walk back to Troutbeck. When you view them from the other side, they don't look very steep and in truth they aren't but there are still enough steep sections as you climb Froswick, Ill Bell and finally Yoke.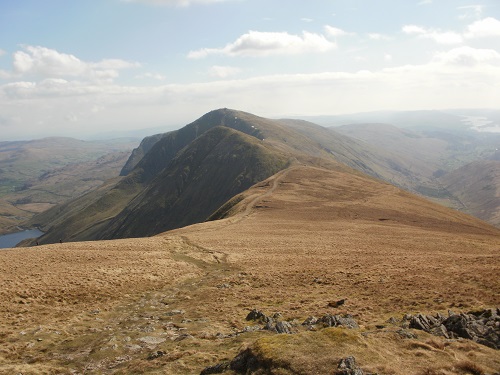 I had done about 15 miles by now and felt great. I was so engrossed in the walk to even think about how far I'd gone or feel any tiredness in my legs, that would only appear near the end and a lane section into Troutbeck. After the final summit at Yoke it's still a very pleasant walk downhill with Lake Windermere in your sights ahead of you and the hills you had already climbed to the left of you. I looked at the hills on the right, of course not having a clue which ones they were but looking forward to the day I get to walk them and then look across to where I was now standing.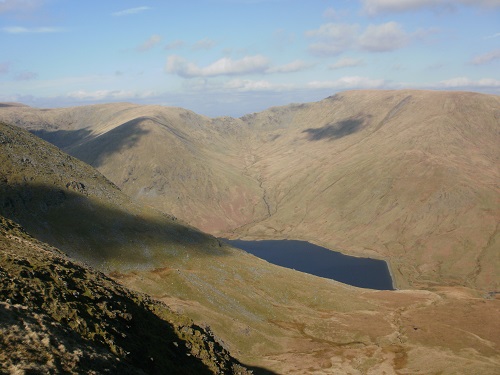 On the descent, you come to a junction just below Sallows where you can turn left and head to Kentmere to finish the horshoe if that's where you started from but my route was straight on and down towards Troutbeck along a lane. I had walked up this lane earlier but had no views in the mist so it was nice to see what I had previously missed.
To be honest, this lane section seemed to drag on but I think this was because I was near the end and because the scenery was getting less as I got lower. I still managed to miss my turn off though as I was too busy looking around but quickly retraced my steps. I got down to Troutbeck and walked along the road to the Youth Hostel, feeling quite good about the days walk and the fact i was staying the night at the Hostel so I could just get in and relax rather than having to drive home and what better way to relax than to sit and have your tea and be able to look out towards Lake Windermere as the sun got lower.
It's certainly a walk I would do again but probably start/finish from Kentmere for a slightly shorter walk or miss out Sour Howes and Sallows.