I woke up at Coniston on a bright and sunny, but cold, morning and drove the short distance to Ambleside, where I would be staying that night at the Youth Hostel. I parked up roadside, not far from the Hostel and walked through the village, grabbing a few goodies from the Tesco Express (as you do) and headed along the road towards Rydal, which is where many people start the horseshoe from and past the church and headed uphill towards Nab Scar. This was one of those days where you started off in sheltered conditions wearing a t-shirt and end up with fleece, jacket, hat and hood up to try and keep the biting wind off.
The walk up nab Scar is pretty straight forward and mostly steps (which I hate) but my legs still didn't feel awake after 2 days walking. Luckily there was a fantastic view back to Windermere and Ambleside which got better as you got higher and it gave me an excuse to keep stopping and taking photos...don't we all?
At the summit, I took out my Wainwrights guide book for the Eastern Fells and used it so that I could name the hills around me, something that I've never really been able to do before. It was nice to look over Grasmere and see hills that I had climbed a few weeks before and name hills in the distance.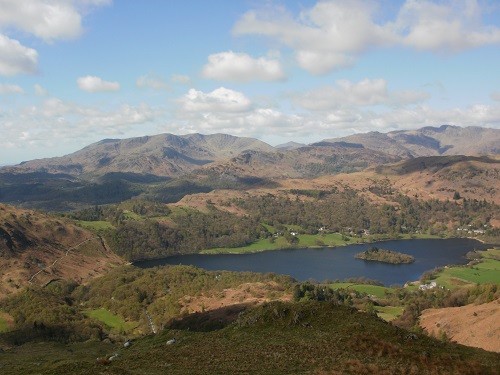 The walk to Heron Pike again was straight forward enough and soon I was heading in the direction of Great Rigg with Fairfield looming large ahead of me. The plan was to cut off before Great Rigg and head off to the left and "bag" Stone Arthur, which was just a short downhill walk away. It gave a good view down to Grasmere but apart from that, hardly worth the detour. As I had descended down to Stone Arthur, it meant a grassy ascent into the wind back to join the main path just below Great Rigg's summit and onwards towards Fairfield.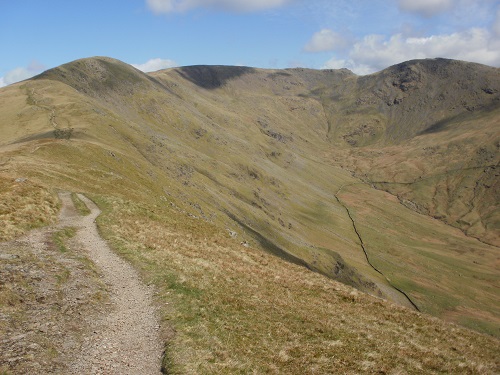 The original plan was to have my lunch at the summit but I knew it would be busy. Luckily when I got there, the shelter was empty and I enjoyed my lunch as I looked over to the St. Sunday Crag ridge and many more hills, some which I had walked a couple of days ago and could actually recognise without the Wainwright book.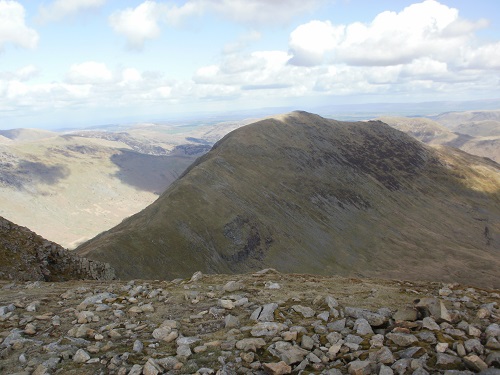 I didn't stop here long as it got busier as walkers came up to the summit from different directions, some from St. Sunday Crag, some from Grisedale Tarn and I headed off towards Hart Crag, refreshed and with the bitter wind mostly behind me now, which helped me up the remaining hills though to be honest, they didn't need much effort as it's basically just a ridge back to Ambleside that gradually goes downhill, the views though were still fantastic.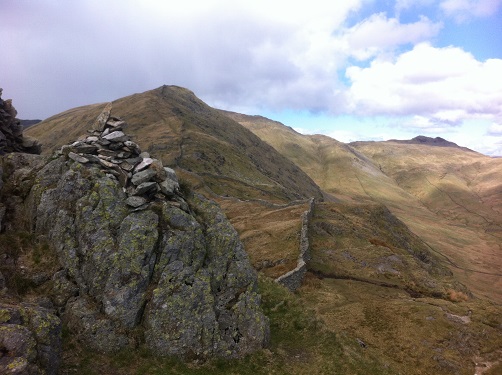 After Dove Crag, the sun disappeared and not long after this, it started snowing from the right hand side of me. By luck, there is a large wall which seemed like the Great Wall of China as it went on for what seemed miles and this sheltered me, and others as we walked up or down the ridge.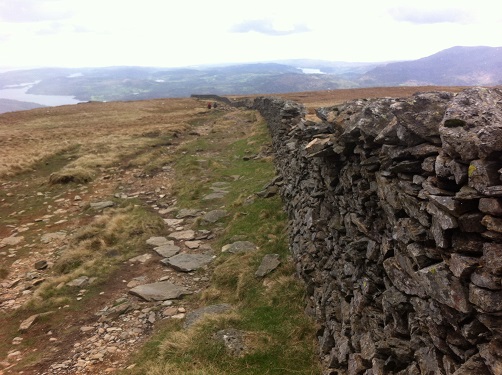 By the time I reached High Pike, the snow had stopped and sun back out as I reached the cairn. After this it was downhill some more from High Pike to errrrrr Low Pike, I think I missed out Medium Pike between them. It wasn't too long after this that I was back in Ambleside and checked in at the Hostel. The place is very nice, right on the Lake shores and my dorm was overlooking the lake, not a bad view for only seven pounds eh?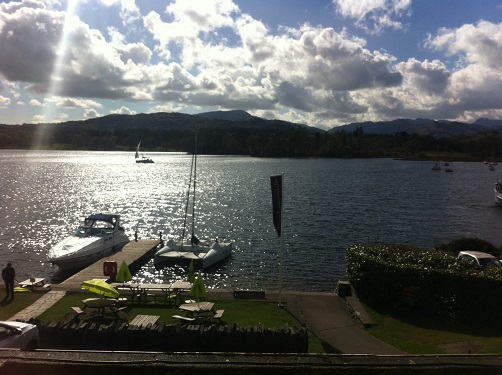 I really enjoyed this walk as the views were terrific all day and all around and it's a walk I would do again, hopefully when it's a bit warmer.