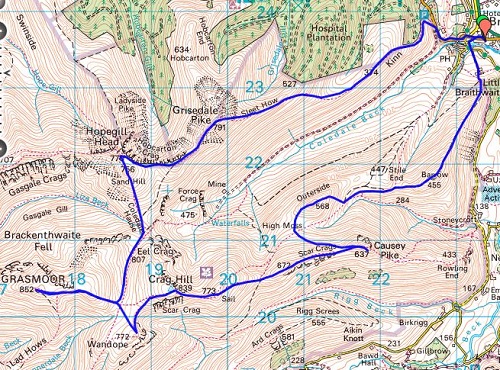 I made a last minute decision to head for the Lakes for a days walking to do a walk that I was going to do before but the weather beat me, I was going to walk the Coledale Horseshoe, plus add on a few extra peaks as I like to do. The weather forecast was going to be hot, very hot and not much wind so it would be a welcome change to walk the hills in tshirt and shorts, not to mention the sun hat and sun cream on.
I set off from home early and got to the start point in Brathwaite just before 9am and got a parking space near the school, got the shoes on and walked through the village and on towards the first peak of the day "Barrow". I went through a gate and followed the grassy path up the slope. As I gained height, I looked to the left and was able to recognise some of the peaks that I'd done on the previous walk, the Newlands Horseshoe. I could see Catbells and Maiden Moor in the distance and the surrounding peaks became clearer the higher I got.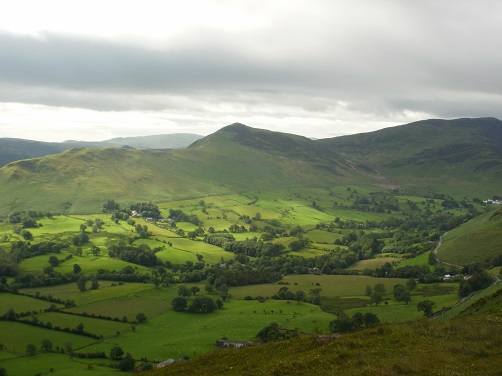 I had only just started but I was overheating already despite the shorts. There was no wind as I headed upwards to cool me down a little, this would be a problem for quite a large part of the day. Ironically, on my previous walk just over the valley, the wind had been so strong I could hardly stand up at times, I could have done with a little of that just now. The summit of Barrow is reached quite quickly and this then lets you see most of the rest of the hills in front of you, plus a little cooling wind.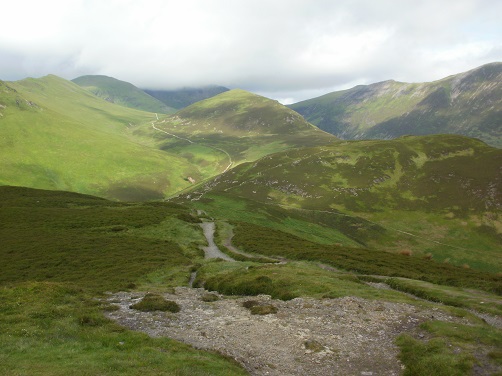 Next stop would be the short down and up to Outerside and then cross over towards Causey Pike. I don't think this is part of the horseshoe but it would seem a shame to climb others around it and miss out one not too far away. From here I could walk along the ridge taking in other Wainwrights of Scar Crags, Sail and then Crag Hill with not too much effort or distance between them before reaching Wandope. Whiteless Pike was another not on the horseshoe but I decided to head down and do it but the return uphill would prove to be longer than I had realised and Grasmoor where I was heading next looked very high from the summit of Whiteless Pike. I was looking forward to getting to Grasmoor summit and having my lunch there as I got the feeling the views from there would be good. Even from lower down I could see and name some of the hills in the distance.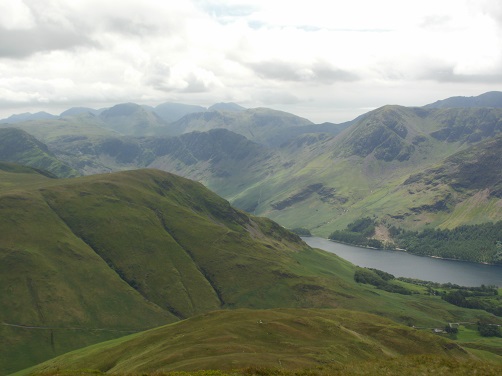 It was actually getting windier now but not an unpleasant one as I slogged on towards where I had left the main path after Wandope and slogged up towards Grasmoor summit. I was pleased to get to the top and see a couple of shelters to sit and eat my lunch in and take in the views. The slog up here was well worth it as I looked over to see hills such as Haystacks, with Great Gable behind it, the Isle of Man appearing through the haze and towards St. Bees and the coastline, how flat it was over there. I could name quite a few hills that I'd climbed before but far more I couldn't name. Photos never look as good as they do first hand.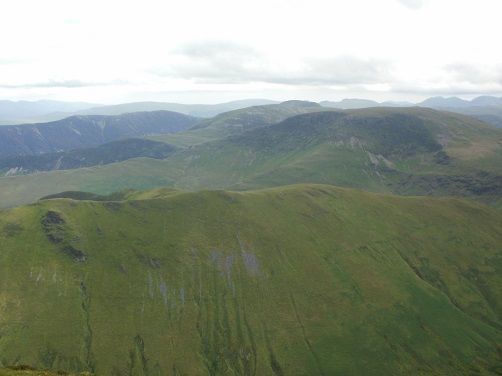 I spent a while at Grasmoor summit, taking in the view and having lunch, one of those days where the time really doesn't matter. After all, what's the point walking up a hill just to walk back down it again a few seconds later? I probably spent too long at the summit because when I started off again, my legs really didn't want to move and the top of my foot was sore where I think I had overtightened a shoe and this was hurting quite a bit.
From Grasmore, it was back down to the point near Wandope where I had left to do Whiteless Pike but this time turn the other direction and head upwards towards Hopegill Head, my legs now woken up and the wind getting stronger but mostly behind me now, helping me up the hill. The summit reached, I realised there was another Wainwright to the left of it along a ridge called Whiteside. It didn't look far away so I headed down and along the ridge to get to it. It was then back along and up the ridge to Hopegill Head, the ridge looking a lot steeper going up than it felt when I was going down it.
Grisedale Pike was the final Wainwright of the day, it didn't see as difficult or as high as it had looked a few hours earlier as I had looked across at it from the summit of Barrow. I could now see Braithwaite down before me but the path going down was a bit scree in places and basically quite steep where you have to be very careful with your footing, luckily today was dry. It's quite a drag before you get to Braithwaite and I was still quite high up so more descent before reaching the Whinlatter Pass road and into the village where I located my car and headed to Honister YHA and enjoyed a nice evening in the hostel with no phone signal or internet, where people actually have to talk to one another….it was great.
Some more pics...