I set off for a few days in the Lake District, the first time I had visited Wasdale and Wast Water. I wasn't sure what weather to expect when I got there as the forecast was suggesting rain until after lunch and it was raining as I approached the Lake District but not heavy. The drive to Wasdale Head was not very relaxing as it's single track with blind bends and steep hills for some of it, you really need to concentrate and look out for traffic coming towards you, it can be a tight squeeze.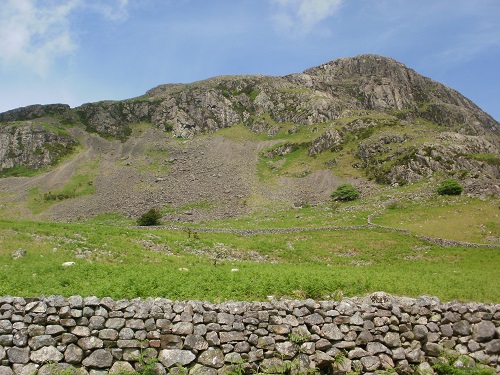 I reached the car park at Wasdale Head just before the Wasdale Inn and parked up, the surrounding hills covered in cloud, I thought maybe today would be a day of no walking. Sitting in the car park having my lunch, the weather was improving and some surrounding summits were now visible so I decided that I'd just have a short walk up Buckbarrow and down again, I decided to just leave the car and do some extra miles along the road rather than just a 2 mile walk up and down again by parking at Greendale.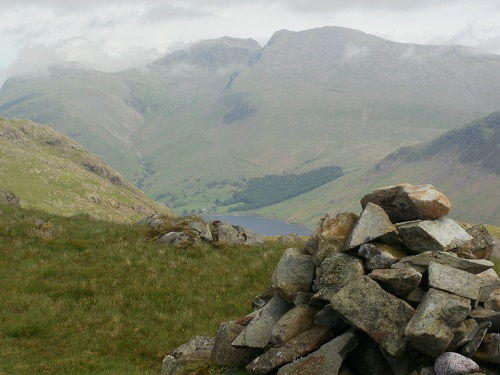 Eventually I reached the part where I left the road and started to head up a path between the ferns, it wasn't a hard path but the heat was very soon making me sweat. The path wasn't that steep and it was mainly grass and pretty soon I was nearing Buckbarrow summit. The weather had improved dramatically and I had a choice to make....either go back down the way I had come or continue on and do Seatallan and Middle Fell hills which were close by and not looking very difficult.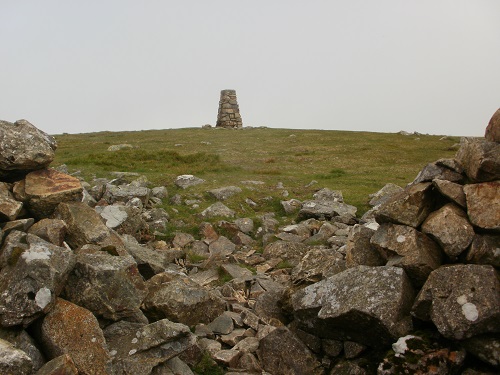 It would feel a waste of a walk just going straight back down again so I decided to head onwards and upwards, the path heading up to Seatallan was grassy and not steep, it was a really nice path to walk and the views over towards Scafell Pike and other local hills made my choice worthwhile. As I approached Seatallan summit I saw there was a shelter, a perfect good excuse to have a sit down and enjoy the view over the trig point towards Scafell Pike which gave me occasional glimpses of the summit but mainly it would be covered by clouds.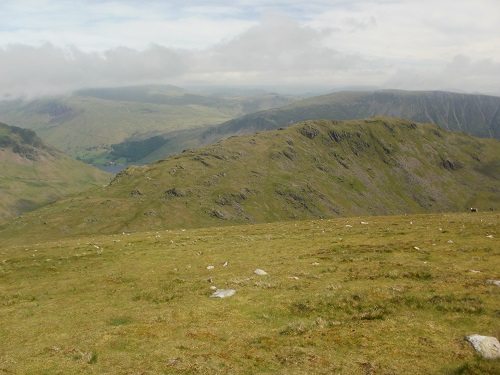 I could have sat there for ages as it was so peaceful and scenic but it had been a late start so I had to leave. Middle Fell wasn't far away and lower than Seatallan. The descent from Seatallan was pathless in places and steep so I zigzagged mainly down until the gradient levelled out and the ascent of Middle Fell started. The climb wasn't very hard and soon I was at the summit taking in the lovely views all around.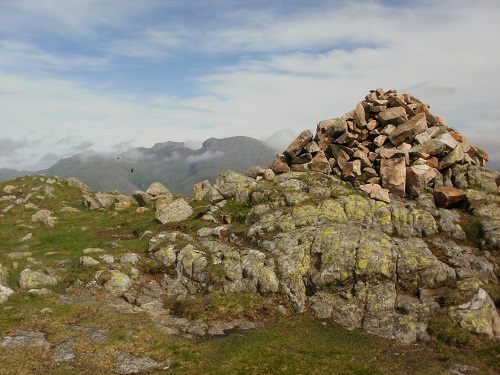 At this point I realised I had hardly seen a person all day on the hills but Middle Fell summit was quite busy with a few families there or on their way up the path from the Greendale car park. It was time to head down now towards the road again, the path was mainly short grass but quite steep which didn't help my knees so I was happy to see the car park not far below but now I was wishing that I'd parked up and started my walk from there rather than near the Wasdale Inn.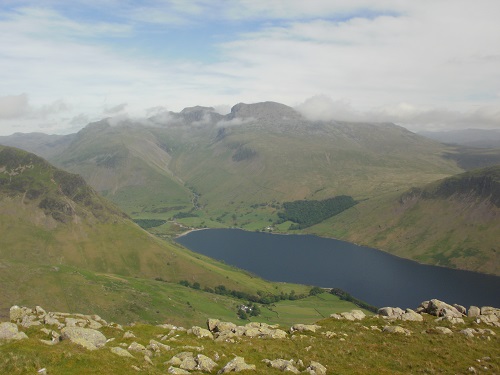 Once I got back onto the road, I still had about a 4 mile hike along the road, and having to get out the way of the Bank Holiday traffic who by now were heading away from Wasdale. This was a long 4 miles in the sunshine, the end of Wast Water never seemed to get any nearer but it was still a nice walk and Wast Water is quite a pretty Lake to walk around.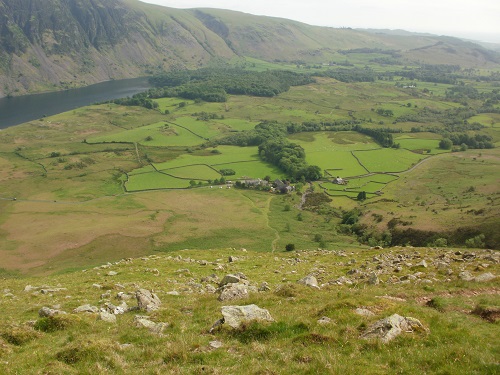 Finally I got back to the car and drove the short distance back to the Youth Hostel at Wasdale Hall where I would be staying for three nights. My day had been longer than initially planned but I was glad I did the extra two hills rather than just a short walk. Overall it had been a very nice circular route, but next time I'll park the car at the Greendale car park, this would make a very nice late afternoon/early evening walk.